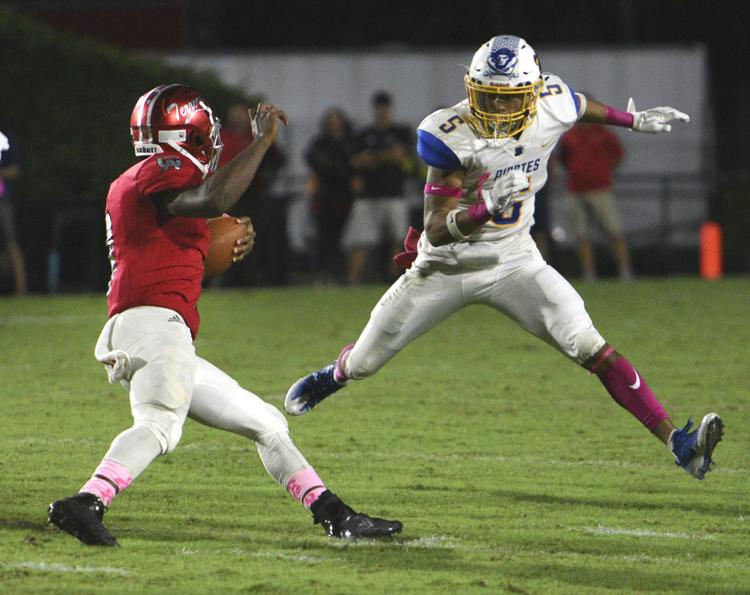 City Championship Game at a Glance
When: 7:35 p.m. Friday
Where: Glynn County Stadium
Who: Glynn Academy Red Terrors (visitors) vs. Brunswick High Pirates (home)
Records: GA 4-3 overall, 1-0 Region 2-6A; BHS 3-5 overall, 0-2 Region 2-6A
Last year: Glynn won 26-13
All-time series: Brunswick leads 37-35-2
Players to watch: Glynn – QB-WR Sam Wagner, RB Nolan Grant, QB-WR TJ Lewis, WR Quantavious Bostic, OL Shane Wells, DL Marlon Taylor, LB EJ Thomas, LB T'Shawn Lang, DB Rayquan Benn, DB Travis Clinch, DB Byron Bacon, K-P Chase Gabriel; Brunswick – QB KJ Lee, QB Anthony Mountain, RB Jaylen Trimmings, WR Che Foy, OL Warren McClendon, OL AJ Kirkland, OL Brett Hall, DL Justin Akra, LB Octavis Butler, DB Freddy Towns, DB Stacy Young, K Avery Yoak.
Radio: WYNR 102.5 FM (GA); 107.7 The Fox (BHS). Pregame shows begin at 7 p.m. Tailgate show precedes both team broadcasts from 6-7 p.m.
Tickets: $6 advance general admission on sale through 4 p.m. Friday at GCS Athletic Office; $9 general admission at gate.
---
Game Preview 
Glynn Academy has won four straight games in the City Championship series against rival Brunswick High.
That should give the Red Terrors added confidence when they take the field Friday night for the 75th meeting between Glynn and Brunswick which played for the first time back in 1968.
But, Glynn coach Rocky Hidalgo, who has won all four games he has coached in the series since taking over the GA program in 2014, says the Terrors can't be full of themselves when the latest edition of the rivalry kicks off at 7:35 p.m. Friday at Glynn County Stadium.
This Glynn team isn't good enough to overlook a Brunswick team that many in the know have cast as the underdog going into Friday's game.
"We're not good enough to think we can just show up and win this game," Hidalgo said.
The Terrors will come into the game with a 4-3 record that includes a 28-3 victory last Friday at home over Richmond Hill in their Region 2-6A opener. The previous week, the Wildcats waltzed past the Pirates 41-7 on the same field at GC Stadium.
The Pirates, meantime, enter the annual showdown with the Terrors having lost their first two region games – they also lost big last week at Effingham – which left them with a 3-5 overall record with two games left in the season.
Brunswick leads the all-time series with Glynn 37-35-2.
The Terrors can make history Friday night with a fifth consecutive win over the Pirates. Glynn has won four straight in the series four different times including during the 1968-70 seasons, the 1978-80 campaigns and the 1982-83 seasons when the Terrors won three times in the 1983 season alone.
Glynn has never won five in a row over the Pirates, however. GA didn't lose to the Pirates in the first 10 meetings between the teams, but there were two ties in that stretch as well.
The Pirates have won as many as six in a row which took place from 1995-99 when Brunswick began to make serious headway in the series.
Brunswick also won five in a row from 2006-2010 and twice has won four in succession including the 1974-75 seasons after the Pirates posted their first-ever win in the series in the 1974 season opener.
Teams can officially retire a city championship trophy – meaning they can keep it in their possession – with three straight victories.
With Friday's game also being a region contest, Glynn could take another step toward a fourth straight region title with another victory over the rival Pirates.
Brunswick, on the other hand, could possibly save its season with a win and the Pirates need at least one region victory to have a chance for a playoff berth in the five-team league.
A loss, however, would put the Pirates in a must-win situation next week in their final game against Bradwell Institute at Olvey Field in Hinesville. And depending on how other region games go the next three Fridays, the Pirates might even have to rely on the league's tiebreaker procedure to qualify for the playoffs even with a win over the Tigers next week.
"It's a huge game for us," said second-year BHS coach Sean Pender of Friday's contest. "Hopefully, we'll play to the best of our ability. I can promise you we are doing everything we possibly can to try and do that."
The Terrors are expecting the Pirates' best effort also, according to their coach.
"Whatever their best game is, we're gonna get it," Hidalgo said. "We need to come off the bus and play our best game as well. And not because it's Brunswick, but because we're trying to improve, win a region championship and get in the playoffs."
After three disappointing performances in a row in losses to Wayne, Ware and Camden counties, Glynn looked more like a Hidalgo-coached team last Friday against Richmond Hill as the GA defense stymied the Wildcats' ground game and returned two interceptions for touchdowns and also a blocked field goal for a third score.
The Glynn offense still sputtered, largely because of penalties, but senior Sam Wagner was making his first start at quarterback for the Terrors after only five practices. The offense did have some bright spots including a scoring drive that featured Wagner keeping the ball and eventually scoring a touchdown on a one-yard dive over the top of the defense.
Hidalgo said Glynn's offensive line, which has been hampered by injuries, blocked better than it had in several games. On the field after last Friday's game, he said the offense couldn't get in rhythm due to all of the penalties, many of which he questioned during his postgame interview with reporters.
On Wednesday, Hidalgo chose not to elaborate on the offficiating when asked about his thoughts after reviewing game film. You can probably safely assume he chose not to comment negatively in regards to the officials last week for fear of a possible fine from the Georgia High School Association which could be a distraction for the Terrors just days ahead of the biggest game of the season.
"Offensively, we've got to play well and score some points. We were more physical up front last week and need to be physical again," Hidalgo said.
The game's deciding matchup figures to be Glynn's rushing offense against Brunswick's run defense which has been porous most of the season.
Brunswick expects to get a heavy dose of inside runs, but Hidalgo said Glynn will likely have to be more sophisticated than running between the tackles all game.
"It's hard to beat someone just running right at them," he said. "They've struggled on defense, but we've struggled on offense. So, I don't feel good about that."
The Pirates know the Terrors have the personnel in the skill spots to break big plays which they have to prevent along with slowing down the ground game.
"I thought Wagner ran their offense well the other night," Pender said. "Their skill kids are fast. No. 1 (Quantavious Bostic) and No. 3 (Nolan Grant) are dangerous in space."
Pender said Brunswick's practices have been good this week for the most part, but he said the offense has still had too many of the execution errors that have hindered the offense's overall production since the opening game.
"We're still battling those things," he said. "Our kids will be prepared and they'll be ready to play, but it comes down to execution. Our focus has to be on us and getting better. If we can't get that right, our opposition might as well be nameless and faceless."
The Brunswick coach had nothing but praise for the Glynn defense, particularly senior lineman Marlon Taylor and senior linebacker EJ Thomas.
"Thomas is a difference-maker at linebacker. You can tell the difference when he's on the field versus when they didn't have him at the start of the season," Pender said. "And No. 92 (Taylor) is a very, very good athlete. Their defense is really good, especially the D-line."
Hidalgo said Glynn's practices haven't been as good this week as they were last week as of Wednesday morning.
"We played well last week because we practiced hard all week. You play like you practice. I don't care what Allen Iverson says," Hidalgo said, referencing the famous practice rant by the former NBA star. "We've got to practice better. Our offense practice has been good, but the defense hasn't been so great."
Brunswick is the home team for Friday's game. The stadium gates will open at 6 p.m. as will the concessions stands on both sides of the field.
Advance general admission tickets will be on sale through 4 p.m. Friday at the Glynn County Schools Athletic office. Those are $6 each.
Tickets will be sold at the gate Friday starting at 5:45 p.m. The tickets will be $9 at the gate.
Parking is free in the stadium lots. The grass lot at the nearby Exchange Club fairgrounds will also be used on Friday.
This Week's City Championship Game Coverage:
Tuesday – Quick Look at Glynn vs. Brunswick
Wednesday – GA, BHS Traditions on Friday night
Thursday – Red Terrors vs. Pirates Game Preview
Friday – Game Day Column
Saturday – City Championship Game Recap