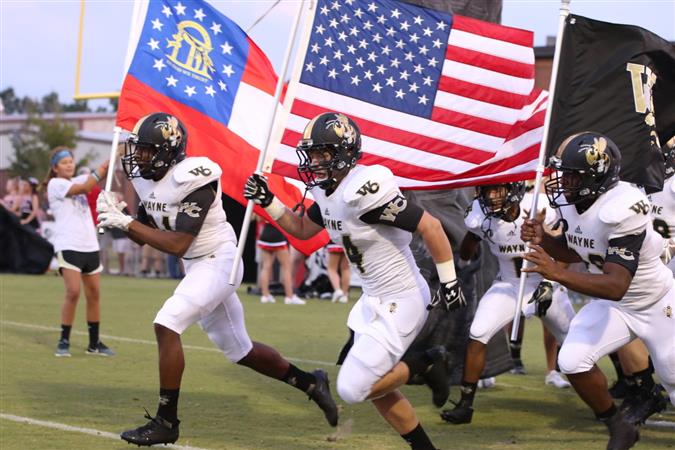 The Wayne County Yellow Jackets ran their record to 9-0 for the season Thursday night with a 31-20 victory over New Hampstead in a Region 2-5A game played in Pooler.
Next up is the big one for the Jackets who are ranked No. 1 in the Southeast Georgia High School Football Power Poll released each Monday by AllOnGeorgia.
Wayne, which is 3-0 in the region, will now look toward its season finale in two weeks against Ware County. The Nov. 2 game is set to be played at Jaycee Stadium in Jesup and will pit a pair of unbeaten teams in region play assuming the Gators take care of business Friday night at South Effingham and then next week against New Hampstead.
Against the Phoenix (4-3 overall, 1-1 region), the Jackets got another strong game from senior running back MJ Fuller who ran for 108 yards and two touchdowns.
Also for Wayne, Shamar Taylor was 9-of-15 passing for 104 yards and a touchdown. Ashby Cribb caught the scoring pass and finished with six receptions for 81 yards.
The Jackets jumped out to a 12-0 lead on a 17-yard scoring run by Victor Andrews and a 6-yard TD run by Fuller.
New Hampstead would go up 13-12, but with a second to go in the first half, Taylor and Cribb hooked up for a 17-yard TD strike that gave Wayne an 18-12 lead at halftime.
The Jackets went up 24-13 on the second play of the third period when Kalijah Hartzog returned an interception for a touchdown. The pick was his sixth of the season.
The Phoenix would score to pull within 24-20, but Fuller put the final points on the scoreboard for Wayne with a 27-yard run.
In Southeast Georgia on Friday night, the games that will be played include the following:
Camden County at Colquitt County
The Wildcats will make the trip to Moultrie to face off with powerful Colquitt County a week later than expected.
The game was originally scheduled for last Friday, but with Hurricane Michael bearing down on Southwest Georgia last week, Region 1-7A made the decision to postpone its games for a week.
All four teams in the region will now play three straight weeks to finish out the regular season rather than having the open week that all of them had scheduled.
Camden enters the region opener after going 6-1 in non-region action. The Packers are a perfect 7-0. They are the top-ranked team in the state and are ranked in several of the national polls.
Colquitt defeated Camden 27-6 last season in Kingsland.
Tattnall County at Pierce County
The Bears will put their undefeated record on the line when the play host to the Battle Creek Warriors.
Pierce, 7-0 overall and 2-0 in Region 2-3A, has given up just 21 points all season while recording five shutouts.
The Bears have churned out almost 2,000 yards rushing in their Wing-T offense through seven games and they are gaining 10.1 yards per rushing play.
John Jones has carried for 738 yards while Dee Bethea has gained 522 yards on just 27 carries.
Pierce has been tough against the run on defense, having allowed just 374 yards on the ground thus far this season.
Tattnall County (1-6 overall, 1-1 region) is coming off its first victory last week when the Battle Creek Warriors defeated Brantley County 28-17.
The Bears are ranked third in the Southeast Georgia power poll.
Ware County at South Effingham
The Gators will be big favorites in their Region 2-5A game against the Mustangs.
Ranked fourth in the power poll, Ware is 5-2 overall and 1-0 in the region after knocking off Statesboro last week to kick off its region schedule.
The Gators are 6-0 all-time versus the Mustangs who are 2-6 overall and 0-2 in region play.
Charlton County at Telfair County
The Indians will go on the road this week for their Region 2-A game at Telfair.
Charlton, coming off a Homecoming win last Saturday over Wilcox County, is 5-2 overall and 3-1 in the region.
The Indians have lost only to top-ranked Irwin County in league play. Charlton will host second-ranked Clinch County next week.
The Trojans are 3-4 overall and 1-3 in region play with a victory last week over Atkinson County. They have lost to Irwin, Wilcox County and Turner County. Charlton has also beaten Atkinson while also defeating both Wilcox and Turner.
The Indians are fifth in this week's power poll.
Long County at Liberty County
The Panthers will try to get well when they host struggling Long in Hinesville in a Region 2-3A matchup.
Liberty, the defending region champion, is coming off a surprising 34-0 loss on Monday at Appling County. The game against the Pirates was postponed until Monday due to Hurricane Michael.
That loss left Liberty with a 4-2 overall record and a 1-1 league ledger. The Panthers were seventh in the power rankings going into this week.
Long is 0-7 for the season with two league losses against Appling and Pierce.
Bradwell Institute at Richmond Hill
The Tigers will visit the Wildcats for a key Region 2-6A game.
Bradwell won its region opener two weeks ago at Effingham and had an off week last week. The Tigers are 3-4 overall after starting the season with three straight losses.
Richmond Hill throttled Brunswick two weeks ago in its region opener, but the Wildcats were humbled last week by Glynn Academy which scored on a pair of interception returns and also returned a block field goal for a touchdown in a 28-3 win.
Appling County at Brantley County
The Pirates will be back on the field at Brantley after securing a big Region 2-3A win Monday at home against Liberty County.
Appling led the Panthers 14-0 at halftime, but pulled further away in the second half.
The Pirates are ranked No. 10 in this week's power rankings.
Brantley is 1-6 for the season under first-year coach Geoff Gannon. The Herons have dropped their first two league games to Pierce County and Appling.
Claxton at McIntosh County Academy
MCA is still looking to crack the win column after seven straight losses to start the season.
MCA is 0-3 in Region 3-A play with losses to Calvary Day, Savannah Country Day and Savannah Christian.
Claxton is 5-2 overall and 2-1 in the region.