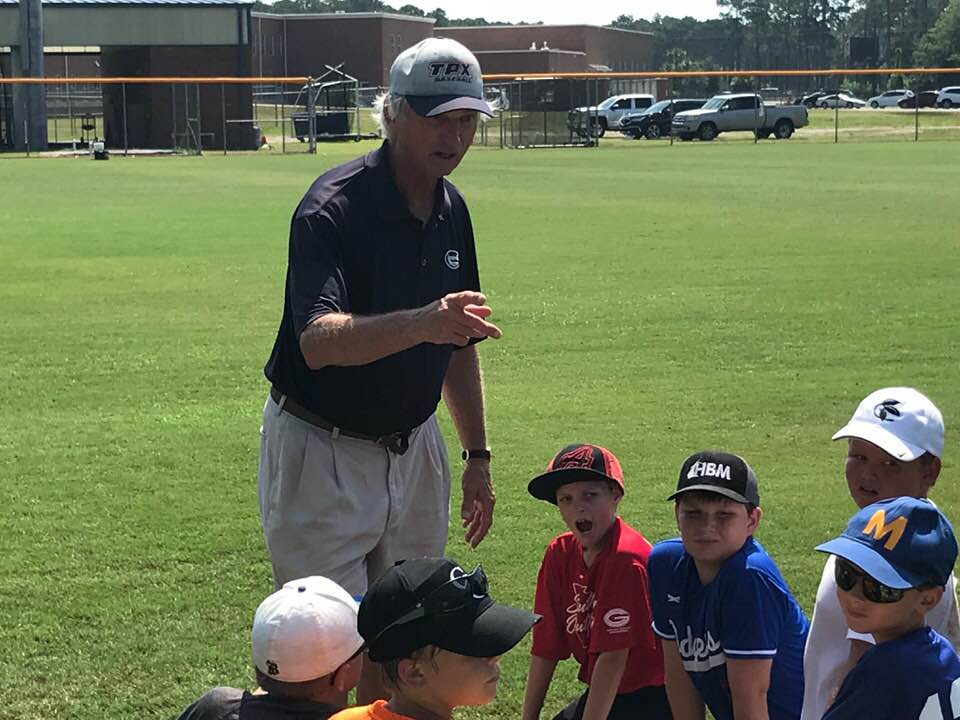 Some recent pictures of Robert Sapp working at his annual summer baseball camp that were posted on Facebook this week caught the attention of past campers from decades ago.
One person, who is now 45, made the comment that he attended Sapp's camp on St. Simons Island 35 years ago. He couldn't believe the veteran baseball coach, who was born and raised in Brunswick and is now 77 years old, is still conducting the camp all these many years later.
"I get that a lot," Sapp said this week while talking to the press as he stood in the outfield grass at the Brunswick High baseball field and watched the coaches lead their groups through a throwing drill. "People in their 40s who signed their kids up this week will tell me they went through the camp three, four or five times when they were young."
This is the 38th year of the Robert Sapp Baseball Camp in Glynn County. Sapp has been conducting camps in Brunswick and on St. Simons Island simultaneously this week.
He bounces back and forth between the mainland and the island while he has a coaching staff which includes local coaches stationed at both camps throughout the week.
"It's good to work with the kids, see them improve and see them having fun," Sapp said. "I like to see them enjoying the game and learning what it takes to get a little bit better."
Between the two camps, Sapp and his coaches are providing instruction to about 125 players this week who range in age from 6 to 14.
The campers get instruction in the morning and play games in the afternoon. But they also get plenty pep talks and much more from the coaches especially Sapp whose passion for the game is easily seen by anyone watching him pace the field and talk to the campers while they go through drills.
"The parents know we are going to try to teach them other things besides baseball," Sapp noted. "A lot of these kids won't play high school or college baseball, but we tell them when the coaches talk, you listen. We also talk about getting along with others and academics, things like that. Those are the things kids need. If they learn baseball, that's great, too."
Sapp was the longtime coach at Middle Georgia College in Cochran where he built the Warriors into a national powerhouse in the junior-college ranks. His teams won four national titles before he went on to coach at the University of Georgia where he ended his college coaching career.
Sapp compiled a 910-215 won-loss record in college ball and more than 100 of his players went on to play professionally including almost two dozen who made it to the major leagues.
Sapp, who first coached baseball and basketball in high school including at Brunswick High before moving into college coaching, is a member of the National Junior College Athletic Association Hall of Fame, Georgia Dugout Club Hall of Fame and the Glynn County Sports Hall of Fame.
He began his baseball camp in 1981, and while the game has changed through the years, Sapp still continues to teach it much like he did when he first started his camps.
"The bases are still 90 feet, the mound is still the same distance from home plate," Sapp said. "For the young kids especially, the game has not changed that much.
"We do a lot of the same things we have always done. That's also why it's important that we have a staff that has worked with us before. They know what we're trying to get done."
And again, don't forget that Sapp is very much old-school.
At all of his camps this summer in various locations across the state, Sapp is showing a 15-minute video produced by Louisville Slugger which is one of his longtime camp sponsors. The video is entitled "Heart of the Game" and features some of baseball's all-time greats including Babe Ruth, Hank Aaron and Jackie Robinson.
He hopes the campers will learn something about the history of baseball by watching the video, but he also tries to test their ability to focus and concentrate at the same time.
"If you like baseball, the video will make the hair on your arms stand up," Sapp said. "But, I also use it as a discipline moment to see who can sit still for those 15 minutes. For a lot of kids, that's hard."
Don't think, though, that Sapp is resistant to change. One thing he does during instruction that he hasn't always done is have the coaches hit fly balls and grounders to the campers using a tennis racket and tennis balls in certain drills.
There are many purposes for this including ease and safety.
"We let the kids come out here on their own after lunch and do drills with the rackets and balls by themselves," he said. "I also encourage them to go to the beach, take their gloves, a racket and some balls and hit each other fly balls while they're there."
Sapp noted that a lot of the drills he teaches the kids are drills they can work on by themselves or with a friend on their own away from the camp and coaches.
"We're not going to be around next week," he says.
Sapp tells the kids, especially those in the local camp, about his days growing up in Brunswick as an aspiring ball player.
He recalls members of the old Brunswick Pirates team which competed in the Georgia-Florida League walking by his house from the old Oglethorpe hotel in downtown Brunswick on their way to Edo Miller Park, seeing him playing ball in the yard and stopping off to play with him from time to time.
"My daddy went to almost all their games, and I kept the score at most of the games, too," he said.
Sapp noted that he also learned a lot about playing baseball while practicing on the local beaches. He worked on the fundamentals that his youth coach, Frog Horton, taught him, along with those that his high school coach at Glynn Academy, Lem Clark, later coached him on before he went on to play for the Georgia Bulldogs.
"Lem Clark was really big on fundamentals, really sound," Sapp said. "He helped me get a scholarship to Georgia. I still remember him telling me to watch the ball, not just all the way into the glove, but into your throwing hand as well. Coaching is huge for kids when it's done right."
Sapp conducts 10 camps annually – seven for baseball and three for girls softball – over five weeks in June and early July. His starts out near his current home in Flowery Branch before going to Dublin and Warner Robins, then here to Glynn County, and on to Thomson and Richmond Hill.
For obvious reasons, he considers the camp here special.
"Glynn County is still God's country as far as I'm concerned," Sapp says. "I've got a lot of good memories here in Glynn County, no doubt."
And apparently, Glynn County is still fond of the Sapp camp after all these years, too.
"The majority of the parents are usually happy by Friday," he said.