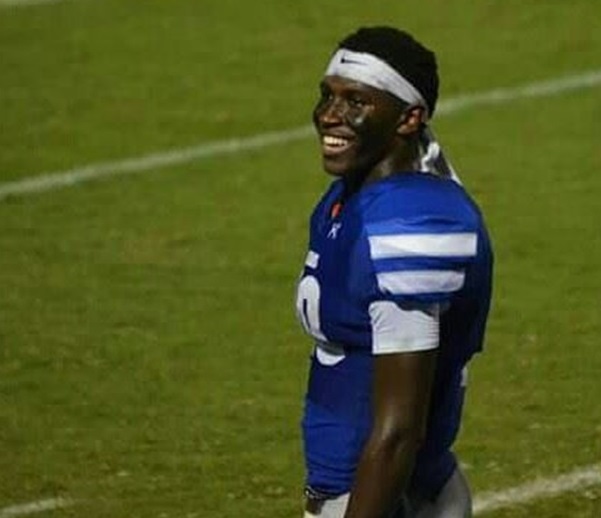 Pierce County has several play-makers on the offensive side of the football.
That's a big reason the Bears are playing in the Class 3A quarterfinals this Friday night.
One of those play-makers is senior running back Dee Bethea who played a large role in the Bears' 45-0 win over Jackson last Friday in their second-round game in Blackshear.
The 5-foot-11, 187-pounder ran the ball 11 times for 174 yards including a 31-yard scoring dash for the game's opening touchdown. He also caught  two passes for 61 yards, giving him a combined 235 yards from scrimmage in the runaway victory.
For his big night, Bethea has been named the Southeast Georgia High School Football Player of the Week.
His head coach, Jason Strickland, had high praise for Bethea's performance in the second-round win but also for his weekly contributions to the Pierce team throughout the 2018 season.
"He's a guy with an infectious smile and attitude," Strickland said. "He loves playing the game and definitely makes us a lot better football team.
"He's a freak athlete. I really don't know what he can't do. He is a 300-pound power cling guy. He's as fast as he needs to be. He catches the ball extremely well and has turned himself into a tremendous blocker as well."
For the season, Bethea has 753 rushing yards and has scored 10 rushing touchdowns. He averages 13.9 yards per carry.
He also has 27 receptions for 593 yards and seven touchdowns. Bethea has the second-most catches on the team, but is the leading receiver yardage-wise. He averages 53.9 yards as game as a pass-catcher for the Bears.
Bethea and the Bears, who are 12-0 for the season, will be at home Friday night for a quarterfinal game against Monroe Area which is also 12-0 for the season.
Kickoff is set for 7:30 p.m. in Blackshear.
For highlights from the Bears' second round game, click here.
Players of the Week
Regular Season
Week 1 – Logan Watson (Camden County)
Week 2 – Kris Coleman (Liberty County)
Week 3 – Isaiah Jackson (Frederica Academy)
Week 4 – MJ Fuller (Wayne County)
Week 5 – Kevin Harris (Bradwell Institute)
Week 6 – Shamar Taylor (Wayne County)
Week 7 – KJ Lee (Brunswick)
Week 8 – John Jones (Pierce County)
Week 9 – T'Shawn Lang (Glynn Academy)
Week 10 – Jamal Polite (Richmond Hill)
Week 11 – Deon Bell (Pierce County)
Week 12 – Sam Wagner (Glynn Academy)
Playoffs
Week 1 – Thomas Castellanos (Ware County)
Week 2 – Dee Bethea (Pierce County)