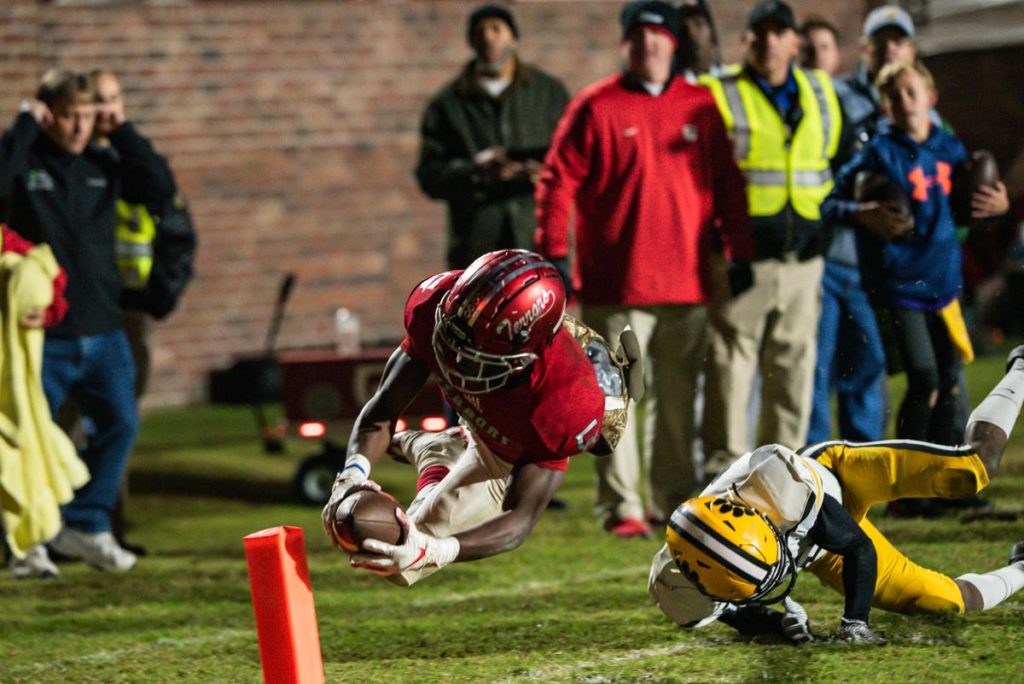 It was Glynn County vs. Lowndes County on Friday night in high-school football playoff action in the Golden Isles.

And when all was said and done, both counties came away with a victory on the prep gridiron.
On St. Simons Island, Frederica Academy walloped Valwood 60-27 to advance to the Class 3A state semifinals in the Georgia Independent School Association.
And in Brunswick, Valdosta toppled Glynn Academy 35-24 to earn a berth in the Class 6A quarterfinals in the Georgia High School Association.
Below is an in-depth look at what happened in both football games.
Valdosta 35, Glynn Academy 24
The Wildcats came to Glynn County Stadium with a high-powered offense, and Glynn Academy's usually-strong defense couldn't stymie Valdosta's big-play ability enough to come away with a victory.
With college prospects in the quarterback and receivers positions, the Wildcats (8-4) rolled up 455 total yards including 267 passing as they hit big plays to set up and score touchdowns from start to finish.
Junior quarteback Tate Rodemaker, who will visit the University of Tennessee on Saturday with his dad and Valdosta head coach Alan Rodemaker, was 12-of-21 passing with a touchdown and an intereception.
Rodemaker came into the game with more than 3,000 passing yards on the season. His touchdown pass gave him the all-time Valdosta record with 31 for the season.
Valdosta's senior running back Rajae'z Mosley ran for 155 yards and three touchdowns as he has carried for more than 1,000 yards this season as the team's featured running back.
The Glynn offense did what it needed to do to give the Red Terrors their best chance as they churned out yards on the ground, ate up clock and went on long scoring drives that kept Rodemaker and his offensive buddies on the sideline for large chunks of time.
Glynn finished with 421 yards including 326 on the ground. Junior Nolan Grant led the team with 147 yards and a touchdown on 22 carries. Senior quarterback Sam Wagner carried for 104 yards on 10 attempts and was 7-of-12 passing for 95 yards on the night.
The Terrors did have three turnovers including one inside the Valdosta 5-yard line early in the fourth quarter which prevented them from pulling within 35-24 with still more than 11 minutes to play.
"The past four years we would have won this game," said GA head coach Rocky Hidalgo. "I'm not sure we played Glynn Academy football some of the time tonight, and it was just the same inconsistencies that have hurt us all year. The turnovers and the big plays, you can't have those and beat a good team."
This is the first season under Hidalgo that the Terrors (8-4) will not play in the quarterfinals as they reached the round of eight in each of his first four seasons with the team.
Last season, Glynn defeated Valdosta 27-3 in the opening round, but that Wildcats team couldn't score like this one.
"They've got good players," Hidalgo said. "Their wide receivers are good. The quarterback is good. They have to score points. They aren't as good on defense as they have been in years past.
"But Rodemaker can spin it. You have to keep him off point and pressure him and that was hard for us to do tonight, especially without Marlon (Taylor)."
It didn't help Glynn that Taylor, a candidate for Region 2 Player of the Year, couldn't go because of a sprained ankle sustained in last week's first-round win over Evans. Taylor played three snaps early on Friday, but he came off the field with a noticeable limp and did not return.
Glynn fumbled away the ball on its first offensive play, but the Wildcats also turned over the ball on Rodemaker's interception on their second offensive play.
Valdosta scored first one play after a Glynn punt when Mosely scored from a yard out after Rodemaker hit Jaheim Bell for 42 yards to the GA 22 to ignite the quick 5-play, 70 yard drive that gave the visitors a 7-0 lead.
Glynn answered right back with a 15-play, 80-yard march that chewed up 7:08 of clock time, scoring on a 1-yard run by T.J. Lewis who took the snap from quarterback. The Terrors converted on fourth-and-1 from their own 48 with Caden Hutchinson gaining 8 yards to keep the drive going.
Early in the second period, Valdosta missed a 29-yard field goal attempt, and Glynn would get a 37-yard kick from Chase Gabriel on its next possession to go up 14-10.
But, Valdosta would score twice in the final five minutes of the first half to take a 21-10 lead into the halftime break.
Rodemaker hit Tarrell Roberts for a 58-yard scoring strike on Valdosta's first play following a Glynn punt. The extra-point made it 14-10 with 4:27 left before intermission.
The next time Valdosta got the ball it needed only five plays to cover 80 yards. A 64-yard pass from Rodemaker to Bell moved the ball to the Glynn 5, and Mosley scored from there to make it 21-10 with the PAT.
It looked like Valdosta might blow out Glynn after halftime when it went 65 yards in three plays to open the third period, scoring on a 30-yard run by Mosley that made it 28-10.
Glynn hung in there, though. GA went 80 yards in 14 plays to answer with an 8-yard TD run by Quantavious Bostic to pull the Terrors within 28-17 with just over four minutes left in the third.
But again, the Wildcats struck quickly. They paraded 79 yards in seven plays in less than two minutes and scored again on a 2-yard run by Mosley.
Rodemaker kept for a 4-yard gain on third-and-3 early in the drive and Mosley would scamper 55 yards prior to his short scoring run that made it 35-17 with 2:17 left in the third.
Glynn would blow a potential scoring chance just moments into the final stanza with a fumble inside the Valdosta 5.
The Terrors did get a big play from Bryon Bacon who blocked a punt by the Wildcats that gave Glynn the ball at the Valdosta 14 with 8:47 to go.
Grant darted the 14 yards on Glynn's first play to make it 35-24.
The Terrors had a chance to make it a one-score game just inside the four-minute mark, but a 48-yard field goal attempt by Gabriel was blocked at the line.
Valdosta was driving and had the ball deep inside Glynn territory as time expired.
"It was a game we had a chance to win. We just made too many mistakes to do that," Hidalgo said.
The Wildcats will face Dacula next week in the quarterfinals.
Frederica Academy 60, Valwood 27
It is safe to say that going into Friday's quarterfinal matchup, the Valiants had gotten the best of the Knights.
They defeated the Knights last year 14-10 in the state semifinals when they scored a late touchdown off a Frederica miscue. The Valiants won the state crown the next week.
And then earlier this season, Valwood nipped the Knights again by a 7-6 score in overtime after Frederica misfired on a two-point try to win the game. The teams battled to a scoreless tie in regulation in that August meeting.
But on Friday night, the Knights took the suspense out of this one early as they jumped on the Valiants from the opening kick and sent their nemesis home with a lop-sided loss.
"I though the kids came out and played really, really well," said FA head coach Brandon Derrick.
Frederica went up 20-0 early in the second quarter on three touchdown passes by senior quarterback Jaylin Simpson. He tossed a 10-yard TD pass to Thomas Veal on FA's first possession.
Also in the first period, he hit Denver Anthony for a 33-yard score. And then early in period two, the Auburn commit hooked up with fellow Auburn commit Jashawn Sheffield on a 57-yard catch-and-run play for another score.
From there, Isaiah Jackson put together one heckuva highlight tape as he scored six straight touchdowns for the Knights while running for 230 yards on 15 carries in the rout.
Jackson scored on short runs for his first two scores that made it 33-0 at halftime.
In the second half, he ran wild, scoring on runs of 40, 36, 46 and 34 yards.
Valwood scored early in the third period and would score three touchdowns in the fourth quarter as Frederica substituted freely.
"I thought our defense was lights out in the  first half," Derrick said.
He credited the offensive line for the big night by his senior running back Jackson.
"He doesn't get all those yards and touchdowns without the offensive line doing work," Derrick said.
Frederica improved to 8-3 with the win. Valwood finishes at 9-4.
The Knights will have to play on the road next week in the semifinals at Heritage. The Hawks (9-2) defeated Southland Academy 34-16 in their quarterfinal matchup on Friday.