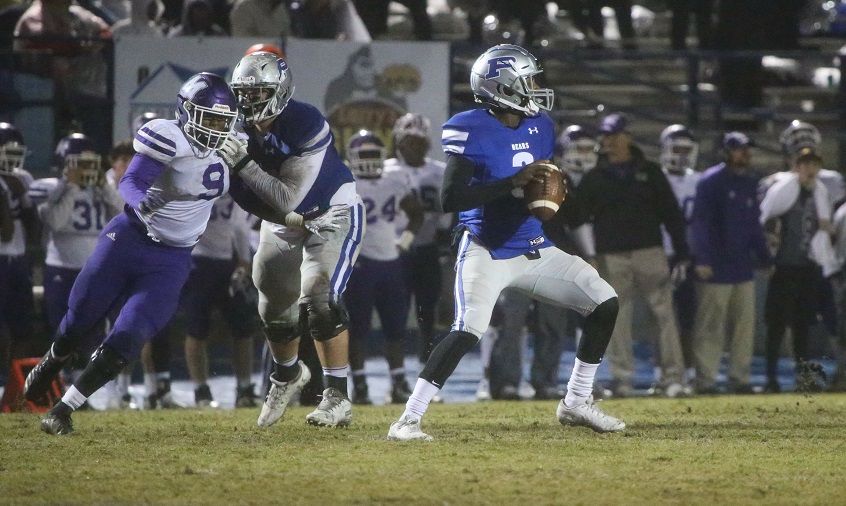 Jason Strickland has spent a lot of time on the phone this week.
The calls to his office and cell numbers were from boosters and community members wanting to know what they could do to help Pierce County this week going into its state semifinal game Friday night at Cedar Grove.
It's very apparent that Blackshear is fired up about its Bears football team. The town folk are ready for the biggest game in school history, and Strickland said the coaches and players will be ready, too.
He dealt with a lot of distractions throughout the week, but said everyone else has been able to focus on their usual assignments to prepare for a game on Friday night.
The Pierce coach thinks the Bears will embrace the moment and won't be satisfied to play on this stage or be scared of the opponent that awaits.
"Everyone is excited, and I've always said you can't stick your head in the ground and pretend this is a third-week regular-season game because it isn't," Strickland said. "We always want our kids to make the most of every opportunity and this is another one.
Our kids have done a great job and our coaches have done a great job of coaching like they have all year. We're confident about our football team, and we have a great group of seniors who are going to lead us and help us take full advantage of the opportunity that has been given to us."
Strickland has coached in the semifinals several times, but this is the first game for the Bears this deep in the playoffs. They had been 0-for-4 in their history in the quarterfinals before advancing to the Class 3A semifinals with their 24-7 victory last Friday at home over Monroe Area.
This is old hat for Cedar Grove which is making a fourth straight appearance in the semifinals which is a record by a DeKalb County program. The Saints won big last week in the quarterfinals as they steamrolled perennial contender Benedictine 55-0 in their quarterfinal game.
The Saints (12-1) are predicted to win Friday by 12 points according to the Maxwell Ratings. Their only loss this season was a 24-17 defeat against Class 7A power McEachern in early September.
Cedar Grove will put several major college prospects on the field including the state's top overall prospect Jadon Haselwood who had been committed to Georgia before decommitting earlier this fall. The five-star wide receiver has 51 receptions for 970 yards and 10 touchdowns.
"He's special," Strickland says. "He's a two-way player. If I didn't know he was a 5-star receiver, I'd say he's a 5-star safety. He's as good or better on the defensive side of the ball."
The Saints' defense also includes senior lineman Rashad Cheney, a four-star prospect who has committed and decommited to both Georgia and Alabama; defensive end Dante Walker who is committed to Arkansas; linebacker Isaiah Ratcliff, a three-star recruit with SEC offers; and linebacker William Jenkins who has offers from Marshall and Miami (Ohio).
Cedar Grove has been playing two quarterbacks. Sophomore Austin Smith has thrown for 1,532 yards and 18 touchdowns while senior Kendall Boney has passed for 818 yards and 14 TDs including three last week against the Cadets.
"We know they're a really good football team," Strickland said. "You see the type of athletes they have running around when you turn on the film, but you also see how well-coached they are. They play with great technique and they are fundamentally sound.
"At every level, they have elite dudes. If you're not trying to game plan for them, they're a lot of fun to watch."
On paper, the Bears are pretty good and the film will show that, too.
The Region 2 champions are 13-0 on the season and have won more games than any Pierce team since the school opened in 1981.
The Bears are averaging 41.9 points and allow only 9.5 as they have posted six shutouts including a 45-0 victory over Jackson in the second round.
They are primarily a running team, and senior running back John Jones, the region player of the year, has carried for 1,660 yards and has scored 25 touchdowns including at least one in every game this season.
Sophomore quarterback Jermaine Brewton has performed admirably for the Bears and has thrown for 1,797 yards and 21 TDs.
Strickland said he didn't know if his players would get extra juice from getting put in the underdog role against the ultra-talented Saints. But, the coach doesn't think it will shake the team's collective psyche.
"Most folks, at least those outside of Blackshear, probably thought we'd get beat last week against Monroe," Strickland said.
"Cedar Grove has done this over several years and has earned their respect. We know we're still trying to earn that kind of respect."
Strickland said winning the special teams battle in the game will be crucial.
"We need to win that, and then try to win one of the other two," he said, referring to his offense against their defense or his defense against their offense.
"We know we're gonna have to play well. They're not going to give us the football game."
Kickoff is set for 7:30 p.m.
The game will be video streamed by the NFHS Network along with all other semifinal games in the state on Friday night. View the games by clicking here.