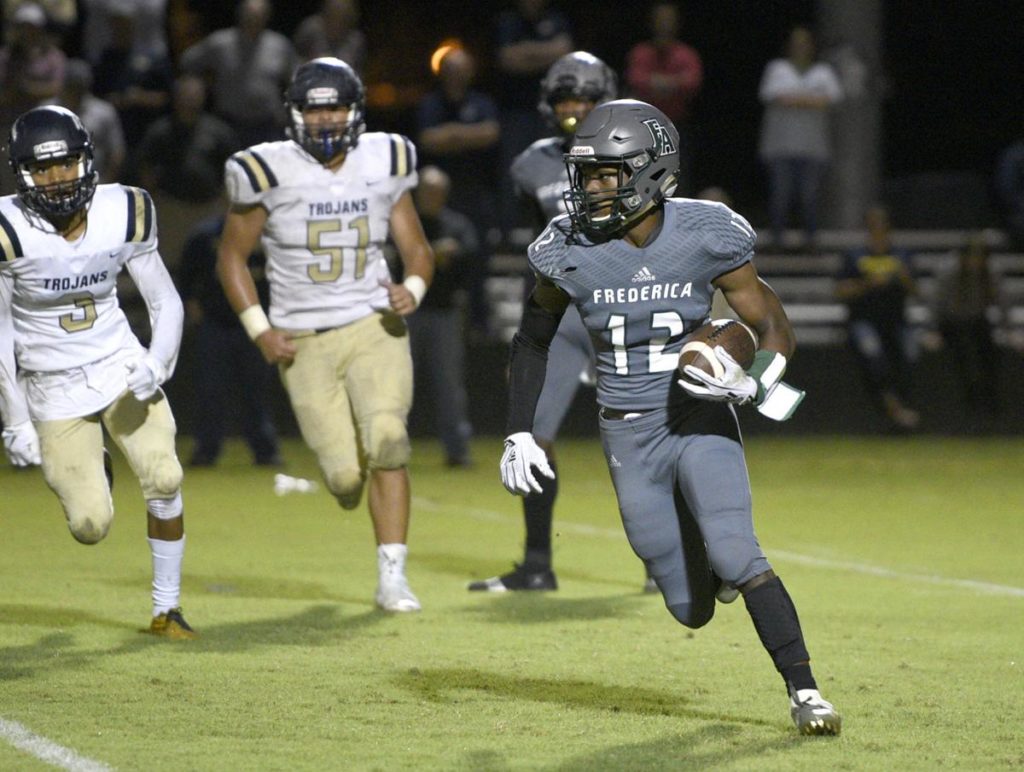 The Frederica Academy Knights abandoned their normal routine Tuesday as they prepared for their Friday night state championship game.
But, they had a good reason.
The Knights wanted to practice on an artificial turf field like the one they will play on at Mercer University when they take on John Milledge Academy in the Georgia Independent School Association Class 3A final.
So rather than stay at home on St. Simons Island for their second practice of the week, the Knights made a trip down to Kingsland to practice on Camden County's turf field at Chris Gilman Stadium.
Other than making that excursion, the Knights have tried to maintain a typical week as they prepped for the championship tilt against the Trojans.
"We're trying to keep everything the same as possible," said FA head coach Brandon Derrick. "We're the home team, but its more of a home game for them. They are only about 40 miles away from home. For us, it's just like another road game."=
The Knights' game routine Friday will be much like last week's when they traveled to Newnan to face Heritage in the semifinals. The Knights will leave school Friday morning to head to Macon, but will stop off first at Georgia Southern for a walk-through practice at the Eagles' practice facility in Statesboro.
Once, they arrive in Macon, they will eat their pregame meal at the Bear's Den which will serve up what the Knights like to eat before most every game including chicken fingers, green beans, mashed potatoes, mac-and-cheese and dinner rolls.
Their plan is to arrive at Mercer by about 5:30 p.m. and watch some of the Class AA title game scheduled prior to their 8 p.m. contest against John Milledge before then settling into their usual pregame routine at the game site.
The Knights are very familiar with their opponent, too. Frederica (9-3) and John Milledge (12-0) played a non-region game on St. Simons Island on Oct. 26 with the Trojans winning 14-13 in overtime.
The loss ended a six-game winning streak by the Knights who had scored at least 39 points in each of their wins during the streak.
Since that loss, the Knights have been on another roll, winning their last three games by no fewer than 25 points while scoring 49, 60 and 53 points in those contests.
Last week, Frederica blitzed Heritage 53-7 to reach this week's title game.
"I think it was the best thing that happened to us," Derrick said, referring to the regular-season loss to the Trojans. "I think it woke our kids up. They thought we could roll the footballs out and everyone else would stop and roll over for us. John Milledge played really good, and we had some individuals play well but didn't play well as a team. I think that game shook our kids awake."
Outside of Charlton County, the Georgia High School Association small-school power that defeated the Knights 28-21 in the season opener, the Frederica coaches feel like the Trojans are the best team the Knights have played all year.
It's only fitting, they say, that the Knights must get past them to claim their second state title. Frederica won the Class A title in the 2012 season which was only the school's second year of playing football.
Frederica has not played in a state title game since then as it lost in the 2013 and 2017 semifinals.
The Trojans won a state crown in 2016. Last year, they were beaten in the quarterfinals by Valwood which nipped Frederica in the semifinals before winning the state title the following week in Macon.
Frederica's plan is also to play its normal game. It wants to play fast on offense and get as many chances with the ball as they can. It will be the Knights' defense that has to get them the ball by getting John Milledge's run-oriented, ball-control offense off the field.
"The defense has to get us off the field, and then we have to be efficient on offense. We've got a good shot against them, but they do have a good defense," Derrick said.
The FA offense is led by senior running back Isaiah Jackson who has 1,418 yards rushing and has scored 27 total touchdowns this season.
Senior quarterback and Auburn commit Jaylin Simpson has passed for 1,249 yards and 13 touchdowns while rushing for 409 yards and six scores. He missed several games with a painful toe injury.
Also, fellow Auburn commit Jashawn Sheffield has 553 yards receiving with six touchdowns and 184 yards rushing with three scores.
Junior athlete Denver Anthony has accounted for 19 touchdowns with 12 rushing scores, three receiving touchdowns and four passing scores.
The Knights average 42.6 points a game while giving up 17.9 points.
The Trojans have a featured runner in sophomore Amaad Foston who carried for 140 yards in the earlier meeting between the teams.
Their defense is led by linebackers Jacob and Jared Prestwood. The Trojans allow just 10.2 points a game.
"I expect a good game. They're a good football team, well-coached," Derrick said. "They beat us last time, so we have to go play well.
"We are who we thought we were. We've been this way for 12 games. We're fast and want to play uptempo and our defense has to get them off the field."
Kickoff is set for 8 p.m.
You can listen to the radio broadcast of the game here.
You can watch the live video broadcast of the game here.