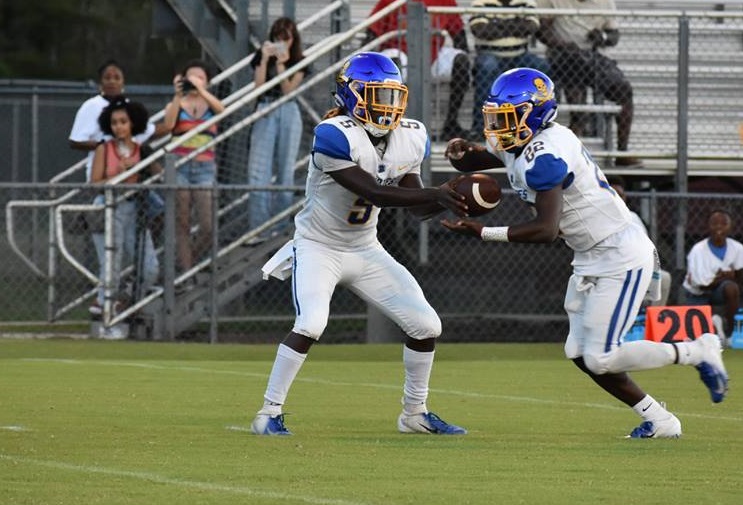 New who?
That's a question some Brunswick High fans are asking when they're told the Pirates are playing New Hampstead in a non-region game this Friday night at Glynn County Stadium.
Longtime Brunswick fans are familiar with Chatham County schools such as Jenkins, Johnson and Windsor Forest from the many years of playing in the same region with the Savannah schools.
But New Hampstead, located in Bloomingdale which is just outside of Savannah, is a new opponent for the Pirates on the football field.
The Phoenix, who are in just their fifth season of playing football, might have their best team yet, according to Brunswick second-year coach Sean Pender.
"They're legit. They're a playoff team, I think," Pender said.
New Hampstead, which is located west of downtown Savannah, opened its doors at the start of the 2012-13 school year. The school colors are maroon and gold.
Nicknamed the Phoenix as already noted, the football program did not play a region schedule its first two seasons in 2014 and 2015. The team went 2-8 its first year, but improved to 7-3 its second season.
In 2016, the Phoenix finished 3-7-1 but were 2-2 in Region 2-5A with wins over Statesboro and South Effingham and losses to Ware County and Wayne County. They made the playoffs as the region's third seed and lost big to Woodland (Stockbridge) in the first round.
Last year, the Phoenix improved to 5-5 overall and again were 2-2 in the region with wins again coming over the Blue Devils and Mustangs and the losses coming against Wayne and Ware. Again as the region's No. 3 seed for the playoffs, the Phoenix fell 48-6 to Bainbridge in the opening round of the playoffs.
This season, the Phoenix started 2-0 with victories over Jenkins (25-8), which was ranked third in Class 3A to open the season, and Beach (32-17), the same team the Pirates defeated in their preseason scrimmage.
They lost their third game at Bolles (43-34) which is 2-2 this season and is an 11-time state champion in Florida with several runner-up finishes including the latest in 2016.
Prior to that game against Bolles on Aug. 31, New Hampstead coach Michael Moore was reassigned to another school and was dismissed as head football coach. School administrators called it a personnel matter and did not elaborate on the circumstances surrounding the move.
Thomas Tedder, the team's offensive coordinator, is serving as the interim head coach the rest of the season.
The Phoenix have not played since that loss to Bolles in Jacksonville. They had a scheduled bye the following week, and last week their game against Richmond Hill was cancelled mid-week due potential weather concerns related to Hurricane Florence which ended up not impacting the Georgia coast.
"I'm worried. They're good," Pender said of the Phoenix. "They're really big up front. Their offensive line is big and coached up. Their quarterback is the best athlete we've seen so far."
The quarterback is Deyandre Ruffin, a 6-foot-2, 180-pound senior who transferred from Tarpon Springs, Fla., prior to the new school year. He has thrown for 468 yards and three touchdowns, but also has been intercepted six times in the first three games. Ruffin has carried 31 times for 119 yards and three scores.
"He's an explosive athlete. He can extend plays with his legs and he's good throwing the ball," Pender said "We have to keep him contained."
The Phoenix also feature fullback Dontre Wallace, a 5-8, 195-pound senior who also is a starting defensive end. He is averaging 105 yards rushing per game and has scored three touchdowns.
They have a couple of big-play threats at the receiver positions also, most notably 6-2 junior Sam Brown who has five catches for 162 yards and two touchdowns thus far this season.
"They can go up and get it," Pender said of the receivers.
New Hampstead's defense is led by Wallace, fellow senior end Mikell Jackson, senior middle linebacker Fred Nunn who leads the team with 35 total tackles and junior free safety Anthony Thomas.
The Pirates (1-3) will put somewhat of a new-look offense on the field this week after getting blanked 37-0 last week at home against Camden County.
Injuries have forced the Pirates to shuffle people along the offensive line. Right tackle Caleb Cook will definitely miss Friday's game with a lingering illness while senior center AJ Kirkland is questionable due to a recurring high ankle sprain that has hampered him since the preseason.
"Our offensive line was supposed to be strong suit. Other guys are gonna have to step in and play," Pender said.
Brunswick also will be without junior Marlon Carmena who has been the team's leading receiver in the early going. He suffered a high ankle sprain last week against Camden and is sidelined indefinitely.
Pender said Peter Sheffield, a starter in the secondary, will now play more on offense as a big-play threat in one of the team's receiving positions in the spread offense.
Also this week, junior Anthony Mountain will make his first start at quarterback for the Pirates after coming off the bench the last two games. Pender said sophomore KJ Lee, who started the first three games, will also play on Friday night.
"Anthony deserves the opportunity to start," Pender said. "It's nothing against KJ. He's still getting reps and will play."
Brunswick has been operating at a slower pace than Pender prefers on offense because of its overall inexperience at quarterback and the other skill positions. But this week, the Pirates have limited the playbook in practice and will try to play with a faster tempo to hopefully kick start the offense.
"Our kids have got to start performing," Pender said.
"It's important that we play well this week. Even though we have people banged up and bruised, people have to step up and make plays."
Friday's game is scheduled for a 7:30 p.m. start.