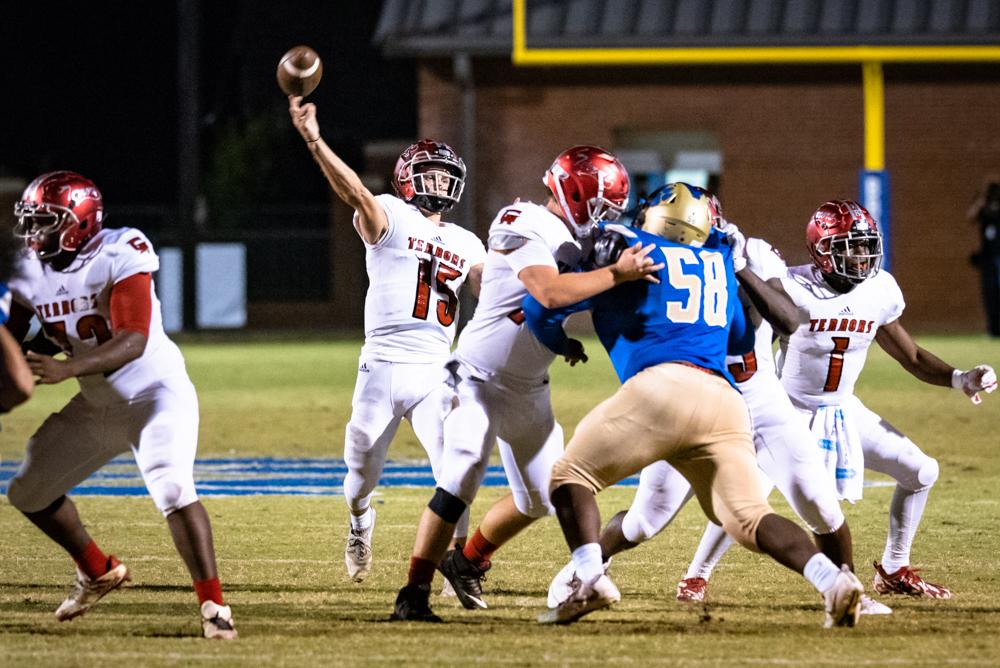 Sam Wagner might not be a five-star quarterback with scholarship offers from dozens of major-college programs.
But Glynn Academy head coach Rocky Hidalgo isn't ashamed to have the senior standout as his starting quarterback.
"Sam's a great kid, nice kid," Hidalgo said. "He does everything you ask of him and gives you everything he has. He's a winner."
That, he is.
Wagner, who will start at quarterback Friday night when the Red Terrors (7-3) open the Class 6A state playoffs at home against Evans, is undefeated as Glynn's starting signal-caller since assuming the job just a month ago.
With the senior in one of the most important positions on the team, Glynn swept through its Region 2 schedule, defeating all four of its league opponents to claim a fourth consecutive region championship and the top playoff seed that comes with winning that crown.
Last week in Glynn's final regular-season game at Bradwell Institute, Wagner was involved in four of the team's six touchdowns in the 42-21 victory over the Tigers that earned the Terrors the outright region title.
He rushed for three touchdowns and passed for another while accounting for a combined 102 yards rushing and passing.
Wagner's performance was part of a 420-yard night for the Glynn offense which had sputtered prior to the start of region play.
Also on Tuesday, Wagner was named the Southeast Georgia High School Player of the Week by AllOnGeorgia  for his game against the Tigers.
"He's gotten better every week," Hidalgo said. "He's a tough kid, a smart kid. He runs it pretty well and throws it well. He's a good little player."
Wagner was Glynn's backup quarterback last season behind senior Randon Jernigan who helped lead the team to the state semifinals. Jernigan is now a scholarship outfielder for the University of Georgia baseball team.
During spring practice in May, the GA coaches took a look at a pair of sophomores as the possible replacement for Jernigan as the trigger man for the team's shotgun-triple option offense.
They knew they had a reliable hand in Wagner who would be ready to go if their experiment did not work.
One of those youngsters sharing the snaps at quarterback in the spring and into the summer was TJ Lewis who ultimately earned the starter's job and served as Glynn's quarterback for the first six games of the season.
Wagner lined up as a sure-handed wide receiver and punt returner for the Terrors.
"It was nothing against Sam," Hidalgo said when talking about the decision to go with the athletic Lewis at quarterback to open the 2018 season. "It was really just about having a guy like him back there for three years."
Wagner says now he totally understood that.
"I knew TJ was a good athlete and would be a good quarterback," he says. "I knew he would be here for three more years. I probably would have done the same thing as a coach. I was still going to be on the field as a receiver. I was good with it."
Glynn's offense, though, struggled through the first six games of the season as the Terrors finished their non-region schedule with a 3-3 record that included a forfeit victory over Fort Dorchester which used an ineligble player in the season-opening game.
The Terrors won big despite their offensive inconsistencies against the two weakest opponents on their early schedule, Washington (Atlanta) and Groves.
In the next three games at Wayne County, Ware County and Camden County – three playoff teams – the Terrors had little punch as they played those games with an offensive line that was riddled by injuries.
Glynn had an open week following their loss at Camden, and that's when Hidalgo and his offensive coaches decided to makes some changes to the offense including the personnel switch at quarterback.
Wagner moved into that role with Lewis moving to receiver. The coaches knew Wagner was a capable runner and perhaps a more efficient passer at present time while they could throw the ball to Lewis, still use him as a runner and still have him take some snaps at quarterback, too.
"It was nothing against TJ," Hidalgo says. "We just thought it was better for us to have Sam throw to TJ than TJ throw to Sam.
"It was a better move for us to let Sam be the distributor and get the ball to TJ in different areas."
Wagner said this week he was skeptical of the mid-season move at first. He was also worried that the switch might put a strain on his friendship with Lewis.
"I talked to TJ about it and he was OK with it," Wagner said. "It's working now. The Bradwell game was a fun game. I felt like our offense clicked for the first time."
Wagner is 14-for-36 passing for 200 yards and two touchdowns and he has carried 43 times for 215 yards and five touchdowns while averaging 5 yards per carry.
He is still Glynn's leading receiver with five catches for 192 yards and two scores.
Lewis, meantime, has gained 271 yards rushing on 87 attempts while scoring six TDS. He has caught three passes for 86 yards and two scores.
Against Bradwell, the touchdown pass that Wagner threw went to Lewis and covered 39 yards to give Glynn a 14-7 lead in the second quarter.
"Sam is a good high-school football player," Hidalgo said. "He can do a lot of things well. He'd probably be a heckuva safety, too. He can probably play college ball somewhere if it's something he wants to do."
This week, the Terrors are set to take on an Evans team which finished as the No. 4 seed from Region 3 after going 3-7 overall and 3-2 in region play. The Knights started the season with six straight losses including a 9-6 season-opening loss at Effigham before winning three of their final four games.
Evans losts its league opener to Lakeside-Evans for its sixth straight loss, then defeated Heritage-Conyers, Greenbrier and Alcovy in order, before dropping its season finale last Friday to region champion Grovetown.
"We need to go play well," Hidalgo said. "They've got a pretty good defensive line, and they've got some athletes on offense."
But so do the Terrors, and one of those is Wagner who will be looking to go to 5-0 as the team's starting quarterback in the 7:30 p.m. playoff opener at Glynn County Stadium.
"We're ready to run the ball downhill and throw it over the top a little bit," Wagner said. "That's always been our goal. That's the way Coach Rock likes to do it."