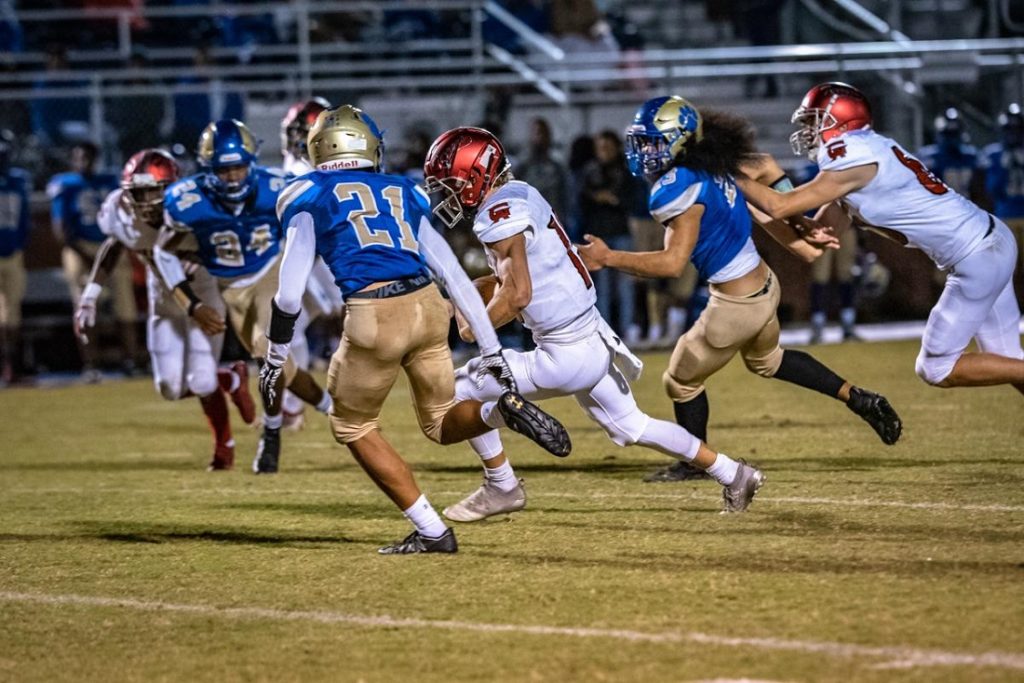 The Glynn Academy Red Terrors had perhaps their most complete game offensively this past Friday night as the Terrors clicked to a 42-21 win at Bradwell Institute to claim a fourth straight region championship.
And senior quarterback Sam Wagner was very much a big part of the Terrors' solid offensive showing.
With the Terrors rolling up 420 yards for the game, Wagner ran eight times for 39 yards and three touchdowns and threw for 63 yards and a touchdown, giving him 102 yards and making him part of four of the six Glynn scores on the night.
For his effort, Wagner has been named the Southeast Georgia High School Player of the Week.
Wagner took over as Glynn's quarterback prior to the start of Region 2-6A play and helped the Terrors claim another league title with four straight wins to close out the regular season.
"Sam is a good athlete and a very good leader," said GA coach Rocky Hidalgo of his senior quarterback. "He stays loyal to the football team. He's the ultimate team player. He's a program-first guy and guys like him make it possible for us to win football games."
Wagner and the Terrors will play in the Class 6A state playoffs on Friday night. Glynn will be at home in the first round against Evans.
Kickoff is set for 7:30 p.m. at Glynn County Stadium.
To see a video recap of the Bradwell game including Wagner highlight clips, click here.
Players of the Week
Week 1 – Logan Watson (Camden County)
Week 2 – Kris Coleman (Liberty County)
Week 3 – Isaiah Jackson (Frederica Academy)
Week 4 – MJ Fuller (Wayne County)
Week 5 – Kevin Harris (Bradwell Institute)
Week 6 – Shamar Taylor (Wayne County)
Week 7 – KJ Lee (Brunswick)
Week 8 – John Jones (Pierce County)
Week 9 – T'Shawn Lang (Glynn Academy)
Week 10 – Jamal Polite (Richmond Hill)
Week 11 – Deon Bell (Pierce County)
Week 12 – Sam Wagner (Glynn Academy)