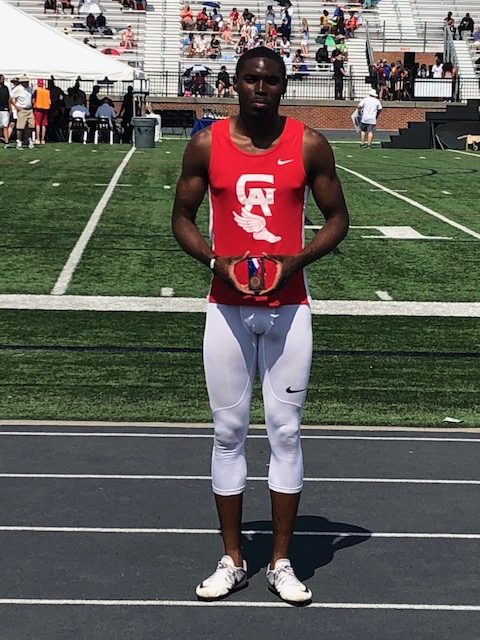 Several local competitors made the podium this past weekend by finishing among the top eight in their respective events at the Georgia High School Association Class 6A state track and field meet.

Competing at Grisham Stadium in Carrollton, four Glynn Academy boys participants were among the best in their events.
Senior Marvin Dallas, who is bound for Georgia Military College on a football scholarship, placed fourth in the 300-meter hurdles and fifth in the high jump. Dallas ran the hurdles in 38.71 seconds and cleared 6 feet, 4 inches in the high jump for the Red Terrors.
Also for Glynn, Elijuan Singleton placed fourth in the triple jump with a jump of 45 feet, 6 ½ inches while Marlon Taylor was fourth in the shot-put with a throw of 50 feet, 7 ¼ inches.
As a team, the Red Terrors finished ninth overall.
"My goal was to finish in the top 10," said GA coach David Bailey. "I'm not sure about the record books, but that's the best we've finished in a long time."
Also from Region 2 which Glynn and Brunswick compete in, Richmond Hill placed third overall while Bradwell Institute tied the Terrors for ninth.
Meantime, for the Glynn girls, Alivyah Floyd had a strong meet as she placed second and fourth in two different events. Floyd was the runner-up in the discus throw with a throw of 132 feet, 1 inch. She was fourth in the shot-put with a throw of 38 feet, 7 inches.
Also for the Lady Terrors, Zoesha Smith placed fifth in the high jump by jumping 5 feet, 2 inches.
Brunswick High also was represented on the podium by Bashan Wesley in Carrollton. Wesley was fifth in the triple jump (45-5) and came in seventh in the long jump (22-3 ½).