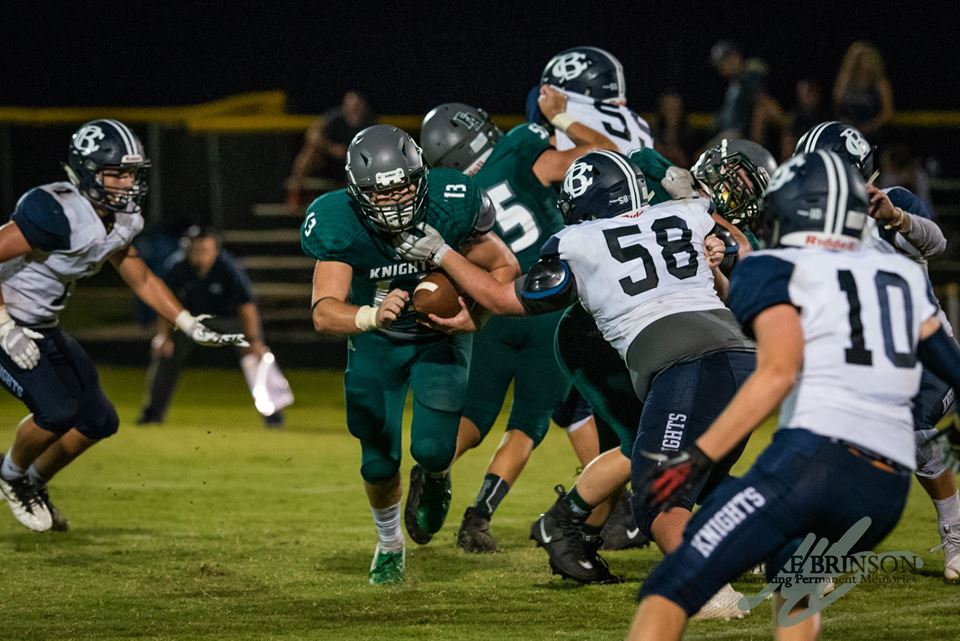 Frederica Academy has posted 60 points in each of its last two games.
And now as the Knights prepare to hit the road for a game Friday night at Augusta Prep, the question is how many points can Frederica put on the scoreboard against the winless Cavaliers?
That shouldn't be the focus, though, according to head coach Brandon Derrick.
He's more interested in progress than points.
"That's not something you can just bank on," the coach says of hitting the 60-point benchmark again. "We're playing pretty well, but I want us to keep getting better as a team."
The Knights( 2-2) dropped their first two games of the season to Charlton County when they scored only one offensive touchdown and returned two kickoffs for scores. The next week against rival Valdwood, the Knights went scoreless in regulation before scoring their only touchdown of the game in overtime.
But two weeks ago at Lanier County, the Knights raced away for a 60-40 win and last week they powered past Bethlehem Christian 60-21 after jumping ahead 27-0 in the first quarter.
Six different Knights scored touchdowns in the runaway victory last Friday. No one accounted for more points for the Knights, though, than quarterback Denver Anthony who passed for two touchdowns and also ran for two.
Anthony will make his third straight start for the Knights at Augusta Prep (0-3) while filling in for injured would-be starting quarterback Jaylin Simpson.
Derrick put the ball in Anthony's hands more last week than he had previously and his gradual improvement since taking over the starting job has been a big key in Frederica's offensive explosions the last two weeks.
But more than anything, Derrick said the offensive line's play has been the real reason for the Knight's offensive success.
"We've probably come along a little quicker than I expected on the offensive line," Derrick said. "The guys up front have been dominant the last two games and have just been physical. We're rotating nine guys up there, so I knew things might be a little complicated at first, but we're progressing really well on the line."
Derrick said the Knights have been especially good with their power running plays between the tackles the last two weeks. Senior Isaiah Jackson ran for 213 yards two weeks ago and carried for 155 last week to lead multiple ball carriers who have had touches for the Knights.
He said the different runners have done a great job of blocking for each other.
"They don't care about going up in there and sticking their nose in a linebacker's face and getting it cleared out for the guy behind them because they know the next play the other guy is gonna have to do it for them," Derrick said. "We had almost 800 yards rushing the last two games. Again, our offensive line has just gotten better and better."
Augusta Prep gave up 48 points in each of its first two games and allowed 35 last week in its third straight loss to open the season.
Derrick said the Cavaliers have lined up with both three- and four-man fronts in their previous games, so the Knights are preparing for both looks.
"We'll go out and identify what we've got to do, and once we get that down, I think our kids will settle in and go play," Derrick said.