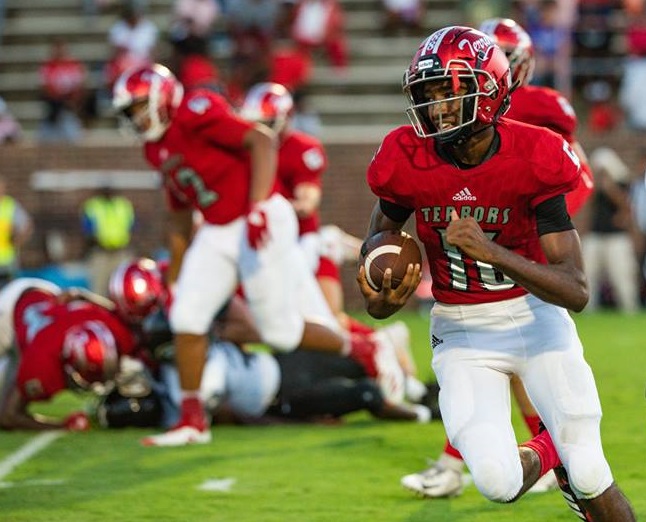 The Wayne County and Glynn Academy football teams are first and second, respectively, in the Southeast Georgia High School Football Power Poll.
And based on the admiration that the coaches from both teams have for the other side, the power rankings would seem to be pretty accurate.
Wayne's Ken Cribb spent an interview session singing the praises of the Terrors while Glynn's Hidalgo was also complimentary of the Jackets as the two teams look toward  Friday's meeting against one another.
"Glynn is incredibly well-coached," Cribb said. "What they do offensively is tough to do, and they have the kids to do it.
"Defensively, they've played well. They take a lot of pride in being physical on defense."
GA's coach is equally impressed with the Jackets.
"They've got a big offensive line, a big running back and their top receiver is probably as good as any we'll play all year," Hidalgo said.
"Defensively, they're probably as good as anyone we'll see. They're really good in the secondary, they get downhill fast. They're really well-coached on defense and they've got good players."
The Jackets, who started the season No. 2 in the power poll and moved into the top spot after Glynn lost to Fort Dorceshter (S.C.) in Week 1, are 3-0 for the season with victories over Long County (47-0), Richmond Hill (23-21) and Beafort (S.C.) (35-7).
The Jackets, who are ranked No. 8 in Class 5A, have played three straight weeks after not playing in the season's opening week.
Glynn has won two straight since falling to Dorchester (37-21) in its season opener. The Terrors toppled Booker T. Washington (42-6) and Groves (49-0).
The Terrors, who are ranked sixth in Class 6A, were off last week, giving them two weeks to prepare for Friday's game.
"We've gotten two wins against bad football teams," Hidalgo said. "I think we've gotten better since the start of the season, but it's hard to tell. You couldn't tell anything from the game against Groves.
"We're not where we need to be, though. This is another opportunity for us to go get better. If we keep doing that, we'll be a good football team by the end of the season. If not, we won't be."
Cribb said the Jackets are looking at Friday's game as a challenge, much like the game they had against Richmond Hill at home two weeks earlier when Wayne rallied from a 21-13 deficit in the second half.
"They're a bigger school with a really good football team," he said of Glynn. "It's just a good opportunity for us to compete against a quality program."
The Terrors are 4-0 against the Jackets under Hidalgo including last year's win in Jesup by a 38-27 score. Glynn went on to win a third straight region title and played in the Class 6A state semifinals for the second time in four seasons.
The loss to Glynn was the first of the season for the Jackets after four straight wins to start their first season under Cribb.
Wayne would rebound and win all four of its region games to also claim a league title. The Jackets won their playoff opener before falling 26-21 to Jones County in the second round.
"They had a good year last year, and they almost beat us last year," Hidalgo said. "Wayne's got a good football team again this year.
"We've got to hold onto the ball and play great defense to have a chance."
Cribb is especially concerned about his team's ability to slow down Glynn's triple-option offense which is hard to simulate in practice, he said.
"They play hard, and I'm just impressed with how they run it," he said. "Their sophomore quarterback (TJ Lewis) is doing a good job with it, and they block it really well."
Cribb said he wouldn't be surprised if points are hard to come by against either defense, but if they can't slow down Terrors, the Jackets best be ready to match them on the scoreboard, he says.
"We've got to play better offensively, I tell you that," he said. "When you're playing people like Glynn, you better be able to score points. They've scored a lot their last two games, and if they don't put the ball on the ground, they score more against Fort Dorchester, too."
The good new for the Jackets is that their offense will have junior Shamar Taylor back at quarterback after he left last week's game early with an injury.
Cribb said he could have returned, but they kept him on the sidelines as a precaution.
Cribb's son Ashby, a college prospect as a wideout, filled in admirably while senior running back MJ Fuller stepped up with 182 yards rushing and two touchdowns.
Hidalgo said the Terrors also should get junior running back Nolan Grant back this week. He missed the Groves game after having an emergency surgery for an undisclosed issue after the team's second game against Washington.
Friday's game is set for a 7:30 p.m. start at Jaycee Stadium.