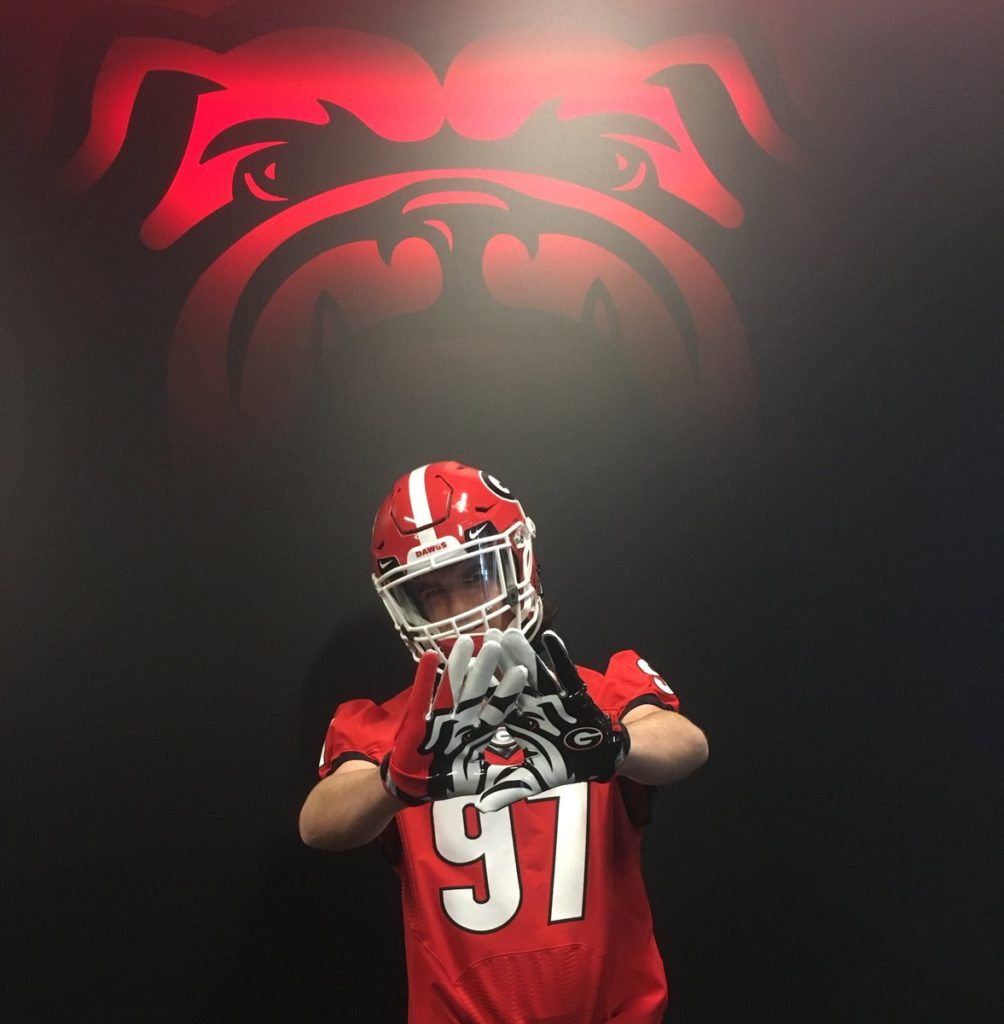 Jack Podlesny will soon be kicking a ball in college.
It just won't be the ball he thought he'd been kicking beyond high school when he went to Glynn Academy as a freshman.
The St. Simons Island native thought he would be playing soccer somewhere in college if he played anything at all.
Turns out, he was wrong.
The Glynn standout will be kicking a football for the Georgia Bulldogs as soon as June when he enrolls at the University of Georgia for summer classes and begins working out at the UGA facilities in advance of preseason camp.
Podlesny has been invited to join the Georgia team as a preferred walk-on and he will announce his plans to play for the Dogs publicly on Friday afternoon on the Glynn campus.
That he will do so seems surreal to Podlesny who didn't start receiving offers until after the Red Terrors' season ended with a loss to Lee County in the state semifinals in December.
"I still can't wrap my head around it," he said Wednesday afternoon during a one-on-one interview inside Glynn's football facility. "People are coming up to me saying, 'Man, you are going to be playing college football.' And, I go, I am? It's definitely life-changing."
The son of a soccer coach – Ike Podlensy who has coached at Frederica Academy and also Glynn – the younger Podlesny has played soccer since he was 3 years old. He says now that he is "all-soccered out" but Podlesny remains a key player for the Terrors as a defender for the Region 2-AAAAAA champions.
"I'm mainly burned out on club soccer," he said. "I love playing high-school soccer and love the guys I play with."
Currently the team captain for the GA soccer squad, Podlesny has played all four years for the Terrors. He also played football as a freshman, but hardly ever saw the field in a game.
Podlesny did not play football as a sophomore, choosing instead to concentrate on soccer as he still envisioned himself as a college soccer player.
His thoughts changed after his second year at Glynn and he returned to the football team for his junior season, seeing limited action as a backup kicker.
This past fall, he blossomed as he handled all of the Terrors' kicking and punting duties.
Named to the all-region team following the season, Podlesny made nine of his 10 field-goal attempts during the 2017 campaign including three over 30 yards with his long being from 35 yards out.
He also connected on 49 of his 51 point-after tries and 55 of his 61 kickoffs reached the end zone for touchbacks.
As the starting punter, Podlesny had 31 attempts for 1,252 total yards and averaged 40.4 yards per attempt.
"I really didn't think I was good enough" Podlesny said about kicking in college, "but Coach Hall kept telling me I was."
Coach Hall is Glynn assistant coach Kip Hall who works with the team's kickers. The veteran coach who coached at Georgia in the early 1990s said Podlesny is "a steal" for the Bulldogs as a place-kicker.
"He has only been kicking for two years and his junior year he was a backup," Hall said. "If he had been kicking for four years there is no telling what it would have brought in offers.
Schools that did see him late really loved him, but in a lot of cases most of the recruiting spots are taken at that time in the recruiting process.
"I've coached for 25 years and have never had a player work as hard as Jack. In recruiting terms, Jack is the whole package – ability, work ethic, academics and a good character person.
"Being a Bulldog, I am also excited that Jack will be a Bulldog. Jack's best kicking is ahead of him."
Podlesny ended up having six offers from schools to come as a preferred walk-on. The others were North Carolina – once his dream school – Mercer, Columbia, Georgia Tech and Michigan.
"Michigan and Georgia were the most invested in me," he said. "The Michigan kicking coach texted me on a daily basis."
The Wolverines discovered Podlesny in the state semifinal game at Lee County when another Michigan coach was there to watch Otis Reese, the nation's No. 5 outside linebacker for the Trojans who was a longtime Michigan commit before flipping to Georgia this past December during the early signing period.
Podlesny visited Ann Arbor in late January and came away impressed.
"I went bowling with other recruits and Coach (Jim) Harbaugh," Podlesny said, referring to the Michigan head coach. "I sat right next to him when we were bowling and we talked a lot. He is quirky, but he's very personable, a likable guy."
While there, he also toured Michigan Stadium, which seats 107,601 and is nicknamed the Big House.
"It's the Big House all right," Podlesny said.
In mid-January, Georgia head coach Kirby Smart and linebackers coach Glenn Schumann visited the Golden Isles to see recruits at Brunswick High, Frederica Academy and also Glynn, where they hoped to see Podlesny who was off campus at the time attending at a class at the College of Coastal Georgia.
He reached out to the Georgia coaches immediately after hearing they were looking for him, and after several weeks of back-and-forth communication, Podlesny visited Athens in late March.
"We saw the facilities and met the coaches," Podlesny said. "My dad and I got to sit in one of the special teams meetings and we saw one of the spring practices. I got to meet some of the early enrollees like (running back) Zamir White. I shook his hand and thought he might break mine. He was so strong."
Podlesny also said he met privately with Georgia special teams coordinator Scott Fountain who tried to sell him on picking the Bulldogs.
"He took me away from my dad and everyone else and asked me, "Why Michigan?" He told me that Georgia was my home and I needed to stay in the state and they'd love to have me. He said the sky was the limit for me."
Podlesny said he didn't want to make a quick decision and he deliberated for several more days between the Wolverines and the Bulldogs.
He was on a spring-break trip to Belize in early April when he decided he was going to choose Georgia.
"I talked to my mom before spring break and we talked about the pros and cons for each school. I wanted to make a decision before spring break," Podlesny said. "But, she told me to go on the trip, relax and clear my mind and make the decision when I got back.
"I don't know why. It was the middle of the week and I decided I'm going to Georgia."
Podlesny said he called Michigan the Monday morning he returned to school after the spring holidays and then called Georgia to accept its offer.
"I'm not a home body, but I knew going to Michigan my parents and my sister wouldn't get to see me play every game. I might not play my first year at Georgia, but they can come up and watch five or six games," he said.
"And what Georgia did last year really stuck with me. This year is going to be fun, and Georgia is supposed to have the top recruiting class again next year. I'm looking forward to the next four years, definitely."
Podlesny said he was also impressed with Georgia's coaches as he watched them work in practice.
"I watched the team stretching before practice and the coaches knew every single player. They knew them by their first and last names. They knew them all," he said.
Podlesny, who has a 4.26 GPA and recently received the Ambassadors Scholarship from the Glynn County Sports Hall of Fame, was accepted at Georgia back in the fall and will receive academic money at the start of his career with the Bulldogs.
He could perhaps eventually earn a football scholarship.
"They haven't said anything about that," he noted. "They just said I have to come in and earn my spot. I'm gonna go compete and see what I can do."
Glynn head coach Rocky Hidalgo said he feels like Podlesny has a lot of upside and could develop into something special while in Athens.
"As soon as I saw him kick, I knew he had major college talent," Hidalgo said. "Coach Hall did a really good job with him and put him in contact with some places where he'd have a really good opportunity.
"He's got such a strong leg. He just needed to learn how to kick a football after growing up playing soccer. When they get him on a strength training program, with his length, he will really have a chance to get leverage on the football and pick up more distance than he has now."
Podlesny is ready to wear the Red and Black.
"I'd only been to Athens twice before my visit," he said, "and I fell in love with it. I've had a lot of friends go to Georgia and have never heard them say anything negative about it.
"I did not think I would ever be playing college football until after our season. All of this has happened in the span of about three months. I'm definitely looking forward to the next four years."