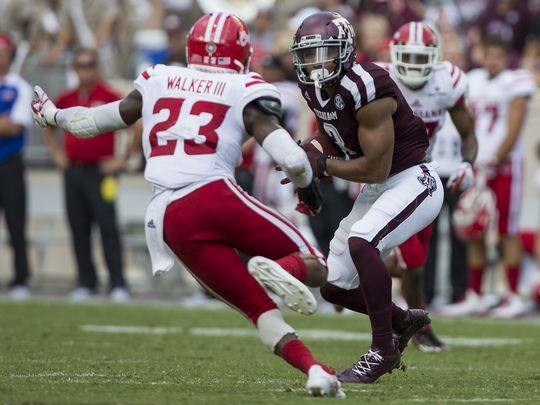 Tracy Walker is a basketball player turned football player.
And, he's a pretty good one, too.
In fact, the former Brunswick High standout is so good on the gridiron that he is about to be playing in the National Football League.
Walker is just waiting to see where he will land next and that will be decided next week during the NFL Draft.
"I'm more anxious than anything," Walker said by phone earlier this week after returning home to Brunswick to wait on a call from an NFL franchise during next week's draft. "I don't know where I am going, where I am going to be. That's the toughest thing, waiting to find out. I'm ready to find out so I can get back to work."
Walker never envisioned playing professional football until midway through his college career at Louisiana-Lafayette where he used his God-given abilities to become one of the top safety prospects in college football.
He had no idea how good he was until he started hearing chatter about him having a shot at a pro career.
"I didn't think football would take me this far," Walker said. "Honestly, I thought after I got my degree I would be working a regular 8 to 5 job."
Walker finished his degree in sports management in December. He says he wants to eventually get into the coaching business and knows playing in the NFL will be a big boost for him in that regard.
He obviously has put his coaching dreams on the back burner for now as he has more pigskin to play.
Walker has the chance to flourish in someone's defensive backfield in the NFL. The scouts like his 6-foot-1, 206-pound frame along with his speed, length, range and knack for hitting hard when he arrives at the football.
He is projected as a fifth-round pick by several draft analysts, but Walker said he could possibly be a fourth-round pick and even hinted that someone might take him earlier than that following his impressive workouts at the NFL Combine and the recent Pro Day at Louisiana.
"There's no telling what will happen," Walker said. "I don't know. A lot of teams like me. It's all up in the air."
Walker played in the East-West Shrine Game in late January and trained for the NFL Combine in Phoenix in the weeks leading up to the February workouts in Indianapolis where he shined on the field and in the interview room.
Walker ran the 40-yard dash in 4.5 seconds at the combine and finished the 60-yard shuttle in 11.27 seconds while also logging impressive results in other drills.
"It was a great opportunity to be there and perform with some of the top athletes in the nation. I believe that I fit right in," Walker said.
He was the main attraction at the Rajun Cajuns' Pro Day earlier this month which was attended by 24 NFL teams.
Walker has been on the move since the combine.
He had individual workouts with the New Orleans Saints, Tennessee Titans and Houston Texans. He also visited with the Dallas Cowboys and the Detroit Lions where he had the chance to catch up with fellow former Brunswick star Darius Slay, a second-round pick by the Lions in the 2013 draft who made the Pro Bowl this year as a cornerback after leading the league in interceptions.
"It's definitely a blessing. I'm happy to be in this position. I never saw myself in this position," Walker says. "I'm honored to have made it this far."
Walker's first love growing up was basketball. He didn't play football until his junior year at Brunswick.
He played basketball as a freshman and sophomore with the Pirates, but didn't make it through his sophomore campaign with the team as he was dismissed from the squad by head coach Chris Turner for disciplinary reasons.
With the coach's blessing, he returned to the varsity basketball team as a junior and ended up being one of the team's top players while getting scholarship offers from some smaller schools.
This week, Turner recalled Walker guarding future Kansas guard Brannen Greene who is now in the NBA G League and also Tadric Jackson who is a current NBA prospect after finishing out his career at Georgia Tech this season, in the region championship game against Tift County.
"He scored 16 points and had a thunderous dunk," Turner added. "Tracy loved basketball. I'm real proud of him."
Earlier that school year, Walker had already shown great promise on the football field.
He joined the Brunswick team at the urging of his cousin Demetrius Frazier who went on to play wide receiver at Middle Tennessee State and also former Brunswick coach Victor Floyd. He said his aunt, Frazier's mom, also kept him encouraging him to give football a try.
"I went out for spring practice at the end of my sophomore year," Walker said. "At the time, I wasn't getting a lot of basketball attention and figured football would help me get bigger, stronger and faster for basketball and also give me another way to go. I ended up being good at it."
Yes, he did. And football scholarship offers from schools like Kentucky,Vanderbilt, Navy and Wisconsin started rolling in.
"I was going to go to Wisconsin, but it was too far away from home and a lot of other things played into my decision like coaching changes," he says now. "Louisiana wasn't as far and I just felt like it gave me the best chance to go right in and play."
Walker played cornerback for the Pirates before switching to safety when he got to college. He credits Brunswick secondary coach Johnny Butts for developing him as a football player and thanks Floyd for giving him the opportunity to play and helping him find a home after high school.
"I wouldn't have gotten into a school without him. He stuck his neck out for me and put me in this position to be successful," Walker says.
Walker spent his first season at Louisiana as a redshirt but would play in 50 games for the Rajun Cajuns over the next four years while making 42 starts.
He finished his career with 276 total tackles which ranks third all-time in school history for a defensive back. He also had eight career interceptions.
Walker's best season was his senior year as he finished this past fall with 97 tackles and two interceptions. His best two games were his last two when he recorded 14 tackles against Georgia Southern and 15 against Appalachian State.
Walker was named to the all-conference third-team in the Sun Belt Conference following the season.
"I'm a leader on the field," he said. "I like having that control over things. I'm very vocal, the quarterback of the defense, and I love doing that."
Louisiana's former head coach Mark Hudspeth, who was dismissed after the 2017 season and is now associate head coach and tight ends coach at Mississippi State, speaks highly of Walker.
"I'm a big fan of Tracy Walker," he said this week in an email. "He developed as much as any player we had at UL. His work ethic and his drive to be successful are among his biggest attributes.
"He is long, fast, instinctive, a good tackler as well as a quick learner. He was also one of our team leaders. I really think he is going to make it in the National Football League."
Walker is confident he can make it, too. He's just waiting to see what NFL jersey he will be wearing.
That answer will come late next week. The draft is scheduled for Thursday through Saturday.
"I feel like I can come in and play immediately," he said. "It just depends on how fast I can learn the playbook."