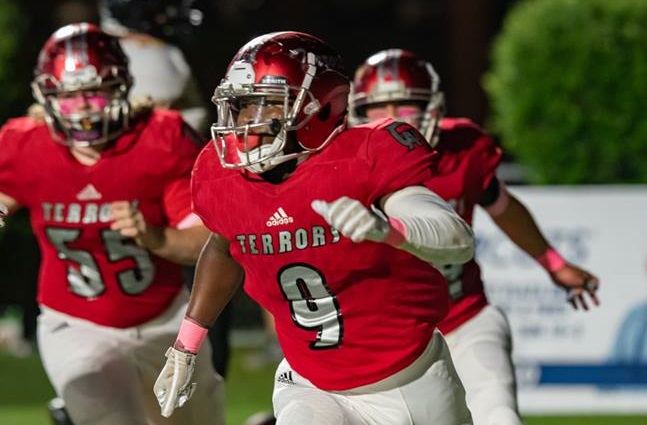 The Glynn Academy defense led the Red Terrors to their 28-3 victory this past Friday night over Richmond Hill at Glynn County Stadium.

And, it was T'Shawn Lang who got the Terrors rolling when he intercepted a pass and returned it 42 yards for the first touchdown of the game late in the first quarter.
Glynn would return another interception for a touchdown later in the first half and also would return a blocked field goal for a touchdown before halftime to give the Terrors a 21-0 lead over the Wildcats in the Region 2-6A game.
Lang, a senior linebacker, would go on to finish the night as Glynn's leading tackler as he finished with seven solo stops and three assists in addition to his interception return for the Terrors' first touchdown.
For the season, Lang leads the Glynn defense with 26 solo tackles and 25 assists. He also has two sacks through seven games.
"T'Shawn has improved every week," said Glynn coach Rocky Hidalgo. "He is playing fast and physical football right now. He is the guy who sets the pace for our defense."
Lang will be back on the field Friday night with the Terrors when they take on rival Brunswick in the annual City Championship Game at GC Stadium. Kickoff is set for 7:35 p.m.
To see Lang's highlight reel from the Richmond Hill game, click here.
Players of the Week
Week 1 – Logan Watson (Camden County)
Week 2 – Kris Coleman (Liberty County)
Week 3 – Isaiah Jackson (Frederica Academy)
Week 4 – MJ Fuller (Wayne County)
Week 5 – Kevin Harris (Bradwell Institute)
Week 6 – Shamar Taylor (Wayne County)
Week 7 – KJ Lee (Brunswick)
Week 8 – John Jones (Pierce County)
Week 9 – T'Shawn Lang (Glynn Academy)