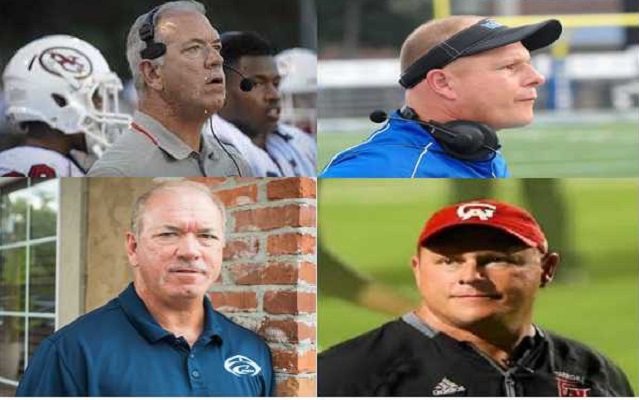 When they are asked about each other, you get a laugh and a smile from both Bob Sphire and Rocky Hidalgo.
They don't know whether to take a friendly poke at their coaching friend or offer something serious in tone and content.
That's a sign of the friendly rivalry that has developed between the two over the years and also the respect they have for the guy who will be standing on the opposite side of the field Friday night when Glynn Academy and Camden County meet up in a non-region game at Chris Gilman Stadium in Kingsland.
Earlier this week, Sphire recalled his first encounter with Hidalgo. They met each other for the first time prior to the 2006 season opener between North Gwinnett and Walton on Walton's home field in Marietta.
Sphire was getting set to make his debut with North Gwinnett while Hidalgo was the defensive coordinator for Walton and head coach Ed Dudley who was also involved in the conversation between opposing coaches before kickoff.
Sphire got a good feeling for Hidalgo as a person and a coach during that meeting on the track that circled the football field.
"I could tell he was a good defensive coach and a great person," Sphire said.
That night, Sphire's first Bulldogs team defeated the Raiders 27-16 as they unveiled the spread offense that their new coach brought with him from Kentucky where had another powerhouse football program.
The next year, the Bulldogs and Raiders would actually play twice, meeting again in the regular season and also squaring off in the state semifinals at the Georgia Dome in Atlanta.
North Gwinnett won the first meeting at home by a 21-16 score and then prevailed 31-7 in the semifinals before losing by a similar score the following week to a loaded Lowndes team on its home field in Valdosta in the state championship game for Georgia's largest classification.
"He was one of the first guys to run the spread in Georgia, but the thing about those North Gwinnett teams, they also had some really good defensive football teams. We struggled offensively against those guys, Hidalgo said.
"But, Bob and I have known each other for a long time, and I have a lot of respect for him. He's a good guy and a heckuva football coach. I like coaching against good coaches. They make you work harder and you get better for it.
"Bob is going to make you work. He is going to challenge you. We're gonna see some things Friday night we haven't seen, and we'll have to be ready for that. He's creative, and I like watching his films because of that. He's not just gonna do the same things he did last year."
Hidalgo isn't the least bit surprised that Camden is a much improved team over last year when the Wildcats finished just 3-7 in their first season under Sphire, a record which included a 35-14 loss to the Red Terrors who went on to play in the Class 6A semifinals.
Sphire inherited a team that was coming off a 2-7 season and was merely a shadow of the the powerful teams Jeff Herron assembled while winning three state championships and a bunch of games from 1999 to 2012 when he was at the Camden helm.
Sphire made a complete overhaul in offensive and defensive strategies when he took over the Camden program following the 2016 season, so it was not surprising to see the Wildcats struggle in games on Friday nights last fall.
This year, though, things are different. Camden is off to a 4-1 start and has won three straight games including a 37-0 win two weeks ago over Brunswick prior to having an open date last week.
"He's doing a good job," Hidalgo said of Sphire. "The kids are playing hard. They're better on defense. They're executing better on offense. Their kids are playing well right now, with a lot of confidence and momentum."
That's not the case, though for Hidalgo's Terrors, and thus they will go to Kingsland as an underdog. Glynn (3-2) has won three of its first five games, but one of those was by forfeit against Fort Dorchester which self-reported playing an ineligible player in the season opener against the Terrors on Aug. 17.
The Terrors won their next two games against Washington and Groves, but after an open date, Glynn started a tough stretch of road games with losses to both Wayne County and Ware County the last two weeks, leaving them with just one more chance Friday to get a victory in the month of September.
Saddled by injuries on the offensive line, poor play elsewhere on offense and missed assignments and tackles on defense, the Terrors suffered through arguably their worst game in five seasons under Hidalgo last week in Waycross when they took a humbling 26-6 loss to the Gators who they had beaten four straight times.
Sphire wasn't at that game on Camden's off night. He was back up in Gwinnett County, scouting region foe Colquitt County in its monster matchup against Grayson.
But some Camden assistants were at the Glynn-Ware game at Memorial Stadium, and they might have been surprised at the what they saw, or maybe what they didn't see from the Terrors.
"I know they've had some kids out and have played with different lineups, maybe because of injuries and other issues," Sphire said.
"But, we know there is a ton of potential there. We played against a lot of their guys last year and know what they can do. It'll be our luck that they get everyone back and play their best game Friday night."
One thing Glynn didn't do last Friday at Ware was play hard, and that's not like a Terror team under Hidalgo.
"We stunk up the joint," the GA coach said.
Sphire didn't comment on Glynn's level of play against the Gators, but the film clearly showed the Terrors' execution troubles. He expects to see a better Glynn team at Gilman Stadium, and the Terrors will take a somewhat healthier team down Interstate 95 on Friday evening.
"You expect (Hidalgo's) teams to play hard," Sphire said. "That's pretty much a given, and they're going to play with class and be all about football."
And if he gets what he expects, Sphire will be prepared to face a Glynn team that is well-coached defensively and will have what it thinks is a good plan to stymie the Camden spread attack.
"Rocky believes in special teams and defense first," Sphire said. "He's a very good defensive coach. He's mostly gonna play odd fronts and have the ability to play man coverage, but get into even fronts off of that.
"He does a great job of getting guys to pressure from different angles and still be sound against the spread offense."
So on Friday night, it's the Wildcats against the Terrors deep down in Georgia, many miles away from Cobb and Gwinnett counties.
And it'll be another matchup between Hidalgo. Now, a good number of years and football victories later, they'll meet again a second straight season in South Georgia, just like they always figured.
"Oh yeah, we used to talk about me coaching at Glynn and him at Camden all the time," Hidalgo said sarcastically.
Again, typical Hidalgo, who will probably have something of the like prepared for Sphire when the coaches shake hands and converse prior to kickoff down in Kingsland.
"And chances are, they'll have a fake ready in the kicking game," Sphire said. "We know he's not afraid to do that kinda stuff."
Yes, Coach Sphire. You do know him well.