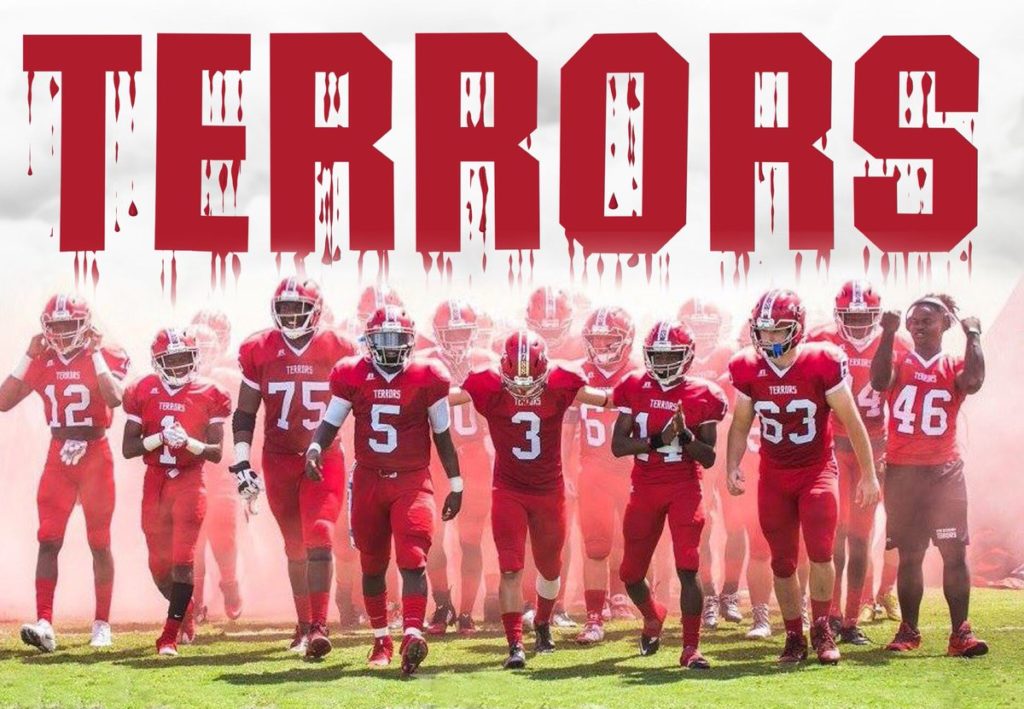 Rocky Hidalgo doesn't mind opening a new football season against a strong opponent.

In fact, the fifth-year Glynn coach relishes the opportunity.
"You don't learn anything about your team playing bad teams," Hidalgo said. "I'm not afraid to risk losing a game to improve our team. I've always felt a football season is a marathon, not a sprint. It's not about where you are today, but where you are in November. That is the important thing to me."
The last two seasons, the Red Terrors opened the season with games against Class AA power Benedictine and lost both games.
In Hidalgo's first two seasons with the program, the Terrors kicked off the season with wins over neighborhood rival Wayne County.
On Friday night, the Terrors will welcome a quality opponent in Fort Dorchester (S.C.) to Glynn County Stadium to open the 2018 campaign which could be another promising one for a Glynn team which has played in the state quarterfinals or beyond in each of the first four seasons under Hidalgo.
The Patriots have reached the state semifinals each of the last two seasons in South Carolina's Class 5A ranks, the largest class in the state.
Last season, they finished 13-1 and were ranked No. 1 most of the year, only to lose to two-time defending state champion Dutch Fork in the state semifinals.
Like the Terrors, the Patriots lost several key players, but have reloaded for another run at a state title.
Fort Dorchester is ranked fourth to begin the season while the Terrors are ranked sixth in Georgia's Class 6A after making the state semifinals last year before losing to eventual champion and preseason No. 1 Lee County.
The biggest difference between the teams is that Dorchester might have more experienced players moving into the starting lineup while Glynn could start as many as nine sophomores in the opener.
The quarterback position serves as a good example. The Terrors will go with sophomore TJ Lewis who flashed some promise in the spring game and also in last week's scrimmage loss at Valdosta, but will be making his first official varsity start.
The Patriots had enjoyed having Dakereon Joyner at quarterback the last three years and were 40-3 with him as their starter. Joyner, the state's Mr. Football last year, accounted for 13,000 total offensive yards and 157 touchdowns in his prep career. He is now a freshman at South Carolina.
They'll move on with a pair of upper classmen in De'Andrae Sabb, a junior who threw three touchdown passes in the team's recent jamboree games, and Tremez Brown, a senior who threw for 2,200 yards last year at a different school.
The offense also features running back Kalil Jenkins who scored two times in the jamboree.
The Dorchester defense did not allow a touchdown in 40 minutes of play in the jamboree.
"They're a good football team, really talented," Hidalgo said.
"We're just gonna try to run the football and play good defense.
Glynn also needs to hold onto the ball. The Terrors turned it over four straight times in the fourth quarter in the loss at Lee County last December and had ball-security issues again last week at Valdosta in their scrimmage.
Turnovers concern Glynn's coach, but he doesn't anticipate them being a season-long issue.
"If we're still having them in Week 5, I'll be concerned," Hidalgo said. "What we do (with the triple-option offense), we can't do against air and in seven-on-sevens. It's hard. It involves timing, and other things. Our kids just need to play."
Dorchester's coach said the same thing, but with both teams needing game experience, someone still has to win Friday's opener.
Hidalgo has the answer to winning.
"Early-season games typically boil down to three things, turnovers, big plays and special teams. If we hold onto the ball, we win the game. If not, we don't," he said.