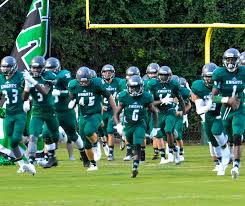 The Frederica Academy football hopes to claim the state championship this season in Class 3A of the Georgia Independent School Association.
And on Friday night, the Knights will kick off their season attempting to create a big-game atmosphere at their field on St. Simons Island.
To help them do that, they will be welcoming the Charlton County Indians to play them under the live oaks in the 7:30 p.m. season opener.
The little public school in Folkston takes football seriously, and that will probably be pretty obvious Friday night as history will be made with a Georgia High School Association school coming to Frederica for the first time for a varsity football game.
"They're gonna have three buses just for the players, five if you include the cheerleaders, dance line and band, and they're gonna have 700 or 800 fans also," said FA head coach Brandon Derrick.
"I want our players to experience an environment like this, and I want our fans to experience it, too."
Frederica's home stands seat about 600 people, according to Derrick. The usual seating on the visiting sideline accommodates about 250 people, Derrick said.
So, the Knights are planning to use their baseball bleachers and purchase extra bleacher sets to have more seating for the Charlton faithful.
Still, it might not be enough, depending on how many folks really do make the trip from Folkston with their football team.
"I told them to bring lawn chairs," Derrick said.
The Frederica coach has tried to beef up the Knights' schedule in recent seasons, starting with scheduling some of the better GISA schools such as Valwood, the team's opponent next week and the team that defeated them in last season's state semifinals.
Last year, the Knights played at GHSA private-school power Wesleyan after starting the season against Parklane Academy (Miss.) in Montgomery, Ala.
Derrick and Charlton coach Rich McWhorter discussed a possible game last summer and made it happen when it came time to make this season's schedules.
Derrick has spent recent days educating FA fans and faculty on Charlton and its football prowess.
In case you are unaware, here is a brief synopsis of the program's history.
The Indians, who compete in the GHSA Class A public-school ranks, are coached by McWhorter who is entering his 29th season with the program.
The veteran coach owns a 280-75-2 record with the Indians who have won 15 region titles and four state championships under his watch. McWhorter is second in total career victories among active Georgia coaches with Marist coach Alan Chadwick, who has 364 wins in 34 seasons, the only coach ahead of him.
The Indians have produced 50 all-state players since the 1990 season. They have sent several players to ;play in college and also the NFL, with the Bailey boys being the most well-known.
Ronald Bailey, Rodney "Boss" Bailey, and Roland "Champ" Bailey all played at Georgia and went on to play in the NFL. Champ Bailey, who retired in 2014, will be a first-ballot Hall of Fame selection this coming year.
Last year, the Indians finished 9-3 and reached the state quarterfinals. This year, they are starting the season ranked sixth in the small-class public-school division.
Derrick said his players are aware of Charlton's history.
"They know where Folkston is, know they're a top team in GHSA with a very rich tradition, kind of like Wesleyan last year," he said.
"We'r'e outnumbered, like Custer at Big Horn, but I think our kids want to prove themselves and show they can play on the big stage."
The Knights have at least four college prospects on their 34-man roster, chief among them two-way players Jashawn Sheffield and Jaylin Simpson, both Auburn commits.
Sheffield plays multiple positions in Frederica's high-paced spread offense while also starting on defense at linebacker. Simpson is the quarterback and a defensive back.
Charlton will counter Frederica's potentially high-scoring offense with a fast and physical defense.
"They're really good, dang good," Derrick said.
The Indians offense will feature Raykwon Anderson, who has committed to North Carolina as a wide receiver but will play quarterback in his final prep season.
"He's quicker than a hiccup," Derrick noted. "He scares me every time they snap the ball, and they're snapping it to him every time."
Derrick knows his team faces a tall challenge as they attempt to surprise the Indians and maybe all of the GHSA, but he says the Knights have nothing to lose other than a game on Friday night.
"The big thing for us is we have a lot of players going both ways and most teams we play usually do also," he said. "They might have one or two that do, so the others are always resting.
"We'll have to do a lot of things right and they'll have to make some mistakes, too. But, we have nothing to lose, zero."