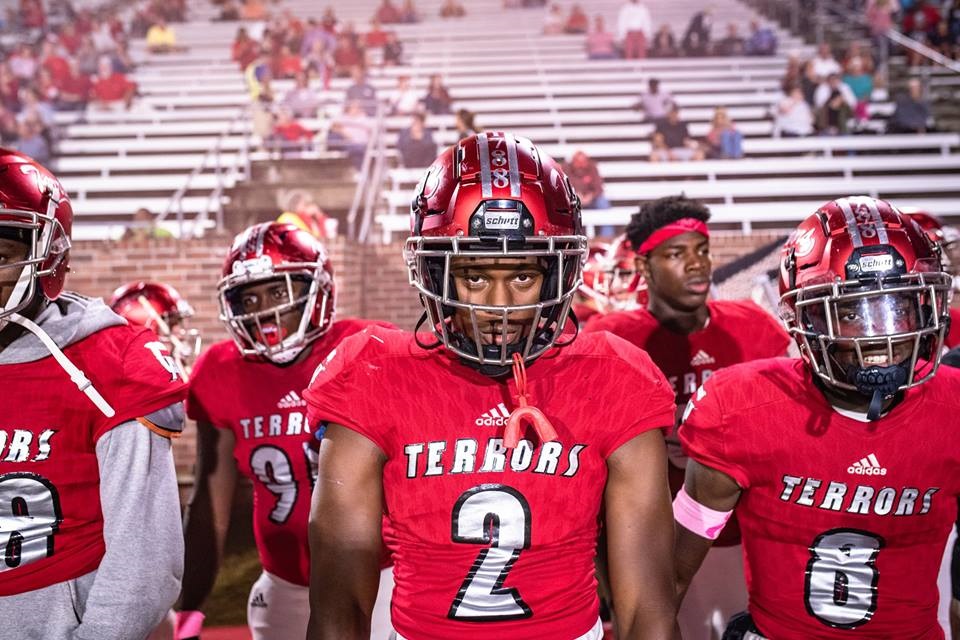 Rocky Hidalgo says the Glynn Academy Red Terrors need to have a singular focus Friday night when they take the field against Bradwell Institute in a high-stakes season finale in Hinesville.
A Glynn win earns the Red Terrors the outright Region 2-6A championship.
They could still win another region title even with a loss in a possible tie-breaking scenario, but Hidalgo isn't interested in that at the moment.
"If we are not good enough to go on the road and play great with the region championship on the line, then we don't deserve to be region champions," Hidaldo said.
The Red Terrors will carry a 6-3 overall record that includes a 3-0 record in region games into Friday's game against the Tigers at Olvey Field.
Bradwell is 4-5 overall, but the Tigers are 2-1 in region games.
The Tigers can forge a tie atop the region standings with a win over Glynn. They would get the region crown and the league's top seed for the state playoffs which start next week with the head-to-head win over Glynn if only the Tigers and Terrors were tied for first after Friday night's games.
However, there could easily be a three-way tie for first. That would transpire if Bradwell did beat Glynn and Richmond Hill also defeated Effingham at home in the region's other matchup on Friday night.
That would leave the Terrors, Tigers and Wildcats all tied for the top spot with 3-1 records. Glynn would have beaten Richmond Hill, the Wildcats would have beaten Bradwell and the Tigers would have beaten Glynn.
Thus, since the teams would have all beaten each other in head-to-head matchups, the next tiebreaker is points allowed in region games between the teams tied.
Right now, we know that Richmond Hill gave up 27 points to Glynn, but the tiebreaker maximum is 25. It also gave up 19 to Bradwell for a total of 44 points.
Glynn gave up only three to Richmond Hill. Bradwell allowed 19 in its loss to the Wildcats.
Should Glynn lose and Richmond Hill win, the Terrors could give up no more than 25 points under the tiebreaker rules for a total of 28.
Thus, as long as the Terrors scored 10 points against the Tigers, Bradwell would have surrendered at least 29 total points. Glynn would then win the tiebreaker, and Richmond Hill would earn the No. 2 seed based on its head-to-head win over Bradwell.
In this same tiebreaker, for every point Glynn give us less than the 25 maximum, the Terrors would have to score one less point. So, say for example, Glynn gave up 21 points in a loss Friday night to the Tigers. That would amount to 24 total points allowed for Glynn against the Tigers and Wildcats.
Thus, to win the tiebreaker, Glynn would only need to score six points so that Bradwell would have given up a combined 25 points to the Terrors and Wildcats.
In this three-way tie, Glynn can finish no worse than No. 2 in the region order.
Also with a loss and a Richmond Hill loss, Glynn also can finish no worse than second overall. Bradwell would win the region title in this case as only the Terrors and Tigers would have three region wins, but Bradwell would get the top spot by beating Glynn.
The Terrors would then be the No. 2 team because of their win over Richmond Hill.
Glynn hopes to avoid the tiebreakers by simply winning and celebrating another region crown.
"I told our kids to go play like they have something you want," Hidalgo said. "They have good people. We can't clown around with them. We need to play good football and focus on winning the game."
The biggest key to beating the Tigers will be slowing down their senior running back Kevin Harris, a 215-pounder who is committed to South Carolina.
Harris has rushed for 1,169 yards in eight games this season and is averaging 146 yards per game and almost 7 yards a carry.
He has gained over 200 yards twice this season including last week when he ran for 203 yards and scored six times in a victory over Brunswick.
"He's a big joker," Hidalgo says. "He breaks a lot of tackles and runs over people. You can't just rub your chest against him. He'll knock you into tomorrow. We've got to knock him down."
The Tigers will give Harris the ball as much as they can, but their offense isn't totally a one-man show.
Senior quarterback Vencent Gilbert has thrown for 1,180 yards this season and averages 131 yards passing a game while throwing to several different receivers. He is also a running threat, says Hidalgo.
"He throws it well and they have good receivers," the GA coach noted. "He does some run-pass-option stuff and also some play-action."
Glynn will counter with an offense that has been inconsistent for much of the season but has made progress in recent weeks with a healthier offensive line and Sam Wagner taking over at quarterback and performing admirably.
The Terrors moved sophomore TJ Lewis from quarterback to receiver and are using him as pass-catching threat and a runner. He also has still played some quarterback.
"Their defense plays hard, but we have to show up and play well," Hidalgo said. "We've played well at times, but not consistently for 48 minutes."
Kickoff is set for 7:30 p.m.