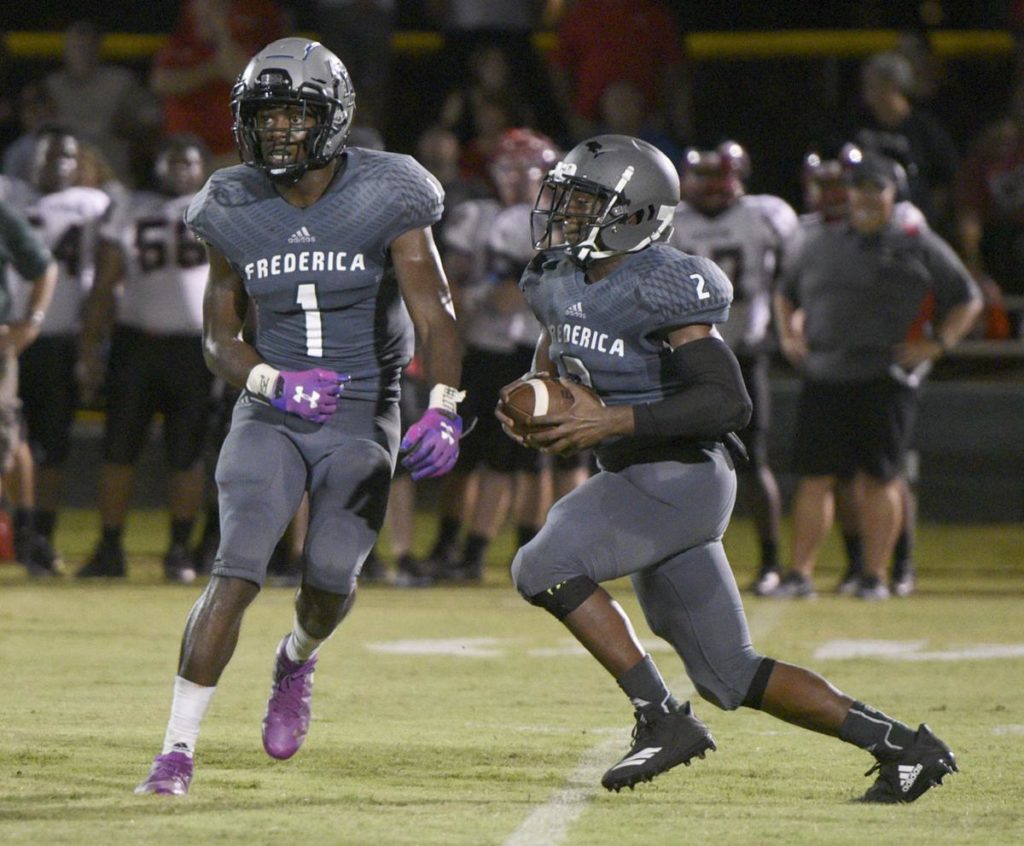 The Frederica Academy Knights have played each of their first three games without key starters on the field.
And though most of those players will be back in the lineup Friday, the Knights will still have some players standing on the sidelines with the coaches as the team returns home to face Bethlehem Christian Academy in a 7:30 p.m. non-region game on St. Simons Island.
The biggest name on the injury list is senior quarterback Jaylin Simpson who will remain sidelined by a serious turf toe injury that hampers his ability to put pressure on that toe.
"He can't plant on that foot," said FA head coach Brandon Derrick of his star athlete who is committed to play college ball at Auburn. "That does us no good."
With Simpson unable to go, the Knights will once again turn to junior Denver Anthony to run the offense this week.
Anthony, a 5-foot-8, 180-pounder, would normally be the team's starting slotback and also a cornerback and linebacker on defense.
He relieved Simpson early in the second game of the season against Valwood when FA's starter tried to give it a go at quarterback but couldn't because of his toe troubles that lingered from the first game against Charlton County.
The Knights (1-2) lost that game 7-6 in overtime. Anthony went the whole way at quarterback last week when the Knights outscored Lanier County 60-40 on the road for their first win of the season and first-ever victory over a Georgia High School Association team.
Anthony was 2-for-5 passing last week for 43 yards as the Knights threw sparingly while pounding the ball at the Bulldogs on the ground.
Frederica finished the game with 383 yards rushing including 213 by featured back Isaiah Jackson who scored three times from scrimmage and also returned a kickoff 95 yards for a touchdown. Jackson was named the Southeast Georgia High School Player of the Week for his big performance at Lanier.
Anthony will still see time on the FA defense this Friday, but Derrick hopes the return of Jashawn Sheffield in the secondary will allow his starting quarterback to play fewer snaps on the defensive side of the ball.
If that happens, Derrick plans to give Anthony more carries this week. Thus far, he has carried just 17 times for 36 yards and a touchdown.
"He's a running-back type of quarterback," Derrick explained.
Anthony also is expected to start at quarterback next week when the Knights play at Augusta Prep. The Knights will have the following week off before opening region play on Sept. 28 at Pinewood Christian when Derrick anticipates getting Simpson back on the field.
In the meantime, the Knights will tailor their offense to fit Anthony's strengths.
"We've scaled back our offense, and haven't done as much quick-read things. All of that is new to Denver, but he'll be fine with that the more he does it," Derrick said.
"We can do the run-pass option things and you'll see more quarterback runs with him and also the quick passing game which is easier for him."
In addition to Simpson, other Knights who have been ruled out for Friday's game include corneback Avery Cobb and fellow cornerback Camden Truett who also plays receiver.
Bethlehem (2-1) defeated Loganville Christian 35-28 in its opener before also beating Briarwood Academy 42-20 in its second game.
Bethlehem, also nicknamed the Knights, lost 45-22 last week at Community Christian.
"They're pretty big up front and pretty athletic in the skill spots, but that's nothing we haven't seen already," Derrick said.