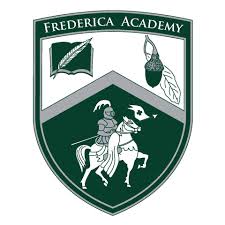 It's no secret that the Frederica Academy football team is one of the favorites to win the Class 3A state championship in the Georgia Independent School Association this coming season.
The Knights are loaded with skill players who look pretty in uniform and have the speed and athleticism to run wild through the GISA including two standouts who are already major-college commits.
But as the Knights are just days away from opening their season at home on Aug. 17 against public-school power Charlton County, Frederica coach Brandon Derrick isn't so sure his team is serious about wanting a championship ring.
"Our young kids are playing well, but some of our starters aren't giving great effort, and they've got to learn to give great effort," the FA head coach said. "We're talented, but right now it's mental with us. We've gotta stay focused, keep a good attitude and put forth better effort. We're a championship-caliber team, but we aren't having championship-caliber practices."
Last season, the Knights finished 7-4 after losing two regular-season games due to Hurricane Irma.
The team's biggest loss of all was the 14-10 heart-breaker to Valwood at home in the state semifinals after leading all the way until the closing seconds.
The Valiants – who will be Frederica's opponent in Game 2 – went on to win their third state crown in six years while the Knights were left to wonder what might have been.
"Our motivation is go win," Derrick said. "We know we didn't last year and should have."
The Knights will begin the season with just a 34-man roster, but have nine starters back on defense and eight on defense.
Keep in mind, though, that 15 of those players are starters on both sides of the ball.
The Knights hope to wear down opponents, and hopefully not wear out themselves, with a fast-paced offense featuring loads of speed and talent in the skill positions that will make defending them a tough task on Friday nights.
Frederica is led by standout seniors Jaylin Simpson (6-1, 175) and Jashawn Sheffield (6-2, 195). Simpson will play quarterback and free safety while Sheffield will play several positions on offense and also linebacker on defense.
Both players are already committed to Auburn.
"We're going to move Jashawn all over the field," said Derrick, who will call the plays in the team's quick-tempo spread attack. "It will be like trying to find Waldo.
"We're going to do a lot of run-pass-option stuff with Jaylin, all kinds of things. He's gotten good at it, and we're giving him more responsibilty this year."
The Knights' weapons don't stop there, though.
Their featured running back is fellow senior Isaiah Jackson (5-10, 175) who carried for 871 yards and 10 touchdowns last fall. He also will start at cornerback on defense.
"He's sneaky quick, has great feet, great balance and great vision," Derrick said.
Other potential big-play threats for the Knights include junior running back and slot receiver Denver Anthony (5-10, 185) who transferred from nearby McIntosh County Academy, senior receiver Patrick Brunson (6-0, 180) who missed last season with a back injury, and sophomore receiver Josh Meadows (6-0, 175).
Frederica's offensive line is led by senior center and college prospect Michael Tindle (6-1, 195), sophomore guard-tackle Josh Elliott (5-9, 170) and senior tackle Mason Neubauer (5-7, 255).
"We're gonna go up-tempo. We don't have the size up front to maul anyone," Derrick said. "We're gonna try to get one-on-one matchups and put defenses in bad situations."
Defensively, the Knights will employ a 3-4 base alignment to use their speed and athleticism in the linebacking corps and secondary to their advantage.
"We're gonna blitz, stunt, move and try not to get blocked," Derrick said.
Of those already mentioned, Jernigan will start at linebacker as will Meadows. Brunson will man the free safety spot and Anthony will line up at cornerback.
Other noteworthy players include senior inside linebacker Harry Veal (6-2, 210) who is also a college prospect, senior outside linebacker J.T. Elliott (6-2, 205) and senior defensive end Camron Gardner (6-1, 225) who the Knights are hoping will be a force while anchoring the front.
Depth is a concern for the Knights, especially in the trenches, but Frederica will be heavily favored to win Region 2 this fall despite their short roster.
Only time will tell if the Knights can win one or possibly two championships this season.
"We've got all this potential, but we still have to go out, work hard and have fun," Derrick said.
"All the ingredients are there to make the soup. We've got to get the spices to go with it."