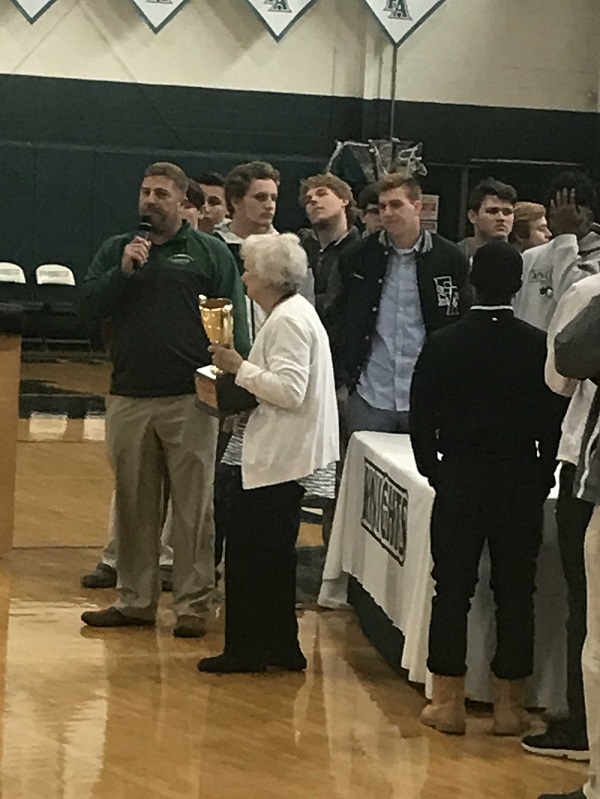 Frederica Academy holds an assembly every Monday morning for its high-school and middle-school students.
But the one it held on Monday was different than the usual weekly gatherings in the school's gymnasium.
At this one, the school honored its 2018 state football championship team.
"This is obviously a special day. This doesn't happen all the time. We want to celebrate this as long as we can," said Carl Nash, Frederica athletic director, in his opening remarks to the students.
The state championship was the second for the Knights in football. They won their first back in 2012 which was their second season with a football program. The Knights competed in Class A of the Georgia Independent School Association back then.
This year, the Knights won the Class 3A state crown when they routed John Milledge Academy 48-0 on Nov. 30 at Mercer University in Macon.
During Monday's brief ceremony, Frederica head coach Brandon Derrick also spoke to the school's students. He thanked them for backing the team throughout the season.
"Thanks to all of you who came out and supported these guys," Derrick said. "These guys right here put a lot of blood, sweat and tears into this."
Derrick asked the Frederica players to come out of the stands and join him on the floor just moments into his speech. One of the first to reach center court was senior quarterback and team captain Jaylin Simpson who grabbed the state championship trophy off of a table and hoisted it over his head.
That brought a cheer from the students. Simpson also later thanked the students for rooting the Knights on during their quest for the state title.
"We couldn't have done this without ya'll on Friday nights," Simpson said.
Together, Derrick and his players presented the championship trophy to Frederica head of school Ellen Fleming. She was head of school when Frederica decided to start the football program. Fleming retired in 2011 while the Knights were still in their infancy on the gridiron, but returned as interim head of school prior to last school year.
Fleming reminisced about beginning football while speaking from the podium on Monday.
"There were some people who believed we never would pull it off," she said. "Honestly, it took about 12 months to convince me.
"It was incredible to see it grow, and grow and grow. It was amazing to watch the realization come along and to watch it evolve and happen so successfully."
Fleming also thanked the students and the entire FA community for supporting the football team this fall. She also acknowledged the cheerleaders for their spirited dedication during the championship run.
Fleming said she enjoyed watching the championship game and seeing the Knights realize their goal.
And, she was proud to be holding the gold championship trophy that was awarded to the Knights that night in Macon.
"It's not so much that I like to beat people," Fleming said. "I just like proving that Frederica is the best."