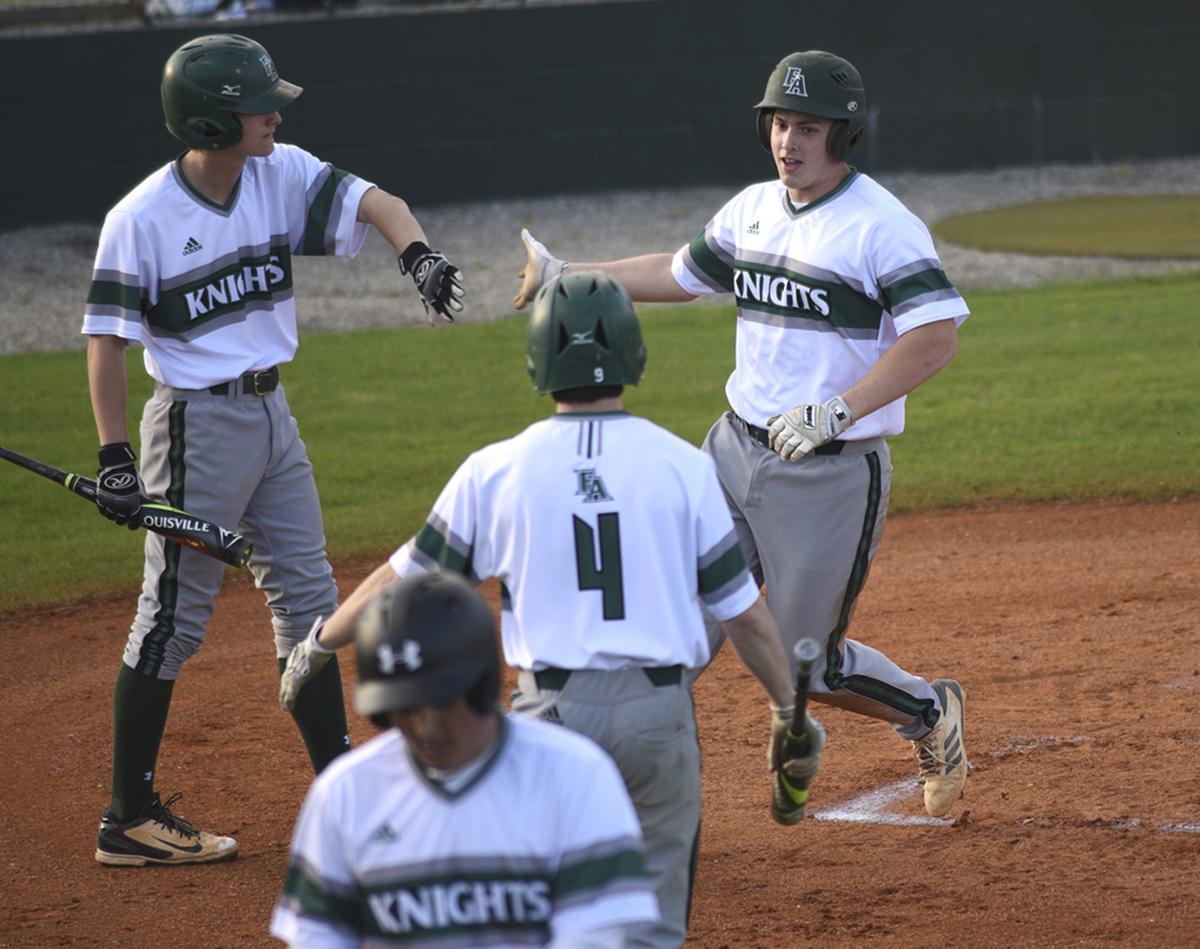 The Frederica Academy baseball team knocked off defending state champion John Milledge Academy last weekend in two straight games to avenge their loss to the Trojans last year in the state playoffs.

Now, the Knights (20-6) have their sights set on their best-of-3 state semifinals series against Tiftarea Academy which opens Friday in the Georgia Independent School Association Class 3A state tournament.
And once again, they will be looking to get past another hurdle on their way to perhaps playing for the program's first-ever state championship.
In both 2013 and 2014, the Knights were denied a chance to play in the state final series as they lost in the semifinals to Edmund Burke and Piedmont Academy, respectively, as those teams went on to win the state title in those two seasons.
Head coach Greg Roberts left Frederica to coach at Glynn Academy in 2015 and 2016, but now in his first year back at the St. Simons Island private school, the Knights are looking to get over the hump and play their way into next week's state championship series.
Standing in their way is a Tiftarea team which reached this weekend's semifinals with a sweep of Gatewood by scores of 8-5 and 8-7 last week at home in Chula.
The Panthers (14-8), who won Region 3, also swept their opening-round series against Edmund Burke, which was the fourth seed from Region 2 which Frederica won this season.
Roberts said the Panthers are a quality opponent.
"They are a very talented and well-rounded team with a very diverse pitching staff," the FA coach said. "We expect to see good velocity and guys that can locate three pitches for strikes in any count. It's going to be a great test for us offensively. They are very talented and do a lot of things well."
One concern for Roberts, no matter the opponent, is his team's ongoing troubles hanging on to big leads which sometimes disappear fast and oftentimes immediately after a big-inning by the Knights.
The Knights had that problem again last week in the quarterfinals when they held a six-run cushion in Game 2 and led 9-5 going into the bottom of the seventh, only to see the Trojans rally to within 9-8 with the tying run at second base when the game ended.
"We are going to continue to battle that monster," Roberts said. "We won't give up until we have to. We are putting in some game-like situational scrimmages where our pitchers go out with a lead. Their job is to get back in the dugout with 13 to 15 pitches or less thrown.
"If we can force contact on good pitches early in counts, we will get out of innings. If we can pound the zone early in those innings, we will be fine. We are making that our focal point."
The Knights and Panthers will play Game 1 of their series at 5:30 p.m. Friday on St. Simons Island. The second game is scheduled for 1 p.m. Saturday with a third game scheduled for 4 p.m. if needed.
The winner will advance to the state championship series set for next Friday and Saturday at Mercer University in Macon. The other semifinal matchup this weekend is Trinity Christian-Dublin versus Trinity Christian-Sharpsburg.
Roberts was undecided on his pitching rotation mid-week, but for what it's worth, left-hander Trey Thompson (7-1) has started the opening game in each of Frederica's first two playoff series.
Last week, Eric McCall (7-0) started Game 2, but in the previous series against Valwood, Nic Dixon (4-2) started the second game with McCall starting the decisive third game.
The Knights are led offensively by Deke Jernigan and Thompson, who are batting .472 and .407, respectively.
The Panthers were led last week by Hunter Hartsfield who was 6-for-8 at the plate with three RBIs.
Grant Hall blasted a walk-off three-run home run to win the first game for the Panthers against Gatewood.
Also this weekend, the Frederica soccer teams are in the state semifinals at Mercer. The Knights are squaring off against Fugees in their 4:30 p.m. semifinal on Friday while the Lady Knights are matching up with Deerfield-Windsor in a 2 p.m. semifinal.
The soccer state championship matches are set for Saturday, also at Mercer.