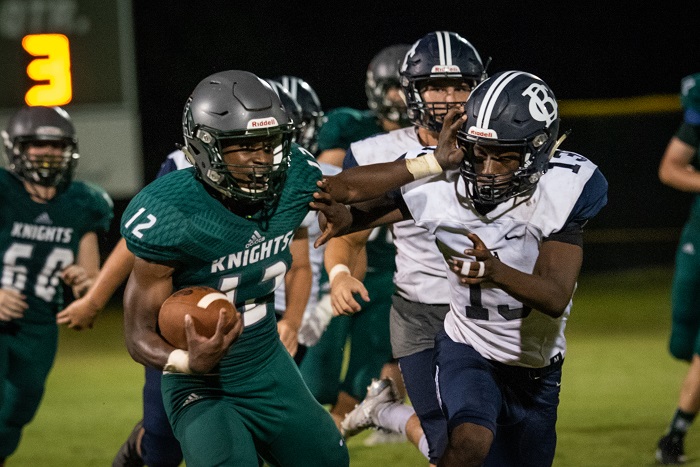 The Frederica Academy Knights played once again withouth starting quarterback Jaylin Simpson.
But backup signal-caller Denver Anthony and his supporting cast did just fine in his absence as the Knights clicked to a 60-21 victory Friday night over Bethlehem Christian on St. Simons Island.
Simpson has been sidelined since early in the Valwood game in the season's second week with turf toe.
Anthony, making his second straight start at quarterback, threw for a pair of touchdowns and ran for two more while directing a Frederica offense that put up 60 points for a second straight game.
"I thought Denver executed really well," said FA head coach Brandon Derrick who saw his team win its second straight game to even its record at 2-2. "We've been able to expand the playbook with him, and we're playing to his strengths. We've had him rolling out, hitting guys downfield. Our receivers also have done a good job of getting open and creating space."
The Knights, specifically running back Isaiah Jackson, also found space between the tackles on Friday night.
Jackson again contributed in a major way as the standout senior running back carried 18 times for 155 yards while scoring two touchdowns in the first quarter as the Knights raced out to 26-0 lead in the opening 12 minutes.
Jackson ran for 213 yards and three touchdowns in last week's win at Lanier County while also returning a kickoff 95 yards for a score. He was named the Southeast Georgia High School Player of the Week by AllOnGeorgia on Tuesday.
His scoring runs Friday night covered 6 and 28 yards.
Derrick said the offensive line made it easy for Jackson and the FA skill players.
"Our offensive line is getting better and better every week," he said. "We've moved a lot of guys around, we're rotating guys and we're executing. Our last few drives, that was their first-team defense, but our young kids were just going in there and playing."
Frederica also got a 10-yard scoring run from senior standout Jashawn Sheffield who missed last week's game after getting ejected from the Valwood game two weeks ago.
Sheffield also caught a 26-yard scoring strike from Anthony early in the second quarter.
Anthony hit Harry Veal for a 27-yard pass over the middle on Frederica's opening possession as Veal made a one-handed grab just outside the goal line that will probably end up on the Knights' highlight tape.
Anthony scored on 25-yard keeper following an interception for FA's second score and he also scored later on a 46-yard run when he lined up at running back that gave Frederica a 41-7 lead just before halftime.
J.T. Elliott, who also played quarterback for the Knights, scored on a 2-yard keeper in the third quarter.
The Knights led 54-7 before giving up a late touchdown pass, their second of the game.
Thomas Veal scored from 8 yards to end the scoring for Frederica with just over three minutes left, but Bethlehem (2-2) returned the kickoff 98 yards for a touchdown to make for the final score.
"I didn't know if we could dominate like that," Derrick said. "I thought they were well-coached, a good football team. They have good size, good skill kids.
"The competition we've played early was pretty elevated, but I think our speed is starting to show. People can see how fast we are at times."
The Knights will go on the road next week for a game at Augusta Prep.