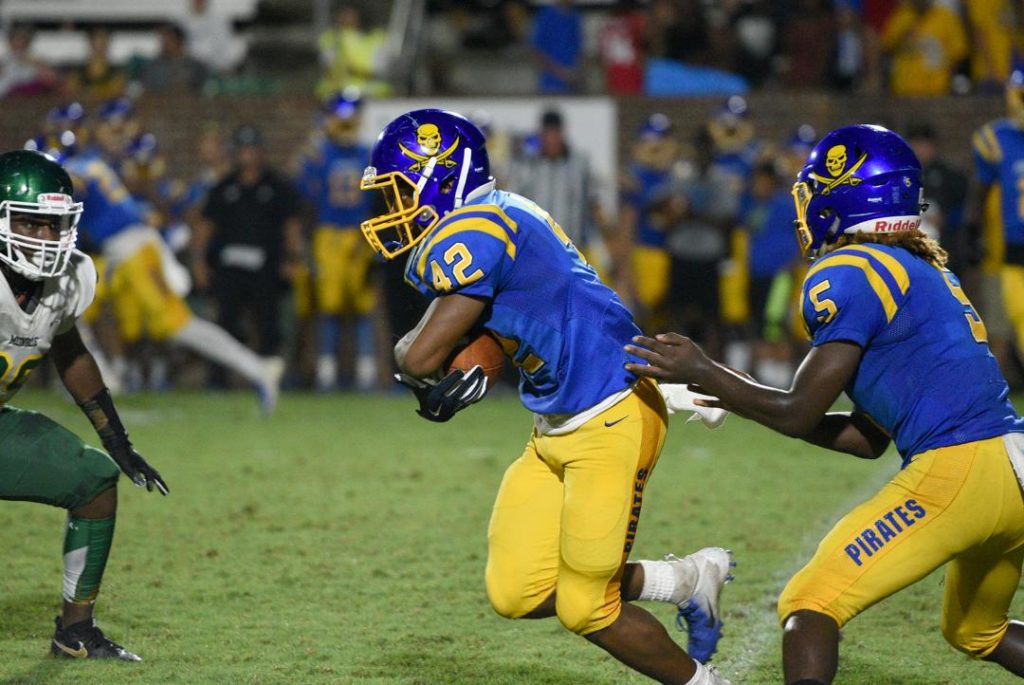 Sophomore quarterback KJ Lee delivered a standout performance this past Friday night for the Brunswick Pirates at they toppled Monroe 42-6 at Glynn County Stadium in the school's annual Homecoming game.
Lee threw for 275 yards and three touchdowns to help the Pirates even their record at 3-3 overall at the end of their non-region schedule.
For his performance, Lee has been named the Southeast Georgia High School Football Player of the Week. The sophomore quarterback is the first Brunswick player to earn the weekly honor from AllOnGeorgia this season.
"KJ is starting to get into the flow. He's playing good football and made good decisions with the ball again," said BHS coach Sean Pender. "The biggest thing is he didn't turn the ball over for the second game in a row, and hopefully that's a sign that he is maturing."
Lee finished the game 18-for-25 passing as Brunswick gained 396 total yards for the game.
He threw a 25-yard scoring pass on a screen play for Brunswick's first touchdown of the game just moments into the second quarter.
Lee threw two touchdown passes in the third quarter as the Pirates opened up the game. Those two passes covered 31 and 41 yards.
Lee and the Pirates will open their Region 2-6A schedule this week with a home game against Richmond Hill. Kickoff is set for 7:30 p.m. at GC Stadium.
To see Lee's highlight tape from last Friday's game against Monroe, click here.
Players of the Week
Week 1 – Logan Watson (Camden County)
Week 2 – Kris Coleman (Liberty County)
Week 3 – Isaiah Jackson (Frederica Academy)
Week 4 – MJ Fuller (Wayne County)
Week 5 – Kevin Harris (Bradwell Institute)
Week 6 – Shamar Taylor (Wayne County)
Week 7 – KJ Lee (Brunswick)