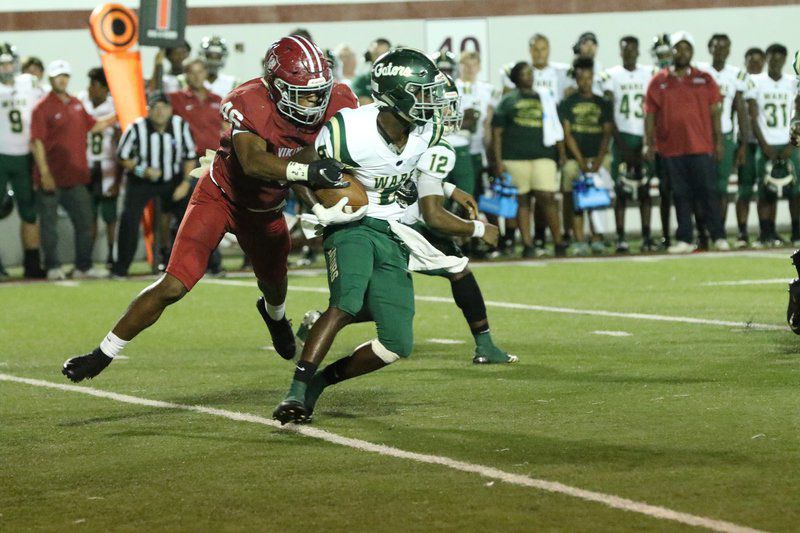 The Brantley County Herons cracked the win column Friday night as they notched a 21-7 victory over McIntosh County Academy in Nahunta.
The win was the first for the Herons this season as they opened with four straight losses, all on the road.
McIntosh County Academy, which also came into the game winless in four tries, fell to 0-5 halfway through its schedule.
The victory was also the first as a head coach for Brantley first-year coach Geoff Cannon, a former assistant at both Glynn Academy and Frederica Academy.
Brantley won the game scoring a third-quarter touchdown and then putting up two touchdowns in the fourth period.
Gavin King scored the Herons' first TD on a 5-yard run that capped a 12-play, 50-yard drive. Kyle Thomas added the point-after-try.
In the fourth, Bryson Flowers scored on a 1-yard run to finish out a 70-yard drive by the Herons. Thomas again kicked the PAT.
Flowers would punctuate the win with his 33-yard scoring scamper to close out a 6-play, 48-yard drive. Again, Thomas was true on the extra-point kick.
King and Flowers both rushed for 100-plus yards for the Herons while Flowers also threw for 120-plus yards.
Brantley will open Region 2-3A play next week at home against unbeaten Pierce County.
MCA will host Region 3-A foe Savannah Country Day.
In other Southeast Georgia football games Friday night, the results were as follows:
Wayne County 31, Bradwell Institute 21
The Yellow Jackets jumped out to a 28-7 halftime lead over the Tigers at Olvey Field in Hinesville before seeing the home team make a run to pull closer by the end.
For the Jackets, senior running back MJ Fuller ran for three touchdowns in the first quarter to get Wayne off to a 21-0 start. His runs covered 70, 4 and 23 yards.
In the second quarter, Bradwell got a 1-yard run from standout running back Kevin Harris, but Wayne scored again on a 45-yard dash by Kaliz Hadley.
The Tigers outscored Wayne 14-3 in the second half. Harris scored both Bradwell touchdowns on runs of 4 and 11 yards.
Presley Cain kicked a 37-yard field goal for the Jackets to give them the 31-21 lead with under a minute to go.
Wayne quarterback Shamar Taylor was suspended for the game for disciplinary reasons. Freshman Trey Pierce started in his place.
The Jackets open Region 2-5A play next Friday at Statesboro. Bradwell will play its Region 2-6A opener next Friday at Effingham.
Lowndes 37, Ware County 16
The Gators could not slow down the Vikings' juggernaut offense which paved the way to the fourth straight win for Lowndes in Valdosta.
The Vikings raced out to a 23-2 halftime lead before the Gators scored twice in the second half on runs by quarterback Thomas Castellanos.
Castellanos ran for 117 yards and passed for 126 in the loss.
Lowndes (6-1) finished with 276 yards rushing and 346 total yards.
Quarterback Jaccari Brown led the Vikings with 122 yards rushing on 11 carries and scored three touchdowns on runs of 58, 33 and 27 yards. He completed 8 of 13 passes for 76 yards.
Travis Tisdale ran for 104 yards and a late touchdown for the Vikings who hung 71 points on rival Valdosta last week.
Ware (4-2), which is ranked fourth in the Southeast Georgia High School Football Power Poll, will have next week off before playing Statesboro in two weeks to open region play.
Irwin County 46, Charlton County 20
Charlton could not keep pace with Irwin in the Region 2-A showdown between the state-ranked teams.
Top-ranked Irwin ran its record to 6-0 and 3-0 in the region with the win while Charlton fell to 4-2 overall, 2-1 region. Charlton is ranked No. 5 in the state.
Irwin led 7-6 after the opening quarter and 21-6 at halftime. It would break open the game by scoring 19 points to six by Charlton in the third quarter to take 40-12 lead into the final 12 minutes.
Zach Smith ran for a score and threw for another for Irwin. Jamal Paulk also scored twice on rushes for the Indians.
Raykwon Anderson had a 44-yard rushing touchdown for Charlton.
Charlton has an open date next week and will play host to Wilcox County on Oct. 12.
Richmond Hill 52, Bluffton (S.C.) 6
The Wildcats started fast at Bluffton, scoring on their first three drives as they won big to snap a three-game losing streak.
The Wildcats (2-3) finished with 331 total yards.
Jalen Rouse finished with 134 yards and two touchdowns on 17 carries for Richmond Hill.
Jamal Polite ran for a score and caught a touchdown pass from Luke Carter who also scored running for the Wildcats.
Jamari Green also scored for the Wildcats while Timmy Fortson returned a fumble for another Richmond Hill score.
Anthony Salazar kicked seven extra-points and also booted a 30-yard field goal in the win. Leo Valle had six total tackles for Richmond Hill.
Rakim White returned a kickoff 98 yards for the Bobcats in the second quarter for their only touchdown of the game.
Richmond Hill will play at Brunswick next week in the Region 2-6A opener for both teams.