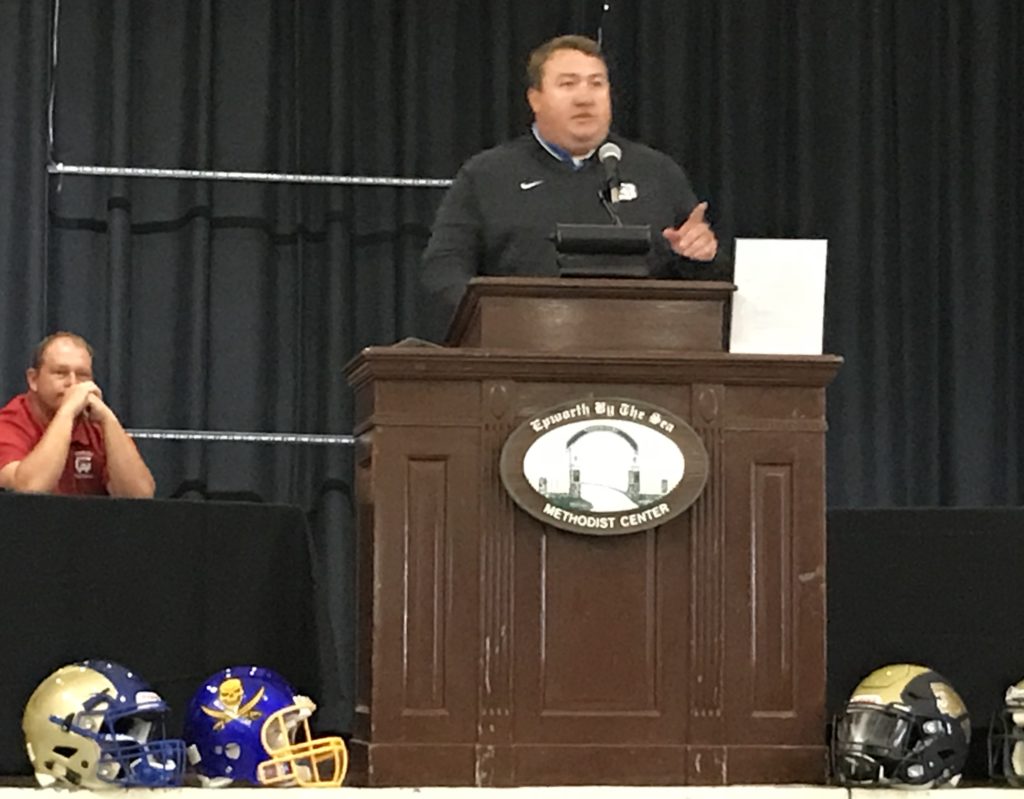 Brunswick head coach Sean Pender couldn't attend Saturday's Southeast Georgia High School Football Media Day due to a prior commitment out of town.

So, BHS offensive coordinator Garrett Grady spoke for the Pirates from the podium. He came from Pierce County with Pender last season to work with a Brunswick program that finished 7-3 last season and reached the Class 6A state playoffs before losing close at home to perennial power Northside.
But the Pirates lost 31 seniors from last year's team. So, Brunswick faces a major rebuilding job going into Year 2 of the Pender regime and the Pirates must grow up before entering the four-game region slate which will determine if the Blue and Gold will make a return trip to the playoffs this fall.
"There will be a lot of new faces, a lot of new names," Grady said.
The Pirates started their rebuild before they even left the locker room following their 24-21 opening-round loss to the Eagles last November at Glynn County Stadium.
"We told the players to remember how this moment feels," Grady said. "We were left with a bad taste in our mouths.
"We've worked hard this offseason, going against great competition in padded camps, and this is hopefully going to make us better for the fall."
Since spring practice, the Pirates have also been competing hard within their team and position groupings as the coaches have tried to develop younger players for the seasons ahead.
"This summer, we've talked to our guys about competing," Grady said. We needed to find out what our guys can do. We have jobs open and need to find out who we can fit into these positions."
Brunswick will take on Beach in a preseason scrimmage on Aug. 10 before opening the season once again at Coffee. The Trojans were the runner-up in Class 6A last year and also defeated the Pirates in Douglas to kick off the season a year ago.
In Week 2, the Pirates will play at Bartram Trail, the state runner-up in Florida's Class 7A last season.
"So, our (first) non-region opponents are going to be great tests, very difficult, but it's only going to make us better," Grady said.
Their remaining non-league games are against McIntosh County Academy, Camden County, New Hampstead and Monroe-Albany.
The Pirate open region play against Richmond Hill at home on Oct. 5. They will then play at Effingham before taking on Glynn Academy, the only region foe to beat them last year, and then finishing out the schedule at Bradwell Institute.
"We're looking for a big year this year with a young team. All these guys are hungry," Grady said.