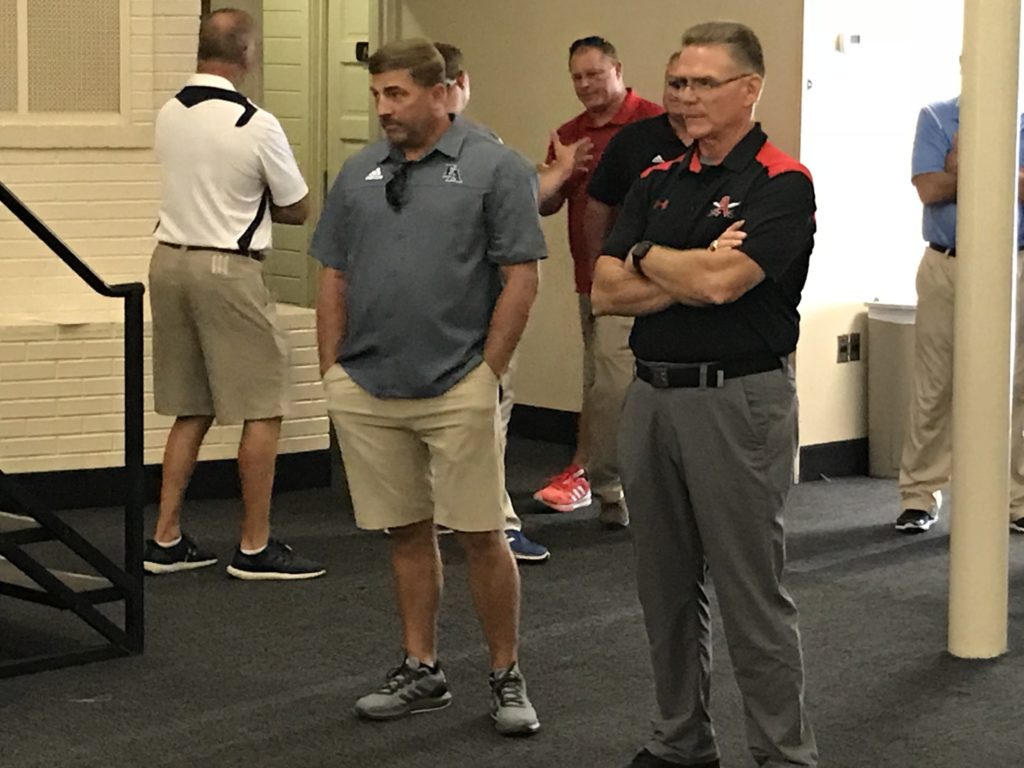 Brandon Derrick was asked by a reporter earlier this week to offer up a good sound bite or two when he had his turn at the microphone Saturday morning at the Southeast Georgia High School Football Media Day.
The Frederica Academy football coach was reminded that Steve Spurrier used to call this time of year the talking season when he was coaching in the Southeastern Conference and filling reporters' notebooks with good material at the annual SEC Media Days held in mid-July.
Derrick didn't disappoint on Saturday when he threw a small jab at the state of Alabama as he noted how passionate people in the South are about football when addressing the crowd assembled at Epworth By the Sea on St. Simons Island.
"Seniors, enjoy it," Derrick said referring to their last season of high school football. "Every time you walk out of that locker room, take a deep breath and look at everyone.
"The band will be playing, the popcorn will be popping and the crowd will be cheering. Take that moment and enjoy it. All you'll remember when you sit down with your friends later in life will be what you did on Friday nights in the fall.
"That's why people in the South love what we do. It's the pageantry. It's the emotion. It's the way we express ourselves. As you can tell by my dialect, we're a little bit backwoods, a little bit redneck aren't we? That's why people in Alabama love football. Check their test scores. They're great at football."
Before leaving the podium, Derrick wished everyone good luck with their seasons and said he hoped the Knights have one, too.
Frederica, which plays in the Georgia Independent School Association, was the only private school attending Saturday's event. Derrick noted that the St. Simons Island school, located just across the Sea Island Causeway from Epworth, has only 167 students in the entire high school.
His team only has 34 players. The Knights actually were supposed to have 36 players on the roster when they started preseason practice this week, but they have already lost two in the early days of camp.
The Knights, however, do have some big-time players in their senior class which is led by Auburn commits Jashawn Sheffield and Jaylin Simpson.
Sheffield is an all-purpose threat for the Knights while Simpson is slated to be the starting quarterback.
Also, Frederica will rely heavily on senior linebacker Harry Veal who was visiting Army this weekend and senior center Michael Tindle who was working out at Mercer University on Saturday morning.
The Knights are looking to make a run at the GISA Class 3A state title this season after reaching the semifinals last season and falling tough to rival Valwood.
"We're proud to represent our community, and we're also proud to represent St. Simons Island," Derrick said.
The Knights will play a scrimmage game on Aug. 10 before hosting Charlton County for its season opener on Aug. 17.
The next week, the Knights will face off with Valwood with that game also at home.
Speaking to all the players representing their teams on Saturday, Derrick, like most other coaches who took the podium, offered this piece of advice to the student-athletes.
"Do the little things right and the bigger things will take care of themselves," he said. "See the big picture, but do all the little things and the big picture will take care of itself."
This week, the Knights started out doing drill after drill to address the football fundamentals. Next week, they'll expand their work when they dress in full pads for practice.
And when the season starts, the Knights will spend the regular-season gearing up for what they hope is a long and successful postseason, one that ends with them ordering championship rings.
Derrick didn't mention competing for a state championship on Saturday, but make no mistake. That's the goal at Frederica this fall, and the Knights need two more wins in the playoffs than they had last year to make it a reality.
"I've been blessed to build a program that represents this area, but there are a lot of great programs also that surround us," Derrick said.
"South Georgia football, it's probably at one of its highest levels. We have a lot of great competition, great level of competition."
And, the Knights have done their part to contribute to making the pigskin down this way stand out.