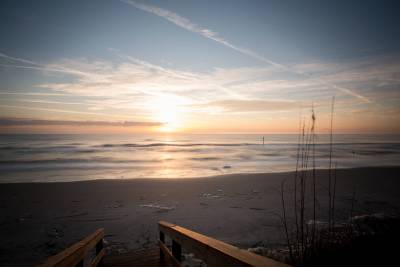 The Coastal Resources Division of the Georgia Department of Natural Resources invites the public to attend a presentation on coastal resiliency at noon Jan. 28.
Analie Barnett, a landscape ecologist with The Nature Conservancy, will present on "Identifying Resilient Coastal Sites for Conservation in the South Atlantic" at the Susan Shipman Environmental Learning Center, One Conservation Way in Brunswick.
Coastal sites vary widely in their ability to accommodate rising seas, based on inherent natural features and the degree of human influence on key ecological processes. Scientists from The Nature Conservancy evaluated over 1,200 coastal sites in the South Atlantic for their capacity to sustain biodiversity and natural services under increasing sea levels.
Each site received a resilience "score" based on the likelihood that its coastal habitats can and will migrate to adjacent lowlands. With no action, the region could experience an estimated 77% loss of existing tidal habitats to severe inundation. However, there are many sites where tidal habitats could increase and expand through landward migration, reversing this trend.
With conservation and management, these resilient sites have the potential to offset almost 80% of the estimated tidal habitat loss, providing critical habitat for birds and other wildlife, and buffering communities from the effects of storms and floods. Conservation of these resilient sites is critical if we are to sustain nature's diversity and benefits into the future.
This presentation will provide an overview of TNC's approach to identifying resilient coastal sites in the South Atlantic, examine the results, and show different ways the results can be used, such as to prioritize land acquisition, identify areas for restoration, and find roads that may fragment future marsh areas. Results and potential applications will focus on Georgia's coastal sites with some regional perspectives for context.
About the speaker
Analie Barnett is a Landscape Ecologist with The Nature Conservancy's Eastern Conservation Science team and is based in Atlanta, Ga. She has been with the Conservancy for thirteen years. Barnett has expertise in geospatial analysis, multivariate analysis, landscape ecology, and conservation planning. She holds a Master of Environmental Management with a focus on conservation science from Duke University and received her B.A. from Austin College in Economics and Literature.
Barnett works on a variety of coastal, terrestrial, and freshwater projects in the Eastern U.S. that incorporate spatial and statistical analysis to inform conservation planning and natural resource management at large geographic scales. Recent projects include identification of coastal sites expected to be resilient to climate change in the South Atlantic and Gulf of Mexico, U.S., multivariate analysis of long-term vegetation data to assess the effectiveness of longleaf pine management on military lands, ecosystem services assessment of bottomland hardwood reforestation scenarios in the Lower Mississippi Alluvial Valley, and spatial analysis to identify priority marine areas in the South Atlantic Bight. Her work has been published in peer-reviewed journals including BioScience, Ecological Applications and Plant Ecology.
More information
Anyone with questions can contact CRD's communications specialist, Tyler Jones, at 912-262-3140 or tyler.jones@dnr.ga.gov.
Above photo by Ben Galland.