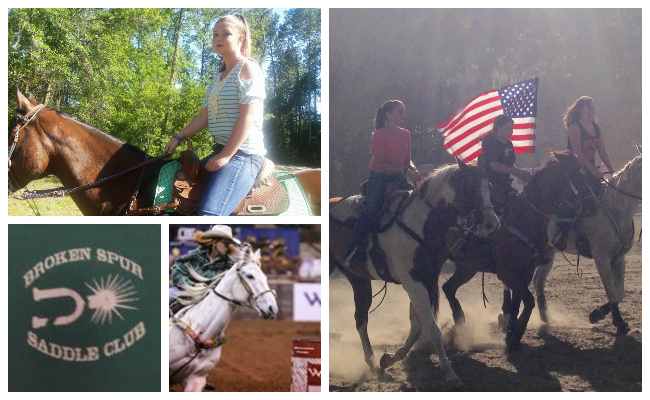 Broken Spur Saddle Club in Kingsland, Georgia will be hosting a summer series of shows, with the first show set for June 16th, at 6:00 p.m. Open to members and non-members, a small entry fee of $10 to ride, $10 for jackpot is required. Cloverleaf, poles and cones. For all the summer shows, the cloverleaf will be the jackpot race.  Payout for jackpot will be based on NBHA rules.
The second show is set for July 7th; the third in the series is set for August 4th.
So, load up the trailer and make plans to compete in this friendly Camden County event. All ages and all levels show up for these races, and new faces are welcome.
Those that enjoy watching the horsemanship and speed are welcome to bring a chair and experience the shows as well. A well-stocked concession stand varies in freshly cooked burgers, candies, soft drinks and a menu that varies from show to show.
As a mother of a teen who barrel races, I am surprised at some of the inquisitive reactions when I mention her sport. Some aren't familiar with the rodeo-themed sport, so here's a short summary for those unsure what barrel racing is. In rodeos, and in these county saddles clubs, kids, teens, men and women compete in their respective age groups on horseback. The arena can be set for the clover leaf pattern, which is a series of three barrels. At the highest running speed each rider is comfortable with, they run around the barrels, hoping to get the fastest time.
In addition to this summer series, the Broken Spur Saddle Club has shows throughout the fall and early spring. Riders who are members of the saddle club earn points throughout the year with each race, and those with the highest points in each age group earn the opportunity to go to state competitions in the fall.
For more information about Broken Spur, here's their information:
1377 Vacunna Rd
Kingsland, Georgia 31548
(912) 552-3628