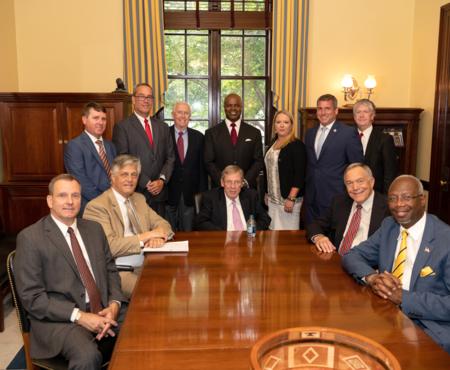 U.S. Senator Johnny Isakson, R-Ga., met Tuesday with military leaders from Fort Stewart in Hinesville, Ga., and Hunter Army Airfield in Savannah, Ga., along with local elected officials and community stakeholders from Southeast Georgia. The group, part of the Coastal Georgia Military Affairs Council, traveled to Washington, D.C., to meet with Georgia's senators and representatives to discuss national defense and economic priorities for region.
Currently, the Senate is debating the National Defense Authorization Act for Fiscal Year 2020, S.1790, which will strengthen national security and benefit Georgia's military installations, including the nearly 90,000 soldiers, sailors, Marines and airmen in the state, among other important defense priorities.
"I always appreciate hearing from the Coastal Georgia Military Affairs Council as they travel to D.C. to advocate for the defense community in Southeast Georgia," said Isakson."The Senate is currently debating its annual defense measure that makes investments in our U.S. military and will benefit both Fort Stewart and Hunter Army Airfield. I look forward to passing this legislation to support our warfighters and their families, invest in the warfare of the future and fortify Georgia's strategic and active role in our national defense."
Attendees from the Coastal Georgia Military Affairs Council included Savannah Mayor Eddie DeLoach; Hinesville Mayor Allen Brown; Liberty County Commission chairman Donald Lovette; Bryan County Commission chairman Carter Infinger; Col (Retired) Peter Hoffman, vice president of student affairs at Savannah Technical College; Bill Cathcart, chairman of the Savannah Chamber Military Affairs council; Trip Tollison, president and chief executive officer of Savannah Economic Development Authority; Chris Giorgianni, vice president of government and defense at JCB Inc. in Pooler, Ga.; Leah Poole, chief executive officer of Liberty County Chamber of Commerce; Hinesville City Manager Kenneth Howard; Bryan County Administrator Ben Taylor; Billy Edwards, assistant to the Bryan County Administrator; and Will Ball, counselor to Governor Brian Kemp for Military Affairs.