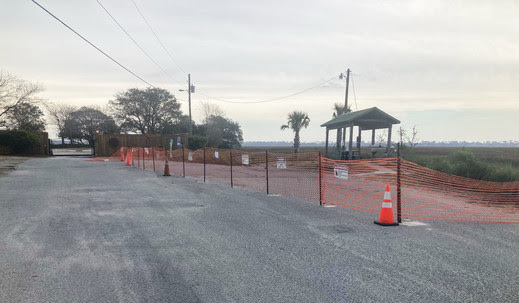 The public boat ramp at Village Creek Landing on South Harrington Road on St. Simons Island will close for repairs beginning January 4 for approximately 75 days.

Crews with JOC Construction are replacing the concrete boat ramp, placing large rocks for bank stabilization, and installing a new aluminum floating dock, according to the Georgia Department of Natural Resources (DNR), which is funding the project.
"The Village Creek boat ramp has been in need of repairs for some time," said Paul Medders, the public access unit leader for DNR's Coastal Resources Division. "The improvements including the new, 14-foot wide, 8-inch-thick poured concrete ramp that will be easier for boaters to use, and provide opportunities for more people to access Village Creek."
Moreover, the new addition of a nearly 9-foot-wide floating dock will give kayakers and other boaters further opportunity to enjoy the famous "Marshes of Glynn," Medders added.
"The new aluminum dock will run parallel to the ramp and extend from the upland about 45 feet," Medders said. "The new concrete boat ramp will also have curbing to help guide motorists as they back their trailer into the water."
The Village Creek Boat Ramp is owned by Glynn County and supported by funding from DNR's Coastal Resources Division.
During the Village Creek boat ramp closure, the public can use the Mackay River boat ramp, off the F. J. Torras Causeway. For information about other nearby public boat ramps, visit CoastalGaDNR.org/AllBoatRamps or call 912-264-7218.