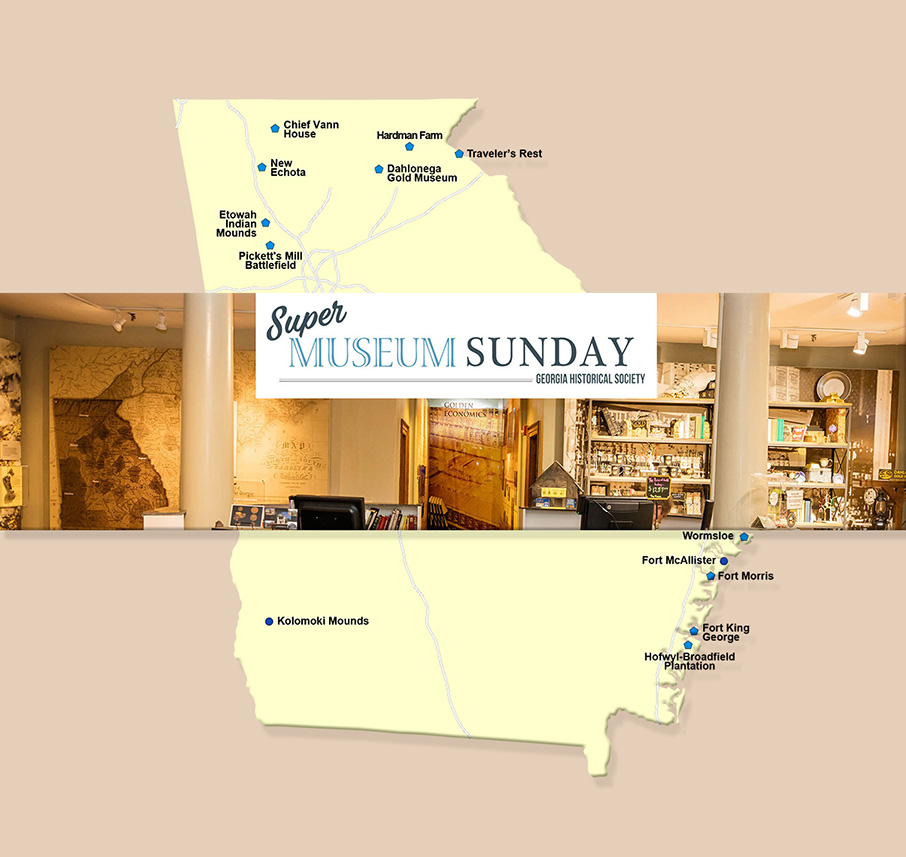 Free Admission to State Historic Sites. To spotlight the Peach State's fascinating past, Georgia's State Historic Sites are offering free admission on Sunday, February 5.  The event is part of Georgia History Festival's statewide celebration of "Super Museum Sunday." Visitors can admire FDR's hand-controlled roadster, walk in the footsteps of Revolutionary War soldiers, translate the Cherokee Nation's first newspaper, see black powder demonstrations at Wormsloe and explore many other historic treasures. Find more than a dozen places to step into the past at GaStateParks.org/SuperMuseumSunday.

Georgia's State Historic Sites by Category
Gold Rush
Dahlonega Gold Museum State Historic Site, Dahlonega
This newly renovated museum in the former Lumpkin County Courthouse tells the story of how our nation's gold rush began in Georgia and ultimately led to the Trail of Tears.
Native Americans
Chief Vann House State Historic Site, Chatsworth
Called the "Showplace of the Cherokee Nation," this brick mansion was built by Chief James Vann in 1804. Decorated with beautiful carvings and natural hues, the home features a cantilevered stairway and fine antiques.
Etowah Indian Mounds State Historic Site, Cartersville
These mounds were home to several thousand people more than 400 years ago. Walk to the top of the tallest mound and imagine citizens lives between 1000–1500 A.D.
Kolomoki Mounds State Park, Blakely
Seven mounds built during the 12th and 13th centuries by Swift Creek and Weeden Island Indians are protected at this southwest Georgia historic site.
New Echota State Historic Site, Calhoun
New Echota was the Cherokee capital from 1825 until 1838 when the Cherokee were uprooted from their land and removed westward during the Trail of Tears. Today, visitors can tour the Supreme Courthouse, the Council House, Vann's Tavern, and the print shop where a bilingual newspaper was produced after Sequoyah developed their first written language.
Historic Homes and Farms
Hardman Farm State Historic Site, Sautee-Nacoochee
The house, built in 1870 by Captain James Nichols, is a grand example of Italianate architecture and was originally known as "West End" because it was at the west end of the Nacoochee valley. Best recognized by its gazebo-topped Indian mound and cow pasture, this is a favorite landmark in north Georgia. This site is normally closed during February but will be open for Super Museum Sunday.
Roosevelt's Little White House State Historic Site, Warm Springs
F.D. Roosevelt built this house in 1932 so he could seek therapy in the nearby warm springs used by polio patients. Today, visitors will see the famous "unfinished portrait" which he was posing for when he passed away, a film with historic footage and his 1938 Ford roadster.
Traveler's Rest State Historic Site, Toccoa
This 1833 plantation home was expanded to accommodate the growing number of travelers passing through northeast Georgia in the mid-1800s. Most furnishings are original antiques.
Hofwyl-Broadfield Plantation State Historic Site, Brunswick
A forgotten empire comes alive at this scenic rice plantation set among live oaks near the Altamaha River. Tour the antebellum home furnished with antiques and the museum showcasing fine silver.
Jarrell Plantation State Historic Site, Juliette
This middle Georgia plantation features 20 buildings dating from 1847 to 1945, including a three-story barn, smokehouse, cane press, cotton gin, blacksmith shop, saw mill and syrup mill.
Civil War
A.H. Stephens State Park, Crawfordville
Liberty Hall, the 1875 home of the Confederate Vice President, is fully furnished and open for tours. A museum houses one of the finest collections of Civil War artifacts in Georgia.
Fort McAllister State Park, Richmond Hill
Nestled among giant live oaks, this is the best-preserved earthwork fortification of the Confederacy and the end of General Sherman's March to the Sea.
Pickett's Mill Battlefield State Historic Site, Dallas
Pickett's Mill is one of the best preserved Civil War battlefields in the nation, highlighted with a museum, earthworks and wooded trails. The 1864 battle was one of the few Confederate victories during Gen. Sherman's Georgia campaign.
Magnolia Springs State Park, Millen
During the Civil War, this site was called Camp Lawton and served as "the world's largest prison." Today, little remains of the prison stockade; however, the earthen breastworks which guarded it may still be seen. The park's Camp Lawton Museum tells this gripping story.
Revolutionary War & Colonial Georgia
Fort King George State Historic Site, Darien
From 1721 until 1736, this fort was the southern outpost of the British Empire in North America. Climb into the reconstructed cypress blockhouse, explore the palisaded earthen fort and tabby ruins, tour the museum and hike a short nature trail.
Fort Morris State Historic Site, Midway
This earthen fort on the Medway River protected Georgia against the British in both the Revolutionary War and the War of 1812. A museum describes the colonial port of Sunbury; a nature trail and picnic sites are available.
Wormsloe State Historic Site, Savannah
A breathtaking avenue lined with Live Oaks leads to the tabby ruins of this colonial estate. A museum houses artifacts excavated at Wormsloe and a film about the founding of the 13th colony.