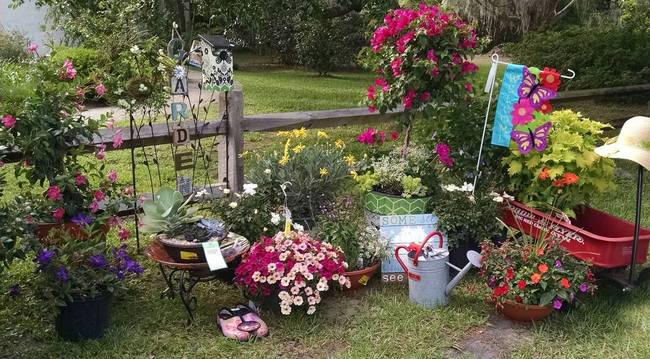 The 12th annual Garden Walk is slated for April 28th  on St.Simons Island. Hosted by the Cassina Garden Club, the tour consists of eight locations and will begin at 10:00 a.m.

This year's tour spotlights seven private residential gardens along with the Cassina Garden Club's Tabby Slave Cabins and Gardens at Gascoigne Bluff, which serves as the start and finish point of the tour. The Cassina Garden Club is located at 1195 Arthur J Moore Dr.
In addition to viewing some beautiful and unique gardens around the island, there will also be a variety of entertainment events at Gascoigne Bluff. A marketplace will be open throughout the day, with local artists displaying purchasable works within the tabby cabins. Members of the garden club will also have plants on sale, and will be giving tours of the remodeled slave cabins.
There will be a garden party that kicks off at 1:00 p.m. and will feature The Strummers, a local ukulele band, at 2:00 p.m. A plein air artists' sale will take place at 3:00 p.m.
Tickets are $25.00 and can be purchased either on the day of the event, or through the Garden Club's website.
Ms. Janis Rodriguez, member of the Cassina Garden Club, says they expect approximately 300 to 400 spectators throughout the day.
Ms. Rodriguez explains how the garden walk got its start.  "The event was started to raise funds for maintenance of the cabins," she explains. "It was Sharon Flores' idea and has been very successful and enjoyed by so many over the years."
A long-lasting community helper, Cassina Garden Club just celebrated its 90th anniversary this past February.