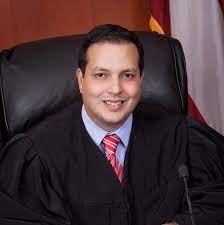 The Supreme Court of Georgia has appointed Dax López as the attorney member of the Hearing Panel of the Judicial Qualifications Commission.
López, a former DeKalb County State Court Judge now in private practice, will replace Jamala McFadden, who is completing five years of service on the JQC and was recently appointed by the Court to serve on the Board to Determine Fitness of Bar Applicants, which is part of the Court's Office of Bar Admissions. López will begin his four-year term on July 1, 2022.
The Judicial Qualifications Commission is the constitutional body that educates Georgia judges about their ethical duties and conducts investigations and hearings regarding judges' misconduct. The JQC's Hearing Panel consists of one judge member, one attorney member, and one non-lawyer citizen member. The Hearing Panel adjudicates formal charges made against judges, makes recommendations to the Supreme Court as to disciplinary and incapacity orders against judges, and issues formal advisory opinions.
JQC Dax-Lopez-appointment supreme court ga

A native of Puerto Rico, López earned his bachelor's degree in political science and Juris Doctor from Vanderbilt University. After several years in private practice, he served on the DeKalb County State Court for 11 years, from 2010 to 2021. After leaving the bench, he formed a law firm with another former DeKalb County State Court Judge, J. Antonio DelCampo, and Randall Grayson. During his career, López has served on the Board of the Georgia Association of Latino Elected Officials and as President of the Georgia Hispanic Bar Association. He is married to Zulma López, an attorney and State Representative, and they have four children.
"The Judicial Qualifications Commission plays a critical role in promoting and protecting the integrity and impartiality of Georgia's judicial system," said Chief Justice David E. Nahmias.  "Dax López's experience as a lawyer and judge, as well as his personal background, make him an ideal member of the JQC's Hearing Panel."
"I am truly honored and humbled to have been appointed by the Justices of the Georgia Supreme Court to serve on the Hearing Panel of the Judicial Qualifications Commission," López said. "I look forward to serving alongside the other members of the Hearing Panel to ensure that every judge who comes before us receives a fair and impartial hearing. I also pledge to work diligently to maintain the trust placed upon me by the Justices who deemed me fit for this important post."
More information about the operations of the JQC may be found on its website at gajqc.gov.