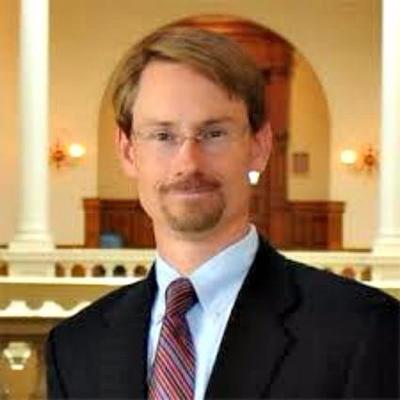 Four months after announcing that he would step down from his seat in the middle of his term, State Representative Andy Welch has announced that he will not be leaving his post in November and will instead finish out his term.
The McDonough Republican broke the news to his area newspaper on Monday, though earlier this summer, Welch told a seminar of local elected officials at the annual Georgia Municipal Association conference that he intended on staying instead of resigning from his post.
During his resignation speech on the last day of the legislative session in April, Welch told House colleagues that he wanted to devote more time to his son and his law firm. Welch said in The Well that in previous years that his family had previously supported his returns to the Capitol, but in the most recent election, the household "had some no votes." He went on to say that "If you can't win an election in your household, you better not be running up here, I can tell you that." He also apologized to colleagues for any bridges that may have been burned during his tenure.
"It is time for me to go home and to be a full-time dad, husband, and lawyer…instead of a part-time legislator," Welch said in his farewell speech.
But his perspective has changed.
The Jackson Progress-Argus reported the retraction of the resignation Monday evening:
House Bill 311, dealing with the legal doctrine of sovereign immunity, would have made it easier in some cases for Georgians to sue the government. Kemp vetoed the bill May 10, stating, "In considering the possible ramifications of a waiver, it is essential that the provisions be appropriately tailored in conjunction with the executive branch to provide pathways for judicial intervention without unduly interfering with the daily operations of the state."
Welch said he feels the veto "requires me to go back and try to finish what I started." [Full story here]
Welch, who was sworn in in 2011, garnered national headlines earlier this year after filing legislation to regulate members of the media by creating an ethics board and instituting requirements for how interviews are conducted.  The bill requires that media outlets turn over any video and audio recordings in unedited format as well as photographs taken during an interview at no charge upon request by the person interviewed. It sets a 60-day window from the date of the interview to request the files, sets a timeframe to fulfill the request, and allows for private action against the media outlet or journalist for failing to comply, assessing a $100 per day penalty.
Welch's bill, which was filed on the same day he announced his resignation, drew the criticism of First Amendment organizations, press integrity nonprofits, and limited government think tanks from around the state and nation. Because legislative terms run for two years, the bill can still be considered in January when the legislature reconvenes.
His seat will be up for re-election in 2020.
You can watch his resignation speech at the 46:30 mark: