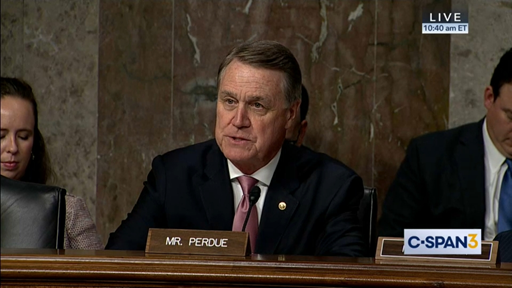 "President Trump and the service members who carried out this mission deserve a standing ovation." – Senator David Perdue 

U.S. Senator David Perdue (R-GA), a member of the Senate Armed Services and Foreign Relations Committees, and U.S. Senator Ted Cruz (R-TX) have introduced a resolution honoring the members of the military and intelligence communities who carried out the successful mission that killed Qasem Soleimani, leader of the Iranian Revolutionary Guard Corps-Quds Force (IRGC-QF) and a designated terrorist.
"Soleimani wasn't just an Iranian general; he was a thug and a terrorist," said Senator Perdue. "For decades, he orchestrated the deaths of countless Americans. Last week, Iranian-backed militias murdered an American contractor and threatened the U.S. Embassy in Baghdad, all at Soleimani's direction. Soleimani supported the Assad Regime as it killed its own people, and he used terrorist proxy groups to wreak havoc throughout the Middle East. After demonstrating restraint to Iran's continued aggression, President Trump acted decisively to protect Americans from imminent danger. President Trump and the servicemembers who carried out this mission deserve a standing ovation for making the world a safer place."
The resolution is modeled on a resolution unanimously supported by the U.S. Senate in 2011, after American forces killed Al Qaeda leader Osama Bin Laden.
In addition to Senators Perdue and Cruz, this resolution was cosponsored by U.S. Senators Tom Cotton (R-AR), Martha McSally (R-AZ), Lisa Murkowski (R-AK), Kevin Cramer (R-ND), Lindsey Graham (R-SC), John Barrasso (R-WY), Marco Rubio (R-FL), John Cornyn (R-TX), Cindy Hyde-Smith (R-MS), Roy Blunt (R-MO), Pat Toomey (R-PA), Roger Wicker (R-MS), Joni Ernst (R-IA), John Hoeven (R-ND), Thom Tillis (R-NC), Shelley Moore Capito (R-WV), Rick Scott (R-FL), Steve Daines (R-MT), Mike Braun (R-IN), Josh Hawley (R-MO), John Kennedy (R-LA), Kelly Loeffler (R-GA), Marsha Blackburn (R-TN), Ben Sasse (R-NE), Dan Sullivan (R-AK), Deb Fischer (R-NE), Pat Roberts (R-KS), Jim Inhofe (R-OK), Chuck Grassley (R-IA), John Boozman (R-AR), Rob Portman (R-OH), Jim Risch (R-ID), Ron Johnson (R-WI), Mike Rounds (R-SD), James Lankford (R-OK), Bill Cassidy (R-LA), Mike Enzi (R-WY), Tim Scott (R-SC), Richard Shelby (R-AL), Mike Crapo (R-ID), and Cory Gardner (R-CO).
Click here to view full text of the resolution.