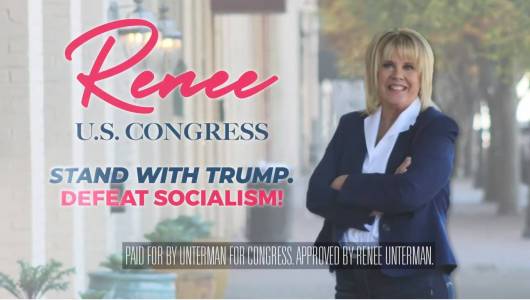 Renee Unterman, State Senator and Congressional candidate in Georgia's 7th district, is running a pro-Trump campaign ad on cable television in which she slams one of her primary opponents.
Unterman hammers Rich McCormick, another Republican, for not voting for President Trump in 2016. "No wonder he's financed by the same swamp creatures that spend millions attacking President Trump and Doug Collins," the voice over says.
"I'm the only Trump Conservative in this race, and voters deserve to know the truth – Rich McCormick refused to vote for President Trump against Hillary Clinton," said Renee Unterman, the leading Republican candidate in the 7th District race. "I am proud that I voted for and support President Trump, and in Congress, I'll always back his conservative policies to Make America Great Again. Don't just take my word for it – I have a proven record of championing conservative causes, and I'll be the Conservative Fighter that stands with President Trump to deliver for Forsyth and Gwinnett counties."
Unterman's position on conservatism is a pillar of her congressional campaign platform, though she has been at odds with a number of conservatives during her tenure in the Georgia legislature and did not initially support Governor Brian Kemp during the 2018 election.
Unterman's ethics were also challenged when she served as the chair of the Senate Health & Human Services Committee because she was also an executive with a health insurer that has a billion dollar a year state Medicaid contract. Per 11Alive, "Renee Unterman develops policy for the State of Georgia, and she directs a state Medicaid insurer on health policy." In that capacity, Unterman took heat for blocking a rape kit testing bill and 'Haleigh's HOPE Act' for CBD oil for persons with limited but debilitating medical conditions. 
You can watch the ad below.