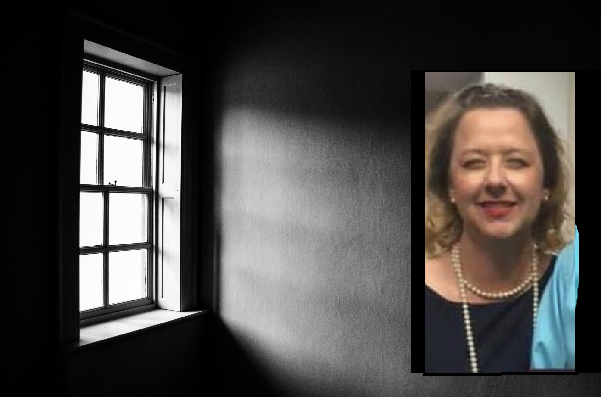 Despite apparent conflicts of interest, documents show the Office of Brunswick Judicial Circuit District Attorney Jackie Johnson handled the bond of former Glynn County Police Officer Cory Sasser knowing that the office was planning to recuse itself from the case.

Documents show that Chief Assistant District Attorney John B. Johnson (no relation) signed a consent order for bond of Robert Cory Sasser on the same day that District Attorney Jackie Johnson sent a letter to the Georgia Attorney General's Office requesting an appointment of counsel due to a conflict of interest.
The records from May 24, 2018 reflect actions that appear to conflict with practices outlined in state law and standards set forth in the legal community. 
OCGA 15-18-5 requires that when conflicts of interest arise, the district attorney contact the Attorney General's Office for the appointment of a special prosecutor. Similarly, "Once you have a conflict, the prosecutor's office is done — no indictments, no accusations, no bonds and no finding a substitute prosecutor," annual training presentations by both the Georgia Attorney General's office and the Prosecuting Attorneys' Council of Georgia read.  
In May 2018, The Brunswick News reported that "[t]he Brunswick Judicial Circuit and District Attorney Jackie Johnson cited a conflict of interest in prosecuting the charges against Sasser. Instead, John B. Johnson III, the Assistant District Attorney in Wayne County, represented the prosecution."
But to avoid even the appearance of impropriety, recusals apply to the entire Office and make no exception for duties conducted by employees of the district attorney. Additionally, Wayne County is in the Brunswick Judicial Circuit, which means a conflict would for the Brunswick Judicial Circuit as a whole would apply to the entire office. Even still, the attorney that handled the Sasser bond on Jackie Johnson's behalf was not clear of his own personal conflict of interest in the matter either. 
A GBI investigation revealed that John B. Johnson initially told investigators that he only had 'a professional' relationship with Sasser as a Glynn County Police Officer, but photos of Sasser and Johnson embracing were recovered on Sasser's phone after his death. When challenged, John B. Johnson laughed and said "I have no idea!" The contradictory statements ultimately led former Glynn County PD Lieutenant David Haney to file an application for the warrant of John B. Johnson in March of 2020 alleging that he made false statements (O.C.G.A. 16-10-20) and violated his oath as a public officer (16-10-1) during the course of the investigation. 
Despite these apparent conflicts, the office continued on handling the case.
Sasser had been arrested on May 18, 2018 and hospitalized for observation after a standoff with law enforcement. At the time of the arrest, Sasser allegedly assaulted two Glynn County police officers in the woods and had to be Tased by a Georgia State Patrol Trooper assisting after a standoff with law enforcement. The officers were attempting to arrest Sasser for violating conditions of his bond which stemmed from a May 13 family violence incident involving his estranged wife, Katie Sasser. Jackie Johnson's office had agreed to the bond conditions from the May 13 incident. 
But six days after the second arrest and eleven days after the first incident, Sasser appeared in court after being charged with two felony counts of obstruction of a law enforcement officer with violence and one misdemeanor count of obstruction of a law enforcement officer. 
Glynn County investigator Joseph Hyer was prepared to testify that "he feared Sasser was a threat to both himself and Sasser's wife, and that he opposed the prosecution's plan to let Sasser avoid jail." He was also one of the officers assaulted by Sasser in the woods a few days prior. But the Brunswick District Attorney's office made the decision not to allow Hyer to testify during the bond hearing. 
As reported by the AJC: 
Hyer told one of Johnson's most experienced prosecutors, Chief Assistant DA John B. Johnson III, that Sasser was so unhinged that he worried for his own safety and the safety of Sasser's estranged wife, according to the source.
Hyer said he feared Sasser would try to kill him and he urged prosecutors to keep him in jail. Hyer insisted that the district attorney's office let him address the judge in open court so he could give a victim's statement.
It was later revealed that Sasser's bond conditions had been negotiated prior to the court appearance to include banishment from the Brunswick Judicial Circuit, court ordered mental health treatment from the VA, no contact with his estranged wife, Katie Sasser, and Sasser was prohibited from possessing any firearms. 
(Story continues below)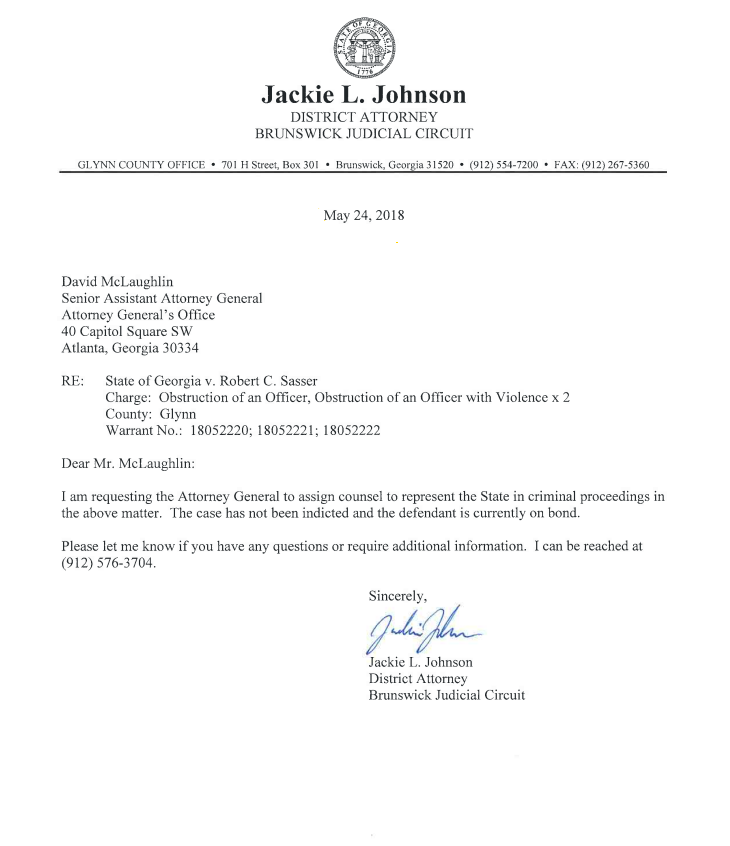 Records from the Attorney General's Office do not show a replacement prosecutor was ever assigned to the case, but a little more than one month later, Sasser would go on to kill his estranged wife, her boyfriend, John Hall Jr., and himself. 
Despite the recusal, Johnson would later request a GBI inquiry as to whether or not anyone assisted Sasser in obtaining firearms ahead of the murders in violation of his bond conditions, but in the post-inquiry assessment, Johnson's office would state that the GBI inquiry did not pertain to any law enforcement decisions or discretionary matters of the judicial system. 
The Brunswick Judicial Circuit is no stranger to controversy surrounding conflicts of interest. 
Last week, AllOnGeorgia reported that Johnson's office skirted Georgia law when she appointed her own special prosecutor in the case involving former Glynn County police officers, but continued to direct case proceedings through her office and make decisions on bond conditions even after that appointment was made.  
The AJC scrutinized Jackie Johnson in May after news surfaced that Johnson waited three days to contact the Attorney General's Office for assignment of a prosecutor in the Ahmaud Arbery case and even made a recommendation to the Attorney General's Office about who to assign, noting she had already been in contact with Waycross Judicial Circuit DA George Barnhill. Carr's office ultimately took Johnson's recommendation before Barnhill stepped aside and Atlantic Judicial Circuit DA Tom Durden was appointed. 
Both the Georgia Bureau of Investigation and the U.S. Department of Justice are investigating the circuit's handling of the Arbery case.