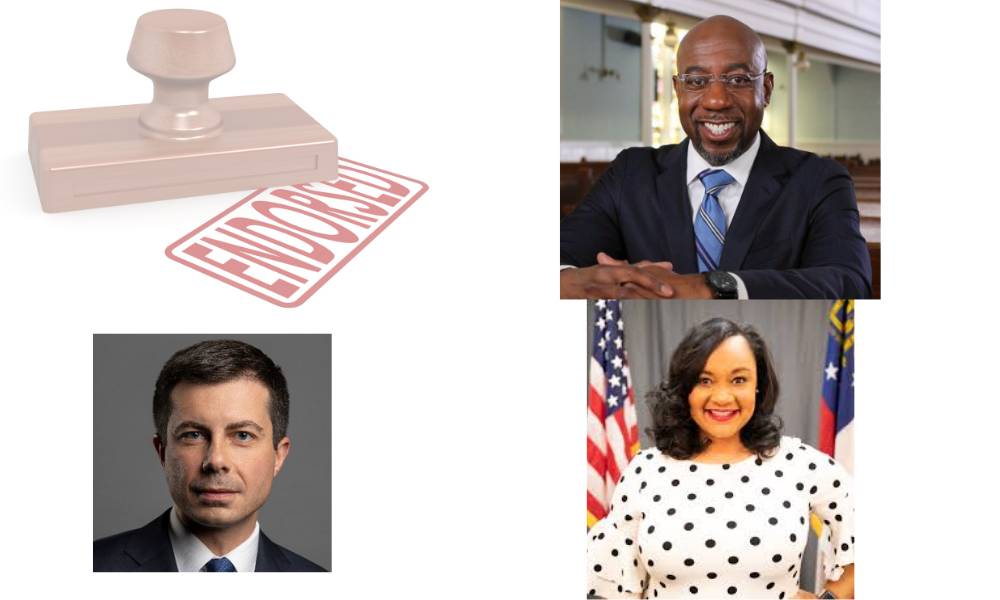 Pete Buttigieg announced Thursday that Win the Era is endorsing 28 candidates running for office in federal and state governments across the country.

This is the PAC's latest set of endorsements for the 2020 cycle, which aim to 'build the bench of the Democratic Party' by endorsing candidates identified by the group as next generation leaders, candidates running historic and trailblazing campaigns, and candidates who are making inroads in traditionally red states or districts.
Among those endorsed Thursday is Raphael Warnock, Democratic candidate in the 21-candidate primary race to fill the unexpired term of Senator Johnny Isakson. The seat is currently held by Senator Kelly Loeffler. Also on the list is Democratic Party of Georgia Chair Nikema Williams, who is seeking the 5th District Congressional seat left vacant by the late-Congressman John Lewis.
"I'm excited to announce our latest slate of endorsements, which include forward-thinking leaders across our country who are offering bold ideas that will change the course of our politics," said Pete Buttigieg. "This election, we need to replace the current President and elect leaders at every level of our government who will deliver solutions to the biggest challenges we face. I believe the voices of these twenty-eight candidates are essential to changing our politics, and I'm committed to doing everything I can to make sure they are successful on November 3rd."
Over the next two months, Win the Era says it will leverage the strength of its national network to support these candidates and hold virtual campaign events to benefit them.
The 28 candidates endorsed by Win The Era are:
Marquita Bradshaw, US Senate – TN

Theresa Greenfield, US Senate – IA

MJ Hegar, US Senate – TX

Jon Ossoff, US Senate – GA

Rev. Raphael Warnock, US Senate – GA Special

Rep. Colin Allred, US House TX-32

Moe Brown, US House SC-05

Eugene DePasquale, US House PA-10

Mondaire Jones, US House NY-17

Rep. Andy Kim, US House NJ-03

Qasim Rashid, US House VA-01 

Rep. Kathleen Rice, US House NY-04

Hillary Scholten, US House MI-03

Rep. Elissa Slotkin, US House MI-08 

Judge Pat Timmons-Goodson, US House NC-08

Councilman Ritchie Torres, US House NY-15

Candace Valenzuela, US House TX-24

Dr. Cameron Webb, US House VA-05

State Sen. Nikema Williams, US House GA-05

Dr. Nina Ahmad, PA Auditor General

Josh Stein, NC Attorney General

Sarah McBride, Delaware Senate District 01

Akilah Bacy, Texas House District 138

State Rep. Jasmine Clark, Georgia House District 108

Torrey Harris, Tennessee House District 90

Chokwe Pitchford, Michigan House District 79

Tarra Simmons, Washington House District 23

Mauree Turner, Oklahoma House District 88