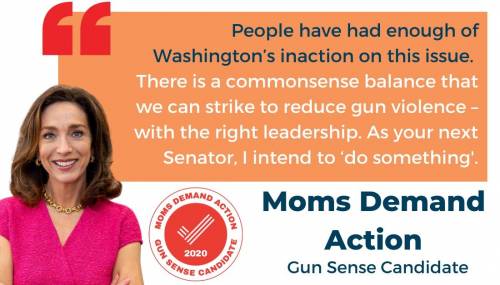 The gun control lobbying group Moms Demand Action has announced support for the platform of Democratic U.S. Senate candidate Teresa Tomlinson.
Moms Demand Action, which claims a nonpartisan status, touts a focus on passing stronger gun laws, closing loopholes, and encouraging "a culture of responsible gun ownership." The organization has named Tomlinson one of their Gun Sense Senate candidates in 2020.
Tomlinson announced the support from Moms Demand Action Monday in a news release:
"A global pandemic closing all schools should not have been the reason that last month was the first March since 2002 without a school shooting. It should have been because Congress took action to protect our children and teachers from gun violence.
We're thrilled that Moms Demand Action sees the opportunity we have in Georgia to address gun violence on a national scale, and that Moms Demand Action has made Teresa one of their Gun Sense Senate candidates in 2020."
Tomlinson has been a vocal advocate for gun control measures. She has spent considerable time during the campaign chastising her Republican opponents and the majority in the Senate for 'being in the pocket of the National Rifle Association.' Her website policy position on 'gun violence' references 'weapons of war' on the streets and the need to give law enforcement a 'fighting chance' to keep communities safe.
While it is true that this country honors the Second Amendment, it is also true that the Supreme Court has held that federal and state legislatures can pass gun safety laws. The constitutional right to bear arms cannot infringe on the fundamental right of others to be free of terror and violence.
According to her website, Tomlinson supports:
Background Checks on All Gun Sales
Extreme Risk Protection Orders (or "red flag" laws)
Assault Weapons Ban
No Fly, No Buy – banning people on the 'no fly list' from purchasing weapons
Requiring gun owners to be licensed and permitted
Creating ATF databases
Prohibiting gun ownership by persons convicted of hate crimes and terrorism
Tomlinson will face six other Democrats in the primary on June 9th – Sarah Riggs Amico, Marckeith DeJesus, James Knox, Tricia Carpenter McCracken, Jon Ossoff, and Maya Dillard Smith. The Democratic nominee will ultimately face Republican Senator David Perdue.
*Article corrected to reflect naming Tomlinson a Gun Sense Candidate for MDA, not a recipient of the MDA endorsement. 10:10 a.m. – 04.28.20