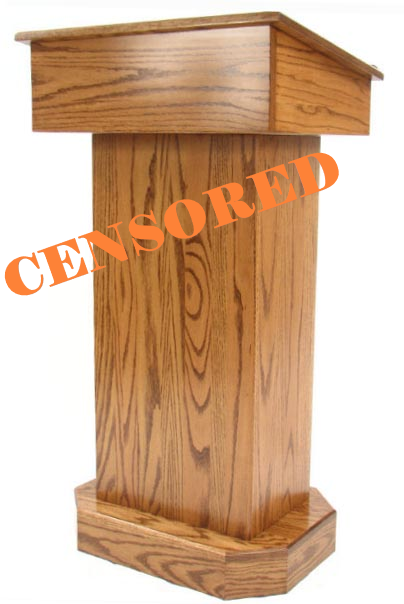 Local government meetings are supposed to be a forum where citizens can observe official business of governing bodies, petition for reprieve, air grievances, and ask questions, but observations of public comment practices often show a trend toward censorship and eradication of public participation as a whole – unless citizens are offering support or compliments of the governing body. 
The courts have long ruled that censorship must be 'content-neutral' not 'content-based,' in that local governments may limit citizens for time, for place, and to the extent that the topic is relevant to the governing body they address, but may not be based on view point. Various legal precedents in courts across the country have held this position as the law of the land since at least the 1970s. They have also held that once a limited public forum is opened, the rules governing public participation must be applied equally to everyone. 
This, however, has not deterred local governments from enforcing their own arbitrary policies.
During the August Evans County Board of Education meeting, censorship of public comment was executed on citizens who offered criticism of the Board members and the school system. Chairman Durrell Lynn opened the public participation portion of the meeting with a reminder that "no personal attacks" or "individual matters" would be tolerated. "If a name is called (referring to an individual), I will gavel you out of order. If I do that a second time, I'll ask that you be removed." 
Citizen Greg Threatte was gaveled out because he mentioned "Dr. Waters" by name when referring to transparency concerns after the Superintendent hired his own wife [4:20 mark] and again at the 6:30 mark when he said, "Dr. Waters." Upon the first gavel, Chairman Lynn said, "We will not mention people by name. You want to say 'Superintendent' fine, but we're not going to have a name spoken." On the second gavel, Lynn instructed Threatte that his time was up because he mentioned someone by name again, "which I specifically said we would not."
Chairman Lynn later instructed Janie Richardson to stop referencing school personnel when discussing matters related to her own family. [8:15 mark] Citizen Gary Reider was told by the Board that he would not be permitted to yield his time to someone else, though that same practice has been permitted at meetings in the past. [2:22 mark in the video]
Contrarily, former Evans County School System employee Neal Hammack was given an exception to the public comment rules when he was given additional time to speak [13;35 mark] and permitted to address – and even ask questions of – the audience [14:44] after everyone else had been instructed to address only the Board. Hammack's comments were in defense of the school system and board central office. 
Chairman Lynn also ordered police to remove citizen Janie Richardson after she asked that the rules of the meeting be applied equally. [17:42] Lynn had no grounds to order Richardson to leave as the Georgia Supreme Court struck down OCGA 16-11-34(a) relating to disrupting lawful meetings more than a decade ago because it is "overbroad" and stifles expression. (See State v. Feilden and State v. Touchton (2006))
Board of Education Attorney Ron Hallman, who is also a state court judge, was present during the exchanges, but sat quietly and did not say anything. 
Story continues below
When it was announced that case law and attorney general opinions prohibiting censorship on viewpoint were in hand, Lynn said, "I'm not interested in it." [6:45 mark]
Just one day after the events at the Evans County Board of Education, the same censorship happened in Screven County. The floor was opened for public comment by the chairman and attendees were told that they could only speak on agenda items. Four citizens spoke – two of whom asked questions and two of whom offered compliments – before citizen Ben Counts rose to address commissioners. Counts again clarified that he was permitted to address 'anything that was on the agenda,' which was answered in the affirmative. Counts then said he planned to discuss agenda item VI (4), which pertained to an applicant for a land use variance for a proposed landfill and "Facebook comments." Chairman Will Boyd referred to county attorney Hubert Reeves who said, "No." Reeves then said, "It's not a matter that's being considered, it's not up for consideration, it's not being considered today. It's not on the agenda today." 
The matter was on the agenda, though, and commissioners voted at the beginning of the meeting to adopt the agenda as it was printed [shown below] and distributed to citizens. Additionally, public comment occurs at the end of the meeting, so none of the agenda items 'were up for consideration' because everything on the agenda had already been adopted. 
Two more citizens spoke after Counts and neither were limited based on their viewpoint.  Counts' commentary is at the [50:30] mark in the video.
Story continues below. 
Screven County Commission Meeting — Tuesday, August 13, 2019 @ 9AM [Clean version]

Posted by All On Georgia – Screven on Tuesday, August 13, 2019
On two separate occasions, the mayor in the City of Claxton has told citizen Robert Hodgson he cannot say 'shit' or 'damn' during his public commentary.
The legal precedent erring on the side of the citizen is overwhelming and includes decades of case law that – free of violence or threatening behavior – has supported the First Amendment. A few of the legal findings include:
One of the underlying points in many of the cases is that the authorization of government bodies to enter into closed session to discuss personnel matters does not mean that discussion of personnel matters is prohibited in open session. 
Free speech still reigns in some communities, however. 
County Commissioners in Bulloch, Evans, and Tattnall counties as well as the cities of Brooklet, Oak Park, and Statesboro each allow citizens to address the commissioners on any matter and even in instances where someone has not signed up to speak ahead of the meeting. At all three, commissioners thank citizens for attending and for their comments.
At a meeting in Evans County earlier this year, a citizen came forward with a number of complaints – one of which involved a sitting county commissioner. The citizen made every effort to avoid using the name of the commissioner, but eventually noted that it would be easier to explain if names and locations were used. Commissioner Tony Lewis politely instructed the citizen to 'go ahead' and use his name, and he already knew she was referencing him, and to continue on with her explanation. 
Local governments that limit commentary based on viewpoint open themselves up to lawsuits seeking both injunctive and financial relief in Superior Court, sanctions and open government training from the attorney general's office, and disdain from the public due to a growing divide.