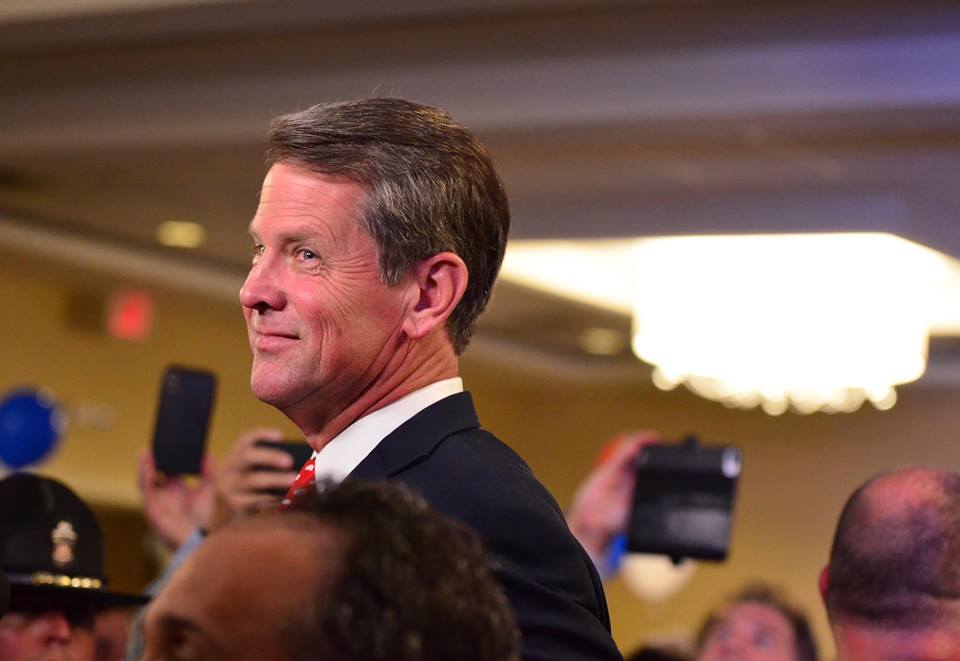 Governor Brian P. Kemp held swearing-in ceremonies earlier this week for 21 appointees to serve on the Board of Commissioners of the Sheriffs' Retirement Fund, Board of Corrections, Board of Economic Development, Georgia Council for the Arts, and the Savannah-Georgia Convention Center Authority Board.

Board of Commissioners of the Sheriffs' Retirement Fund
Robert Markley is Sheriff of Morgan County. He started his law enforcement career in 1990 as a jailer at the Morgan County Sheriff's Office. In 1991 he graduated from the Northeast Georgia Police Academy. He served as a patrol officer and an investigator before he was elected Sheriff in 2000.
Jud Smith is Sheriff of Barrow County. He earned a master's degree in Public Administration from Columbus State University in 2006. He lives in Winder with his wife, Stephanie, and they have two children.
Wayne County Sheriff John Carter was reappointed.
Ester Fleming, Jr. is a small business owner and former Newton County Commissioner. He is a graduate of the University of Georgia and currently owns and manages a real estate holdings company in Covington where he resides. He has three sons and six grandchildren.
Donnie Pope is Sheriff of Jasper County. He obtained a bachelor's degree in Criminal Justice from Georgia College and State University in 1997. He lives in Monticello with his wife, Johnna, and their two children.
Mike Coggins, Larry Haynie, Tommy Rouse, and Rose Williams were reappointed.
Board of Directors for the Georgia Department of Economic Development
David Belle Isle is a sixth generation Georgian and has been happily married to his wife, Candice, for over twenty years. They have two teenage children and reside in Alpharetta. A proud Georgia Bulldog, David graduated from the University of Georgia in 1997 before attending Georgia State University, where he earned his law degree and master's in Business Administration. David opened his own law firm in 2007, Hipes & Belle Isle, which focuses on commercial and residential real estate transactions. David also served as Mayor of Alpharetta from 2012 to 2018.
Steve Syfan serves as Co-Founder and Executive Vice President of Syfan Logistics and Turbo Truck Center in Gainesville. He started in the logistics field in 1984 with his brother, Greg, and his father, Jim. He has two children and two grandchildren. He and his wife, Kim, reside in Gainesville.
Georgia Council of the Arts
Colt Chambers is Chief Executive Officer and President of Chambers Enterprises. He earned his bachelor's degree in Small Business Administration from Northern Arizona University. He resides in Cedartown.
Elizabeth Delancy, David Morrow, and J. Barry Schrenk were reappointed.
Savannah-Georgia Convention Center Authority
Patrick Farrell owns Farrell's Lawn Care and Filtration Service Co. in Savannah. He has been a Chatham County Commissioner since 2004. A graduate of Benedictine Military School, he furthered his education at Georgia Southern University and graduated with a bachelor's degree in Mechanical Engineering Technology. He is a native of Savannah and a resident of Skidaway Island. He is married and the father of three sons. He enjoys worshiping at church, helping constituents, and participating in outdoor activities, such as gardening, fishing and boating.
Martin Miller is Chief Executive Officer of Coastal Home Care in Savannah. He is a 1966 graduate of Valdosta State University. He served in the U.S. Air Force before returning to Valdosta where he was a community leader in economic and industrial development efforts, having served on the Valdosta-Lowndes County Industrial Authority for eleven years where he was twice elected Chairman. Martin and his wife, Laura Lynn, live in Savannah, and he enjoys boating, hunting, hiking, and spending time with his grandchildren.
Jeanne Seaver has over thirty-two years of experience as a legal administrator and comptroller. She is in her nineteenth year as an associate with a private equity company in the aerospace industry. She resides in Savannah and attends St. James Catholic Church. She has three children and one grandchild.
Lorri Smith is Chief Operating Officer for the Office of Governor Brian P. Kemp. Smith holds a bachelor's degree in Accounting from Georgia College & State University and a master's degree in Accounting and Financial Management from the Keller Graduate School of Management at DeVry University. Smith's hometown is Covington where she currently resides with her husband, Tim, and their two children. Smith previously served as Assistant Deputy Secretary of State in the Office of the Georgia Secretary of State.
Mark Spadoni serves as the General Manager of the Westin Savannah Harbor Golf Resort & Spa. Mark holds a bachelor's degree in Hotel Administration from Washington State University. He has three children, and resides in Savannah with his wife, Lee Ann.
Ansley Williams is Chief Executive Officer and Owner of Live Oak Restaurants. Ansley attended R.E. Lee High School and has one daughter. He and his wife, Sharon, reside in Savannah.