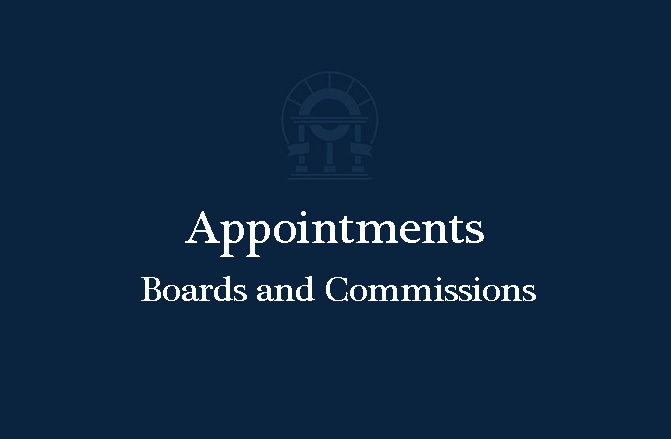 Governor Brian Kemp today announced 63 appointments to various boards, commissions, and councils.

---
Georgia Public Telecommunications Commission
Brian Dill, Jerald Mitchell, Mark Parkman, and James Alvin Wilbanks were reappointed.
Chris Brown is vice president of operations and technology for Turner Sports. In this capacity, he oversees Turner Sports' linear and digital live productions, including the Bleacher Report video production and technology operations (inclusive of studios in New York and Las Vegas), as well as library and archive operations and all technical crewing. Previously, Brown served as senior director of technical operations for Turner Sports. Within that role, he was responsible for technical operations and planning for all Turner Sports linear and digital properties including NBA on TNT, NBA Digital, MLB, NCAA, and PGA.com, as well as NBA TV's studio and remote operations. Before joining Turner Sports, Brown served as director of operations for National Mobile Television, where he supervised all technical functional areas, studio and remote production facilities and crew, vendors, technology providers, and communications for clients such as CBS Sports, Fox Sports, and a variety of other sports and entertainment companies. Earlier in his career, he served as the operations systems trainer for CNN Sports Illustrated and assistant manager of broadcast archive operations at Atlanta Olympic Broadcasting, covering all live Olympic events during the 1996 Games. Brown began his career in local television news.
Cecil Staton has spent his career as an academic leader, Georgia State Senator, and business owner and entrepreneur. He served as a professor at Brewton-Parker College, a faculty member and administrator at Mercer University, and as a Vice-Chancellor for the University System of Georgia. Staton was Interim President of Valdosta State University before becoming Chancellor of East Carolina University in Greenville, North Carolina. From 2005 to 2014, Staton served as a Georgia State Senator, representing the 18th district. During his legislative career, he served on numerous committees, including stints as chairman of the Science and Technology Committee and member of the Committee on Assignments. He served on the Transportation, Finance, Higher Education, and Appropriations committees during his tenure and was chair of the Senate Appropriations subcommittee on Higher Education. Staton served as vice chairman of his caucus before being elected majority whip for two terms. He also founded publishing and media companies based in Macon, Georgia. Those companies have published books, including two New York Times bestsellers, and operated radio stations throughout central, southeast, and southwest Georgia, as well as a television station, newspaper, and various websites. Staton holds a bachelor's degree from Furman University, a master of divinity and master of theology degrees from Southeastern Seminary, and a doctorate in Philosophy from the University of Oxford. He and his wife, Catherine, live in Monroe County.
---
Georgia Peace Officers Standards and Training Council
John Daniel currently serves as the Chief of Police of the Haralson County School Police Department and the school system's Transportation Director. He serves his community as the District 3 Commissioner in Haralson County, where he grew up. He is an active member of the Western Area Regional Radio System (WARRS) which oversees the emergency communications systems for Public Safety in the West Georgia Area. Daniel began his law enforcement career with the Georgia State Patrol as a dispatcher before graduating with the 88th Georgia State Trooper School in November of 2011. He worked the road as a Trooper, becoming a certified Field Training Officer and Certified Drug Recognition Expert. He oversaw Safety Education and Recruiting for Troop A before being assigned to former Governor Nathan Deal's Dignitary Protection Detail in 2018 and Governor Brian Kemp's Protection Detail in 2019. He and his wife, Kelsie, reside in Buchanan, Georgia, with their two children.
Mike Eason has over 40 years of experience in criminal investigation, budget management, planning, and law enforcement management. After graduating from Brenau University in Gainesville, Georgia, with a bachelor's degree in Public Administration and Criminal Justice, Eason served in the Georgia Bureau of Investigation as a Special Agent. Throughout his 30 years in that role, he worked in the fields of Narcotics, Fraud, Organized Crime, and Corruption. In 2005 he was named the Chief of Police of the City of Cumming Police Department, a position he held for four years, and in 2017 he was elected Mayor of Dawsonville, a position he holds today.
---
State Board of Physical Therapy
Ashley Camoosa is a licensed Physical Therapist Assistant and a lab instructor for Lanier Technical College's Physical Assistant Program. In 1993, Camoosa graduated from Auburn University with a degree in Biomedical Sciences. She continued her education at Mercer University, earning her Master of Business Administration in 2005. Camoosa and her husband Joseph currently live in Atlanta.
Claire Mullin is a licensed physical therapist with over thirty years of experience in Home-Based Physical Therapy. Mullin graduated with a bachelor's degree in Psychology from Molloy College in Rockville Centre, New York, before earning her bachelor's degree in Physical Therapy from Georgia State University. She later earned a doctorate in Physical Therapy from the College of St. Scholastica in Duluth, Minnesota. Mullin is an active member of the American Physical Therapy Association of Georgia, currently serving as the Ethics Committee Chair, a mentor in the Minority Mentoring Program, and a trustee on the Political Action Committee Board. She currently provides home health physical therapy services in the Cobb County area.
---
State Board of Funeral Service
Thomas E. Davis is the coroner of Newton County and is a member of the Georgia Coroners Association. A lifelong Georgian, he was raised in Lithonia and attended DeKalb College (no part of Georgia State University). Davis graduated from the Gupton-Jones College of Funeral Service in 1988. Davis first began working in the funeral business in 1984 and is a licensed funeral director and embalmer. In 2011, Davis purchased J.C. Harwell and Son Funeral Home, a business that has served Newton County and the surrounding area for over 125 years. As the coroner, he serves on the Child Fatality Panel for Newton County and is the coroner representative for the Metro Atlanta Mass Fatality Planning panel. He is a member and Past President of the Rotary Club of Covington, a member of the Covington Elks Lodge, Covington Lions Club, and Golden Fleece Lodge #6 F&AM. Davis is also a board member of The Sobriety Resource, an organization founded by one of his lifelong friends helping those who battle with addiction. He and his wife, Mary, have three daughters and four grandchildren and are members of First Baptist Church of Covington.
---
Board of Public Health
Mychal H. Walker graduated from Auburn University, where he received a degree in Mass Communications. He began his career working for several telecommunications giants, including AT&T, BellSouth, and US Sprint, in their marketing departments. In 1986, Walker started TriComm, Inc., which provided communications systems to major governmental clients like the Department of Defense, Centers for Disease Control, and the Federal Aviation Administration. In 2007, he shifted into the Insurance and Financial Services industry and began providing consulting services to small businesses that focused on government contracting, utilizing insurance and financial products to assist his clients in growing and maintaining their businesses. Walker is the President of The Walker Agency, which addresses the needs of the senior market and healthcare-related issues. Walker has been involved and served on numerous civic boards, including representing Gwinnett County as a member of the MARTA board of directors and the Gwinnett County Chamber of Commerce board of directors. In 1993, he was selected by then-US Senator Paul Coverdell to represent the Senator and the State of Georgia in Africa at the first African / African American Economic Summit. Currently, Walker serves on the Dean's Advisory Board for the College of Liberal Arts at Auburn University. He is the Regional Vice President of the National Association of Health Underwriters and is a member of the Board of Trustees for the National Association of Health Underwriters. In August of 2021, he was elected as the Chair of the Leadership Council for the Georgia Chapter of the National Federation of Independent Business. Walker serves on the Stakeholder Advisory Committee for the Georgia Insurance Commissioner, and in 2019, Governor Kemp appointed him to serve on the Georgians First Commission Task Force.
---
Southern States Energy Board
Hunter Hill has held numerous leadership positions in the private sector, the U.S. military, and in the Georgia General Assembly as a State Senator. Hill earned his bachelor's degree in general management from the U.S. Military Academy at West Point. Starting his career as an infantry officer in the U.S. Army, he graduated from the U.S. Army Airborne, the U.S. Army Air Assault, and the U.S. Army Ranger schools. Hill served three combat tours leading five different teams in Afghanistan and Iraq. He received two Bronze Stars among, other decorations, and served as a general's aide in Iraq. In 2005, Hill joined Carter and Associates where he held leadership positions on large-scale commercial real estate development projects. Hill was elected to the Georgia State Senate in 2013 and served five years. During his time in the legislature, he was president of Tommy Newberry Coaching, an executive and leadership coaching firm. Most recently, Hill was a partner and director of growth at SignatureFD, a wealth management firm in Atlanta. He was recently approved as the executive director of the Georgia Environmental Finance Authority. Hill resides in Atlanta with his wife, Shannan, and their two children.
---
State Forestry Commission
John Chadwick Nimmer was reappointed.
---
State Board of Optometry
Paul Charles Ajamian, Karen Canupp, B. Thassanee Gutter-Parker, Robert McCullough, and Jeanne Marie Perrine were reappointed.
---
Georgia Board of Nursing
Jennifer Pipkin and Cynthia Summerlin were reappointed.
Ashley Gresham serves as executive director of nursing for the Emergency Care Center of Grady Health System. Gresham oversees all nursing operations for the Marcus Trauma Center, Clinical Decisions Unit, Sickle Cell Acute Care Center, and Urgent Care Center. She is the co-lead for the Hospital Restraint Committee. In her role as director of nursing for the Marcus Trauma Center and Imaging Nursing, she is responsible for the Interpersonal Violence Programs operations, which consist of the Rape Crisis Program, Trauma Recovery Center, and HIV program. Gresham was recently accepted into the American Organization for Nurse Leaders Directors Fellowship and is a member of several professional organizations. In 2021, she was appointed to serve on the Senate Study Committee on Violence Against Health Care Workers.
---
Board of Commissioners of the Judges of the Probate Courts Retirement Fund of Georgia
Chase Daughtrey and Bruce E. Wright were reappointed.
Rooney Bowen, III was elected Probate Judge of Dooly County in 2009. In 2014, his peers elected him to serve on the Council of Probate Judges Executive Committee, and he became president in 2017. In 2018 he was named Probate Judge of the Year. Since that time, the Dooly County Probate and Magistrate Courts have combined, and he now serves as the Judge of both courts. Previously, Bowen served on the Georgia Board of Public Safety for 20 years. He is a lifelong resident of Dooly County where he and his wife, Allison, reside.
Mike Greene is the former Probate and Chief Magistrate of Jones County. Greene served as a probate judge in Jones County for 40 years before retiring in 2022. He serves as a member of the Georgia Commission on Family Violence. Before his retirement, Greene was a member of the executive committee of the Council of Probate Court Judges and the Council of Magistrate Court Judges. Greene earned a bachelor's degree from Georgia College & State University. He and his wife, Julie, reside in Gray, Georgia. Greene previously held one of the four seats designated for judges of the probate courts who are members of the fund and will now serve as the sole appointee of the governor who is a member of the fund and a retired judge of the probate court.
Detria Carter Powell is the Probate Judge of Lowndes County, Georgia. She is a native of Atlanta. She earned her bachelor's degree from Talladega College and her law degree from the University of Florida. Prior to her historic election in 2016, Powell began her legal career as a staff attorney and supervising attorney for the Valdosta Office of Georgia Legal Services Program. She then worked in private practice and served as the associate probate judge in Lowndes County Probate Court. Powell is a member of the State Bar of Georgia and Valdosta Bar Association. She currently serves as the Vice-Chair of the Probate Court Judges Training Council and is a member of the Probate Judges Rules and Forms Committee. She previously served on the Georgia Commission on Interpreters. She is a member of Alpha Kappa Alpha Sorority, Inc.
---
State Board of Cosmetology and Barbers
Betty Carlisle was reappointed.
---
State Board of Hearing Aid Dealers and Dispensers
Vaughn G. Bray, Donald Cote, Ralph T. Jackson, Jr., William L. Herndon, Jason Murphy, and Kadyn Williams were reappointed.
Gwen Cantrell is the founder of Hearing Aid Factory Outlet, one of Georgia's largest hearing aid dispenser groups. She has been a licensed dispenser in the state for over a decade. She served as a board member for the Georgia Society of Hearing Professionals for Governmental Relations. Cantrell is a powerful advocate for the deaf and hard-of-hearing community in Georgia. She has a personal understanding of the struggles with hearing loss, as both she and her daughter suffer from hearing loss. Cantrell has also served as a special needs teacher. She was overwhelmingly elected to three terms as the Republican Representative for the Walton County Board of Education District 6, gaining extensive training and experience in proper board governance.
---
State Board of Podiatry Examiners
Sarvepalli D. Jokhai and Judith G. Sanders were reappointed.
---
Composite Board of Professional Counselors, Social Workers, and Marriage and Family Therapists
Tommy Black is a Licensed Professional Counselor (GA) and Licensed Mental Health Counselor (FL) who has been in private practice since 1998. He served as a member of the Georgia Composite Board for Professional Counselors, Social Workers, and Marriage and Family Therapists for nine years. Seven of those years, he was a member of the Cognizant (Complaint) Committee. He is the ethics co-chair for the Licensed Professional Counselor's Association of Georgia. Black's primary work is in forensic assessments to aid with family, criminal, and civil court. He previously worked as an adjunct professor of psychology and counseling in undergraduate as well as graduate programs. For nine years, he worked as a certified school psychologist. Black has presented professionally dozens of times over the years on topics covering ethics, professional development, testing/assessment, forensic topics, self-care, and many others. He has special expertise in PTSD, testing and assessment, custody evaluations, and forensic evaluations. Black has specialized training in CBT, REBT, and TF-CBT. A veteran of the Gulf War while serving in the U.S. Army, Black has years of personal and professional experience in understanding and helping others cope with the specific challenges of military service for active-duty individuals and their families.
---
State Board of Examiners for Speech Pathology and Audiology
Alice F. Cellino and Robin B. Hardin were reappointed.
J. Darby Hightower is the audiology practice manager for Children's Healthcare of Atlanta (CHOA) and was previously an audiology clinical supervisor at CHOA. Hightower attended the University of Georgia where she earned her bachelor's degree and went on to earn her doctor of audiology degree at the University of South Florida. She is on the University of Georgia Pediatric Audiology Symposium Planning Committee and is the Committee's Sponsorship Chair. She has given several presentations on her research over the years and even contributed to the creation of an Audiology Clinical Practice Guideline for the NICU, a clinical protocol that suggests optimal evidence-based audiology assessment and follow-up for infants in the CHOA NICU.
---
Georgia Vocational Rehabilitation Services Board
Louis Hill, Suzanne M. Dooley, and Jonathan Taylor were reappointed.
Jane Gaines McCall is a retired public school educator who worked with inclusion students. She was named Blackwell Elementary Teacher of the Year and Elbert County Mother of the Year. McCall serves on the board of directors for the Friends Helping Friends Club, which is dedicated continuing the memory of her son, Bud, who had very special needs and overcame all odds to live to be 15 years old, many years longer than predicted by physicians. Jane has remained actively involved with organizations serving students who have special needs. Over the years, she has served on several boards including the Elbert Memorial Hospital Foundation Board, Spring Valley Health Center Nursing Home Board, and Elbert County Board of Education. Currently, McCall volunteers one day each week at Shepherd Center in Atlanta, assisting a patient with special needs. She is married to Tom McCall, former State Representative of 26 years and current Georgia Farm Bureau President.
---
Professional Standards Commission
Derek Easterling and Brian Sirmans were reappointed.
Judi Wilson was appointed dean of the College of Education for Augusta University in July 2019. Before this appointment, she served as interim dean for one year; associate dean for Initial Certification, Accreditation, and Partnerships for two years; as the department chair of Teacher Education for five years; and as assistant chair for two years. She has been a faculty member at the university since 2003 and an educator for almost 30 years. Wilson is certified to teach grades P-8 and taught elementary school in Athens, Perry, and Cochran, Georgia. She also served as a primary, middle school, and district-level administrator. She is passionate about partnerships and collaboration as well as providing support for new teacher induction. Wilson received her doctor of education degree in Educational Administration at Georgia Southern University. She also earned an education specialist degree in Educational Leadership and a masters in education degree in Early Childhood Education from the University of Georgia, in addition to a bachelor's in Education from Furman University. She, and her husband, Greg, have two sons who graduated in 2019 from the College of Nursing at Augusta University.
Vonda Woodall is a social studies teacher at North Oconee High School and a member of the Georgia Children's Cabinet. Woodall began her teaching career at Winder-Barrow High School (WBHS) in 2003 and has served as both a social studies department chair and graduation coordinator during her tenure at WBHS, where she was named Teacher of the Year. Woodall has been a professional learning community leader, new teacher mentor, student teacher/practicum supervisor, and grant coordinator. During her career, Woodall has taught AP & General Psychology, AP & Honors World History, Economics, Government, U.S. History, and Sociology. She attended the University of Georgia for both her bachelor's and specialist degrees and Troy University for her master of science in Education. Woodall and her husband, Chad, have four children and reside in Oconee County.
---
Criminal Case Data Exchange Board
Patrick "Pat" Labat currently serves as the 28th Sheriff of Fulton County, Georgia. In his 30 years of experience in the public safety sector, he has developed a reputation for motivating his workforce through hands-on leadership. In his decade of service as Chief of the City of Atlanta Department of Corrections, Labat served on the mayor's executive team and was responsible for providing visionary leadership for budget of over $30 million. He maintained a nationally accredited detention facility and pioneered youth diversion programs as well as the nationally acclaimed PAT3 reentry program. In recognition of his contributions, he was named Jail Administrator of the Year by the Georgia Jail Association in 2015 and 2019. Sheriff Labat is a native Atlantan and a lifelong resident of Fulton County. He and his wife, Jacki, have four children.
Greg Allen has served as the clerk of superior, state, and juvenile courts in Forsyth County since being elected in 2008. Allen is an alumnus of Forsyth County High School and holds a bachelor's degree in Business Administration from Georgia State University. In his time at the Forsyth County Clerk of Court's Office, he has received several recognitions, including being voted as Clerk of the Year for the State of Georgia in 2018. Allen is the board chairman of the Georgia Superior Court Clerks Cooperative Authority and the current elected president of the Superior Court Clerks Association of Georgia. He and his wife, Kim, have been married for 29 years and are the proud parents of three children.
Marie Broder is the first female district attorney for the Griffin Judicial Circuit. She received bachelor's degrees in Speech Communication and Public Relations and a law degree from the University of Georgia. She has served as a law clerk and associate, assistant district attorney, and office manager, and she served as chief assistant district attorney for Benjamin Coker before he was appointed as a Superior Court Judge. Broder has handled thousands of cases during her career and has tried over 50 cases to verdict, handling everything from murder to drug trafficking charges. She has developed a specialty in trying crimes against women and children. Broder is a member of the Georgia Bar Association, Georgia Association of Women Lawyers, Spalding County Bar Association, Fayette County Bar Association, Upson County Bar Association, Federalist Society, Phi Beta Kappa, Daughters of the American Revolution, and Georgia Cattlemen's Association. She and her husband, Karl, reside in Griffin with their daughter.
Joseph Cushner currently serves as Bulloch County's State Court judge, a position he has held since his appointment in 2020. Prior to his appointment, he served as the solicitor general of Bulloch County. Cushner is a graduate of the University of Georgia, where he also attended law school. He then served as assistant district attorney for the Ogeechee Judicial Circuit, where he prosecuted felony cases and violent crimes in superior court. He is a native of Bulloch County, graduating from Statesboro High School in 2003. Cushner and his wife, Leslie, have been married for 10 years and have two daughters.
Janet Moon is the Chief of Police for the Peachtree City Police Department. Before holding this position, Moon served as a military police officer for the U.S. Army, a lieutenant for the Rome City Police Department, and the deputy chief of police for the Suwanee Police Department. She holds a degree in Criminal Justice from Floyd College, a bachelor's in Organizational Management from Covenant College, and a master's in Public Administration from Columbus State University. In her 37 years of experience in law enforcement, Moon developed a consistent history of reducing crime and spending while improving efficiency and public perception.
Wade Padgett has served as the Superior Court Judge for the Augusta Judicial Circuit since 2009. Padgett graduated from the University of Georgia in 1987 with a bachelor's degree in History. He went on to receive his law degree from Georgia State University. Afterwards, Padgett worked in the District Attorney's Office for the Augusta Judicial Circuit as an assistant district attorney. He was elected as the Chief Magistrate Judge for Columbia County in 2005, a position he held for four years. Outside of his professional life, Padgett is an active member of Wesley United Methodist Church and serves as the chair of the Board of Directors for Leadership Augusta. He and his wife, Alice, live in Augusta and have two children.
---
Rockdale Judicial Circuit Public Defender Supervisory Panel
Gary Washington is the Probate Court Judge for Rockdale County. Previously he served as an associate judge in the same court. Washington has more than thirty years of legal experience, including practicing at all levels of courts in Georgia. He graduated from Ohio Wesleyan University and Rutgers University School of Law, where he served as one of the first two African American editors for the Rutgers Law Review. He began his legal career as a judicial law clerk for his mentor and renowned civil rights attorney, the late Matthew J. Perry, Jr., Federal District Court Judge in South Carolina. Later, he worked as a staff attorney for the United States Court of Appeals for the Fourth Circuit in Richmond, Virginia. Washington also served as an attorney for the Georgia Appellate Resources Center and as a senior attorney for the Fulton County Public Defender's Office. He is a past instructor at the National Criminal Defense College, the Mercer Law School, and he has lectured for the Georgia Association of Criminal Defense Lawyers. He is a member of the Council of Probate Court Judges of Georgia and the immediate past chair of the Board of Trustees for the Conyers-Rockdale Library System. He is also a member of the Rockdale County Sheriff's Office Merit Board, the Rockdale County Bar Association, the Georgia Bar Association, the NewRock Legal Society, the Georgia Association of Criminal Defense Lawyers, and the National Association of Criminal Defense Lawyers. Washington and his wife, Evetta, have been married for 27 years and have an adult daughter. The Washingtons are members of Antioch-Lithonia Missionary Baptist Church and the Rockdale County branch of the NAACP.
---
State Construction Industry Licensing Board, Division on Master Plumbers and Journeyman Plumbers
Lance McCravy was reappointed.
---
State Construction Industry Licensing Board, Division of Conditioned Air Contractors
Johnny B. Lyons was reappointed.
---
State Construction Industry Licensing Board, Division of Low-voltage Contractors
Counte Cooley and Randy Zimler were reappointed.
---
State Construction Industry Licensing Board, Division of Electrical Contractors
Christopher Shane Joiner was reappointed.
---
State Construction Industry Licensing Board, Division of Conditioned Air Contractors
Elaine Powers was reappointed.
---
Georgia Board of Private Detectives and Security Agencies
Michael "Mike" Register has extensive law enforcement and public safety management experience. Before being appointed to lead the GBI, he served as assistant chief of the Cobb County Sheriff's Office where he oversaw community engagement, uniform field operations, and internal affairs. Before this post, he was the director of public safety for Cobb County, the chief of police for Cobb County, and the chief of police for Clayton County. Register was previously the chief operating officer for Quiet Professionals, LLC., in Tampa Florida, where he handled the daily operations for that company and its subsidiaries. The company's core business competencies are to support critical missions for Special Operations Command and various intelligence agencies. He is a past member of the Georgia POST Council, the Judicial Qualification Commission, and served on the FBI's Joint Terrorism Task Forces' Executive Board and various other law enforcement-related organizations. Register is working on his doctorate in Strategic Leadership from Liberty University, has a master's degree in Public Administration from Columbus State University, and is a graduate of the FBI's National Executive Institute. He served his country faithfully and well for 23 years in the US Army Special Operations, including combat operations in Afghanistan.
---