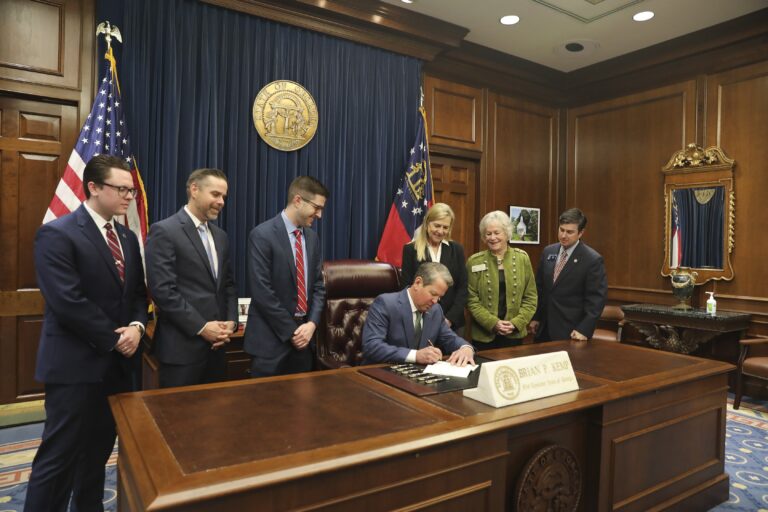 State Representative Lynn Smith (R-Newnan), chair of the House Natural Resources & Environment Committee, along with Senate Rules Chairman Matt Brass (R-Newnan), today announced that Governor Brian Kemp signed House Bill 311 into law on Thursday, March 16. HB 311 will create an optional temporary tax relief mechanism for buildings damaged by a natural disaster that may be utilized by local governments. An assessment of the damaged property would be required before being eligible for temporary tax relief.
"This two year initiative is reflective of our community's positive response as a way of dealing with the devastation caused by the 'Midnight Tornado' on March 26, 2021," said Chair Smith. "We call it the pay it forward option. I am so pleased that Governor Kemp has decided to sign this bill before the end of session. That way, this local government option is available now for our citizens as we brace ourselves for the unpredictable spring weather."
"It's always an honor to work with Representative Lynn Smith, my representative," said Sen. Matt Brass (R-Newnan). "This is an issue that developed from a tragedy that hit our hometown. The solution will not immediately help those we represent but HB 311 can and will help many others. Rep Smith is a selfless leader that sought input from others to find a solution to a very difficult problem – HB 311 is the product of that. I'm thankful she included me in the process."
House Bill 311 is a continuation of Rep. Smith's work to help communities who have been impacted by natural disasters in Georgia, including Carroll and Coweta counties. During the 2022 legislative session, Rep. Smith championed House Resolution 594 to allow Georgia voters to decide whether or not to allow local governments to provide this type of temporary tax relief to address natural disasters. Georgia voters overwhelmingly approved HR 594 through a ballot referendum during the General Election last November.
As a result of the referendum, Rep. Smith introduced this year's legislation to enable local governments to utilize this tax relief opportunity following future natural disasters.
hb311 03212023

See more information on House Bill 311 here.
---
Representative Lynn Smith represents the citizens of District 70, which includes portions of Carroll and Coweta counties. She was elected to the House of Representatives in 1996 and currently serves as Chairman of the Natural Resources & Environment Committee. She also serves on the Appropriations Subcommittee on General Government and the Creative Arts & Entertainment, Reapportionment and Redistricting and Rules committees.
Sen. Matt Brass serves as Chairman of the Senate Committee on Rules. Sen. Brass represents the 28th Senate District, which includes Coweta and Heard, as well as parts of Douglas and Fulton County. He can be reached by email at matt.brass@senate.ga.gov.