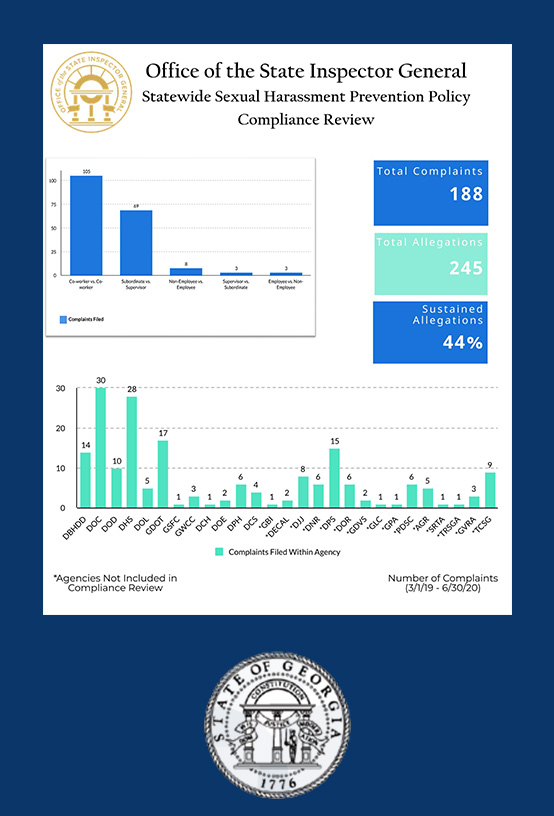 The Office of the State Inspector General (OIG) has released its final report summarizing the first year of Georgia's sexual harassment prevention policy and detailing a compliance review for 12 selected executive branch agencies.
"This comprehensive report establishes a baseline and demonstrates that, while there remains room for improvement, our state agencies are committed to furthering Governor Kemp's vision for a government free from sexual harassment," said Inspector General Scott McAfee.
On January 14, 2019, Governor Brian Kemp issued Executive Order 01.14.19.02 "Preventing Sexual Harassment in the Executive Branch of Government." The Executive Order mandated the creation of a statewide sexual harassment policy applicable to all executive branch agencies, imposed training requirements for state employees, and established a uniform standard of investigation for sexual harassment complaints. The exact parameters of the new sexual harassment policy and investigative procedures were later promulgated by the Department of Administrative Services (DOAS) in the Statewide Sexual Harassment Prevention Policy (SSHPP) issued March 1, 2019.
As a result of the Executive Order and the SSHPP, and for the first time in Georgia's history, the Office of the State Inspector General (OIG) began tracking all sexual harassment complaints that occurred in the executive branch, provided an independent investigation whenever an intra-agency conflict occurred, and organized the training of designated sexual harassment investigators. In addition, the Executive Order granted OIG the authority to review agency compliance with the SSHPP. Pursuant to that authority, OIG embarked on an inaugural review and examined agency compliance with the SSHPP from its implementation through the end of FY 2020 (March 1, 2019, to June 30, 2020). For the inaugural review, twelve executive branch agencies were reviewed for compliance. OIG tested agency compliance with the SSHPP in two primary subject areas: Policy Awareness & Training and Investigative & Reporting Procedures.
See the results of the review below:
Final Governor's SSHPP Report 6.3.2021