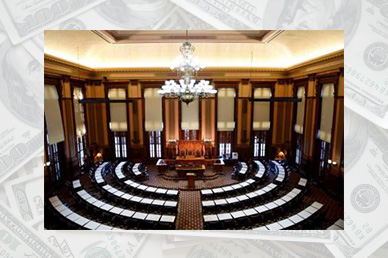 Today, Speaker David Ralston (R-Blue Ridge) announced that the Georgia House of Representatives has adopted House Bill 910, the Amended Fiscal Year 2022 (AFY 2022) State Budget. The amended budget totals $29.9 billion, an increase of $2.6 billion or 9.7 percent, over the original budget reflecting the state's strong economic growth as the COVID-19 pandemic wanes.
"Like any family's budget, the amended state budget we adopted today reflects our priorities by putting the health of our citizens and education of our children first," said Speaker David Ralston. "This budget restores full funding to the state Quality Basic Education (QBE) formula which funds public schools. It also funds $10 million in service cancelable loans for mental health practitioners – the largest funding item from House Bill 1013 to reform and improve mental health services in Georgia."
Speaker Ralston has championed strategic investments in the state's law enforcement agencies and mental health resources. The AFY 2022 budget reflects those priorities through a number of funding items.
Among investments in mental health is $10 million to fund service cancelable loans for mental health practitioners to expand the workforce to meet increasing demand for services. It also includes $310,000 for the Georgia Crisis and Access / National Suicide Lifeline.
In public safety, an additional $1.3 million is allotted to the Judicial Branch to support operations. More than $23 million is budgeted to replace 593 vehicles for a number of law enforcement agencies including the Georgia Department of Corrections, Georgia Bureau of Investigation (GBI) and the Georgia Department of Public Safety. It also include $1 million for security improvements at GBI headquarters and $4.6 million for the Georgia Crime Victims Fund.
The AFY 2022 budget prioritizes education through the restoration of $383 million to the QBE funding formula to return it to full funding. It includes $93 million in additional QBE funding to account for an additional 11,926 public school students, as well as $188 million to purchase 1,747 public school buses.
The AFY 2022 budget also includes $263 million to meet the projected need from increased enrollment in the state's Medicaid program. It also includes an additional $1.7 million for the Georgia Board of Health Care Workforce to fully fund residents in graduate medical education programs and $500,000 to support a new nursing program at the Morehouse School of Medicine.
This budget also funds a number of capital improvements to several state facilities including the Georgia World Congress Center, the Georgia National Fairgrounds and Jekyll Island State Park.
The AFY 2022 budget now goes to the State Senate for consideration. For more information on House Bill 910, visit https://www.legis.ga.gov/legislation/61135.