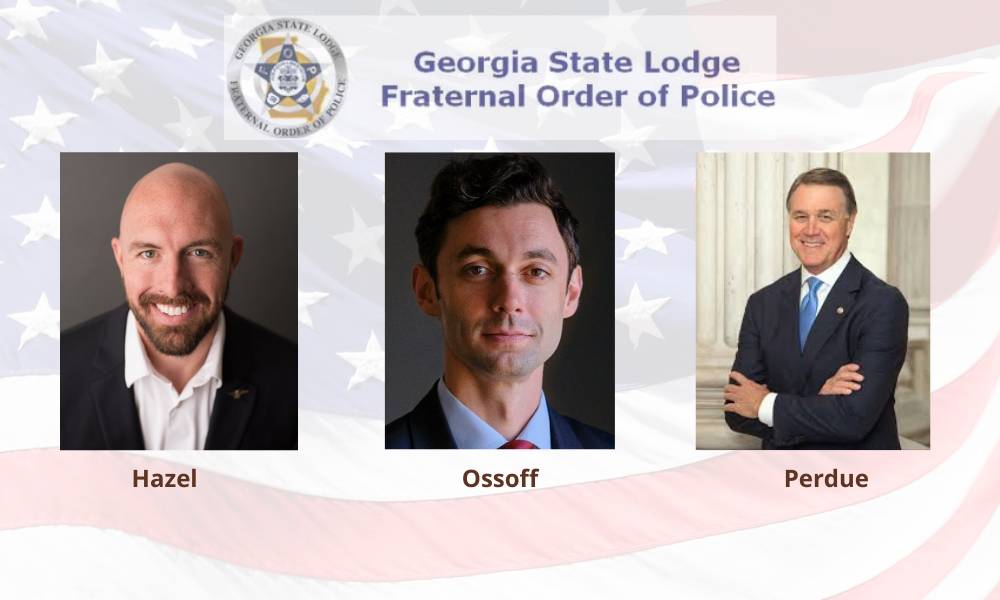 The Georgia Fraternal Order of Police (FOP) has made an endorsement in one U.S. Senate Race.
The organization announced Tuesday that it has officially endorsed U.S. Senator David Perdue for re-election as he faces Libertarian Shane Hazel and Democrat Jon Ossoff. In a news release with the announcement, the Perdue campaign said the endorsement 'underscores the Senator's commitment to supporting law enforcement, promoting public safety, and opposing the dangerous "defund the police" movement.'
The Georgia Fraternal Order of Police is made up of 31 local Lodges spread out around the State of Georgia. Each local Lodge provides various benefits and membership packages to their members and sets their own yearly dues for those benefits, like a comprehensive National Legal Defense Plan, line of duty life insurance, legal and financial aid, and scholarships for officers and their families. The organization also makes endorsements in political races and lobbies at the Georgia Capitol.
Senator Perdue and the FOP released the following statements on the endorsement:
"It's humbling to have the support of the women and men who put their lives on the line every day to keep our communities safe. We are a nation of laws, and it's absolutely critical that our police officers have the support they need to enforce those laws fairly and uphold public safety while staying safe themselves. Now, more than ever, police forces need our strong support to handle the challenges of COVID-19 and recent rise in crime and violence on our streets. It's my high honor to accept the Georgia Fraternal Order of Police's endorsement, and I promise to always stand for those who serve." – U.S. Senator David Perdue
"Senator David Perdue has proven himself to be a true friend to the men and women who protect our communities. By advocating for real reforms to keep officers and communities safe while opposing the dangerous defund the police agenda, Senator Perdue continues to show his commitment to promoting public safety for the people of Georgia. The Georgia Fraternal Order of Police is proud to endorse Senator Perdue's candidacy for re-election this November." – Craig Fulghum, Legislative Chairman and Vice President for Georgia FOP