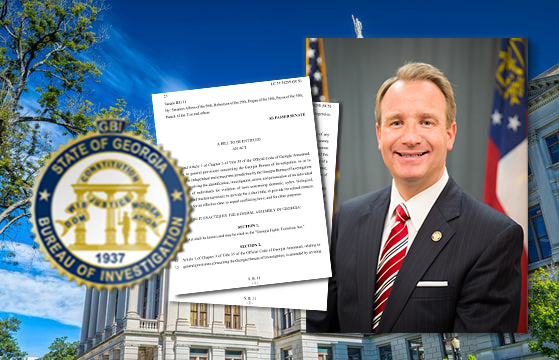 Yesterday, Senate Bill 11, sponsored by Sen. John Albers (R – Roswell), passed with bipartisan support in the Senate Chamber. SB 11 is the first piece of legislation to pass out of the Senate in the 2023 Legislative Session. Also known as the "Georgia Fights Terrorism Act," SB 11 would provide independent and concurrent jurisdiction to the Georgia Bureau of Investigation (GBI) for crimes related to terrorism.
"Georgia has some of the strongest terrorism laws in the nation," said Sen. Albers. "The safety and security of our citizens is of the utmost importance and with this legislation, we are able to continue to protect the well-being of all Georgians in the face of terrorism. The Senate body stands behind Georgia's law enforcement agencies and the GBI and I am pleased to see this legislation make it across the finish line with bipartisan support."
SB 11 passed through the Senate Committee on Public Safety by substitute on January 26, 2023. SB 11 was then heard on the Senate Floor on Wednesday, February 1, 2023 and passed by substitute with a vote of 49 to 3. SB 11 is now headed to the House where it will undergo a similar process.
First Reader Summary: A BILL to be entitled an Act to amend Article 1 of Chapter 3 of Title 35 of the Official Code of Georgia Annotated, relating to general provisions concerning the Georgia Bureau of Investigation, so as to provide for concurrent jurisdiction by the Georgia Bureau of Investigation in cases involving the identification, investigation, arrest, and prosecution of an individual or groups of individuals for violation of state laws concerning domestic, cyber, biological, chemical, and nuclear terrorism; to provide for a short title; to provide for related matters; to provide for an effective date; to repeal conflicting laws; and for other purposes.
sb11 02022023

Follow this link to read more on the bill.
---
Sen. John Albers serves as Chairman of the Senate Committee on Public Safety. He represents the 56th Senate District which includes portions of Cherokee, Cobb and North Fulton counties. He may be reached at his office at 404.463.8055 or by email at john.albers@senate.ga.gov